YCH LAUNCHES SUPPLY CHAIN CITY® TO LEAD TRANSFORMATION OF THE LOGISTICS AND SUPPLY CHAIN INDUSTRY
Sep 22, 2017 12:00:00 AM
The new S$200 million Asia Supply Chain icon located in the Jurong Innovation District creates new benchmarks in the supply chain & logistics industry, supporting Singapore's key growth areas, namely in urban solutions, smart logistics and robotics.
With its unique LEARN™ Ecosystem, Supply Chain City gets Singapore future ready through innovation, skills creation and supply chain financing solutions.
SINGAPORE, September 22, 2017 – Singapore's homegrown logistics giant, YCH Group launched Supply Chain City, Asia's nexus of supply chain excellence this morning. The ceremony was graced by Guest-Of-Honour Prime Minister Lee Hsien Loong. The Skills Framework for Logistics and several key manpower initiatives for the logistics sector were also launched at the event.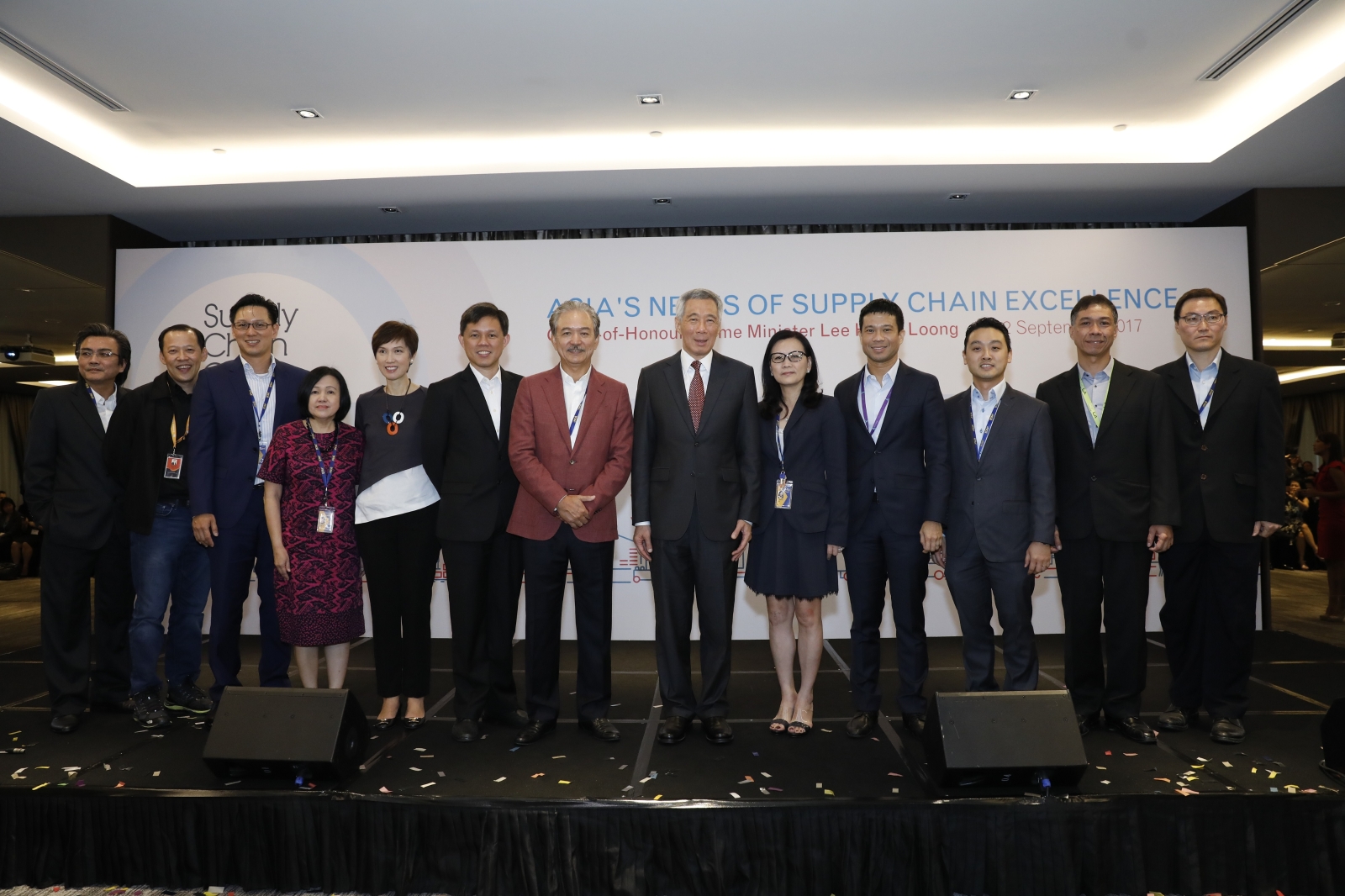 The ground-breaking ceremony had taken place in 2012 when DPM Tharman Shanmugaratnam reflected the vision for Supply Chain City to be "a mini Silicon Valley for logistics." Five years later, this vision has manifested into a 2 million square-foot equivalent state-of-the-art facility that serves as Asia's supply chain nerve centre. It aims to accelerate industry best practices, support Singapore's growth as a globally leading logistics hub and set new standards for supply chain excellence in Asia Pacific.
Located at the heart of the Jurong Innovation District, Supply Chain City(1) features the world's first patented Fusionaris® (a fusion of an Automated and Storage Retrieval System with a fully ramped-up warehouse), along with inventory-counting drones and advanced robotics. The ASRS is the largest in the region, and the tallest at 50m height.
Through the proprietary LEARN(2) ecosystem at Supply Chain City, YCH Group synergises various business activities to create a dynamic and vibrant community. This has already been kick-started by YCH Group with Y3 Technologies, Supply Chain and Logistics Academy (SCALA), Supply Chain Asia (SCA) and Supply Chain Angels (SCAngels).
"The LEARN Ecosystem, coupled with the advanced technology in Supply Chain City is key to enabling agile and scalable supply chains that create the competitive edge for our global enterprises today. Supply Chain City is the embodiment of infinite possibilities, demonstrating productivity through innovation to transform the supply chain and logistics industry in Singapore and beyond," said Dr Robert Yap, Executive Chairman of YCH Group.
Mr Max Heinemann, CEO of Heinemann Asia-Pacific noted that, "Since establishing Singapore as our regional hub in 2010, we have elevated the duty-free shopping experience in Asia. This is through the great support and market insights we have gained through our distribution business in partnership with YCH. We are proud to distribute from Supply Chain City, the hotspot for supply chain in Asia."
"YCH Group is one of our regional logistics partners. The launch of Supply Chain City demonstrates the harnessing of automation and digital technology to meet customers' needs as they expand in the region," said Mr Gan Seow Kee, Chairman and Managing Director of ExxonMobil Asia Pacific.
Supply Chain City is aligned with Singapore's Future Economy Council's aim of growing and transforming Singapore's economy, driving connectivity with the rest of the world while developing deep skills and strengthening capabilities of local enterprises. It also echoes the key recommendations of the Logistics Industry Transformation Map, to catalyse enterprise-level transformation through productivity and innovation.
"YCH's Supply Chain City is a good example of how a home-grown enterprise is creating an integrated facility and ecosystem to develop new technologies and deep expertise. For the past few decades, YCH has been a leader in innovation for our logistics sector, and has repeatedly transformed itself to compete internationally. SPRING hopes that, in the same way, more enterprises will step up to spearhead similar transformation efforts," said Mr Poon Hong Yuen, Chief Executive, SPRING Singapore.
ANNEX A
Supply Chain City®
Location
Supply Chain City, 8 Bulim Avenue, Singapore 648166
Located in the heart of Jurong Innovation District, a 600ha innovation district that will be home to key growth areas of Singapore, including advanced manufacturing, robotics, urban solutions, cleantech and smart logistics.
Directly Opposite Corporation Primary School and approximately 1.5km from Jurong Point / Boon Lay MRT Station, as well as Lakeside MRT Station
Infrastructure & Design
More than S$200 million in building investment
Covering 6.5 ha of land, Supply Chain City has an equivalent gross floor area (GFA) of approximately 2 million square foot
Green Mark Platinum certified and pending USGBC LEED Platinum certification
Patented world pioneering Fusionaris® design
FUSIONARIS - FUSION of Automated Storage and Retrieval System (ASRS) and Ramp up Integrated Solution is a patented system. It epitomises the harmony of human and robotic supply chain activities orchestrated by YCH's proprietary technologies including Warehouse Management System (WMS) and Dock Management System (DMS)
Designed for scalability and operations around the clock, 24–7 for 365 days
Features a 50-metre ASRS occupying 110,000sqft of land to move 66,624 pallets which without ASRS would have required 700,000sqft of built-up space.
Total throughput of 450 pallets per hour, reducing the retrieval of a pallet from 3.5minutes (210sec) to 10 sec, resulting in 95% improvement in efficiency
Five-floor ramp-up warehouse (total of 800,000sqft) of 50m height, with a total of 120 loading bays
Designed for value-added activities and modular configurations, such as assembly, kitting and packaging services, pre-retail services, QA control, data centres and R&D.
Modular configuration of office facilities and warehouse permutations
State-of-the art supply chain management technologies and equipment
Other highlights of Supply Chain City
Eight-floor office building covering a total of 500,000sqft of modular office spaces, shared facilities and common areas
Over 400 car park lots
Shuttle bus services between Supply Chain City and Jurong East MRT Station every half an hour from 7:30am – 8:15pm
Features an F&B outlet operated by Foodfare
Home to Supply Chain and Logistics Innovation Playground (SCLIP), an innovation space featuring the best-in-class technology in the supply chain & logistics industry
Features SCTower™, a smart machine learning organism that monitors, tracks and processes data on operations and trade flows across the region for analytics and business intelligence
Includes a 500 pax capacity ballroom, a gym, function halls, training and conference facilities
ANNEX B
LEARN™ Ecosystem
Envisioned as Asia's premier supply chain nerve centre, a key focus of Supply Chain City is to form the impetus for sector innovation and collaboration, curating the best names and minds in the industry within an ecosystem, dubbed the LEARN Ecosystem.
Led by YCH Group, the LEARN Ecosystem fosters the development of symbiotic partnerships within a human focused environment, accelerating professional and social interaction amongst industry leaders and partners to inspire and define new standards for industry excellence.
This ecosystem stimulates innovation and refines the standards for supply chain excellence. The five elements of the ecosystem are:
LIVING SUPPLY CHAIN
EXPERENTIAL WORKPLACE LEARNING
ASIA'S NETWORK OF SUPPLY CHAIN THOUGHT LEADERS
REINVENT TOMORROW
NURTURING DISRUPTIVE INNOVATORS
Exemplified by these entities located in Supply Chain City, the LEARN Ecosystem is actively transforming the landscape of supply chain in the region:
[LIVING SUPPLY CHAIN] YCH GROUP
YCH Group is the leading end-to-end supply chain solutions partner to some of the world's largest companies and favourite brands across the Asia Pacific region.
Its suite of innovative award-winning end-to-end supply chain management solutions employ cutting edge technologies that are best-in-class across industry clusters from consumer and electronics to chemical and healthcare, to deliver powerful competitive advantages for customers.
A strong proponent of innovation, YCH is recognized for its 7PL™ approach in seamlessly integrating supply chain strategy with execution.
[EXPERIENTIAL WORKPLACE LEARNING] SUPPLY CHAIN AND LOGISTICS ACADEMY (SCALA)
SCALA is an industry academy that leverages on experiential workplace learning to help individuals gain industry knowledge to join and to contribute in the supply chain and logistics industry. By working closely with government agencies, industry players, and job seekers, SCALA constantly improves its services, and adds new programmes to help all companies and individuals scale new fronts in the supply chain industry.
SCALA enables individuals through multiple services, including career advisory, mentorship and On-The-Job (OJT) training. It also enables companies to find talent, customize OJT programs, and help them to train-the-trainer. At the industry level, SCALA create opportunities for networking and collaboration through the Supply Chain & Logistics (SCL) corporate network.
[ASIA'S NETWORK OF SUPPLY CHAIN THOUGHT LEADERS] SUPPLY CHAIN ASIA (SCA)
Supply Chain Asia is a not-for-profit professional body that aims to bring professionals from within the logistics and supply chain industry together to share knowledge, learn from one another and create opportunities for collaborations. It also manages SCLIP, its latest initiative to showcase innovative technologies and solutions in an applied domain.
SCA aims to connect people from various sectors of the industry, encourage communication amongst professionals and create opportunities for collaborations. The four main pillars of the organisation are memberships, events, academy and publication.
SCA holds various events annually to provide networking and learning opportunities for the community. The organisation also provides training courses in the area of logistics and SCM, equipping attendees with skills that are applicable to the real working scenarios in the industry. As for membership, SCA aims to develop a close-knit community that continues to better itself by leveraging on SCA's platform and services.
SCA has its own bi-monthly print publication – the Supply Chain Asia Magazine – which is also available in digital copy. During non-print months, SCA publishes digiMag Industry Report, aimed at providing professionals in the industry with up-to-date news through fun infographics and images.
[REINVENT TOMORROW] Y3 TECHNOLOGIES
Founded in 1981, Y3 Technologies is a home-grown software solutions provider which has since established a strong track record and is steadily expanding its global market presence. Y3 offers a full suite of end-to-end supply chain collaborative software products to our customers, including YCH Group, Singtel, Baxter and Royal Friesland Campina.
Its base of satisfied MNC clients attest to the commitment of Y3 Technologies to deliver effective collaborative solutions for businesses by embedding leading edge technologies and capitalizing on cross-industry best practices in business solutions. Y3's strength lies in developing advanced collaborative integrated management solutions in the supply chain industry with the aim of eliminating inefficiencies with good visibility on a common platform for all working partners. With a forward-looking vision and continual push in technologies and process, Y3 looks to extend its growth roadmap to enable intelligence-based software.
[NURTURING DISRUPTIVE INNOVATORS] SUPPLY CHAIN ANGELS (SCANGELS)
Supply Chain Angels (SCAngels) is the corporate venture arm of YCH Group, Asia Pacific's leading integrated end-to-end supply chain management and solutions provider, supported by Y3 Technologies, a leading supply chain management information technology and services company.
Co-invested by National Research Foundation (NRF) under the Early Stage Venture Funding Scheme III (ESVF III), SCAngels invests in start-ups that are synergistic and complementary to YCH's supply chain and logistic business with the aim of "Nurturing Disruptive Innovators". These start-ups enjoy working in an innovative environment and develop new solutions by utilising our in-depth sector knowledge, processes and clients.
For media enquiries:
Michelle Wong
Executive Chairman Office, YCH Group
DID : (65) 6417 2785
Email: michelle.wong@ych.com
Ivy Tan
Executive Chairman Office, YCH Group
Mobile : (65) 9773 5975
Email: ivy.tan@ych.com
---
[1] Details on Supply Chain City can be found in Annex A
[2] Details on the LEARN Ecosystem can be found in Annex B
back