YCH Group Embarks on Comprehensive Collaboration with Sasseur Group in Optimising Supply Chain Management for Retail
Nov 10, 2018 12:00:00 AM
YCH Group will also orchestrate and manage the warehousing and distribution service solutions for merchants in all Sasseur Group outlets
Singapore, 10 November 2018 – YCH Group, Asia Pacific's leading integrated end-to-end supply chain management and logistics partner joined in the signing of a Memorandum of Understanding (MoU) with Sasseur Cayman Holding Limited ("Sasseur Group"), a leading operator of premium outlet malls in China to explore areas of collaboration in optimisation and integration of warehousing and distribution, intelligent distribution solutions, data analytics and strategic marketing for customers at all Sasseur retail outlets.
Under the MoU, YCH will offer its proprietary omnichannel platforms, including membership service, finance, big data technology and smart technology to collaborate with the Sasseur Group. Building on their complementary strengths, the companies will also offer end-to-end supply chain and logistics management capabilities such as warehousing and distribution networks to the merchants in Sasseur Group's outlet mall, with the objective of building an intelligent distribution system with big data and providing customers with comprehensive and better quality services.
With Sasseur Group's cooperation, YCH will leverage data analytics capabilities to further improve the online and offline marketing strategies for Sasseur Group. The tie up will be beneficial for Sasseur Group and Sasseur REIT as the smart solutions will enable better tenant and consumer analysis. This will allow the outlet mall operator to consistently improve and offer better services to its tenants and shoppers. With the integration of warehouse and distribution, Sasseur Group will be able to help tenants reduce logistics costs and the savings can be passed on to the shoppers at the outlet malls, potentially resulting in increased customer traffic and sales.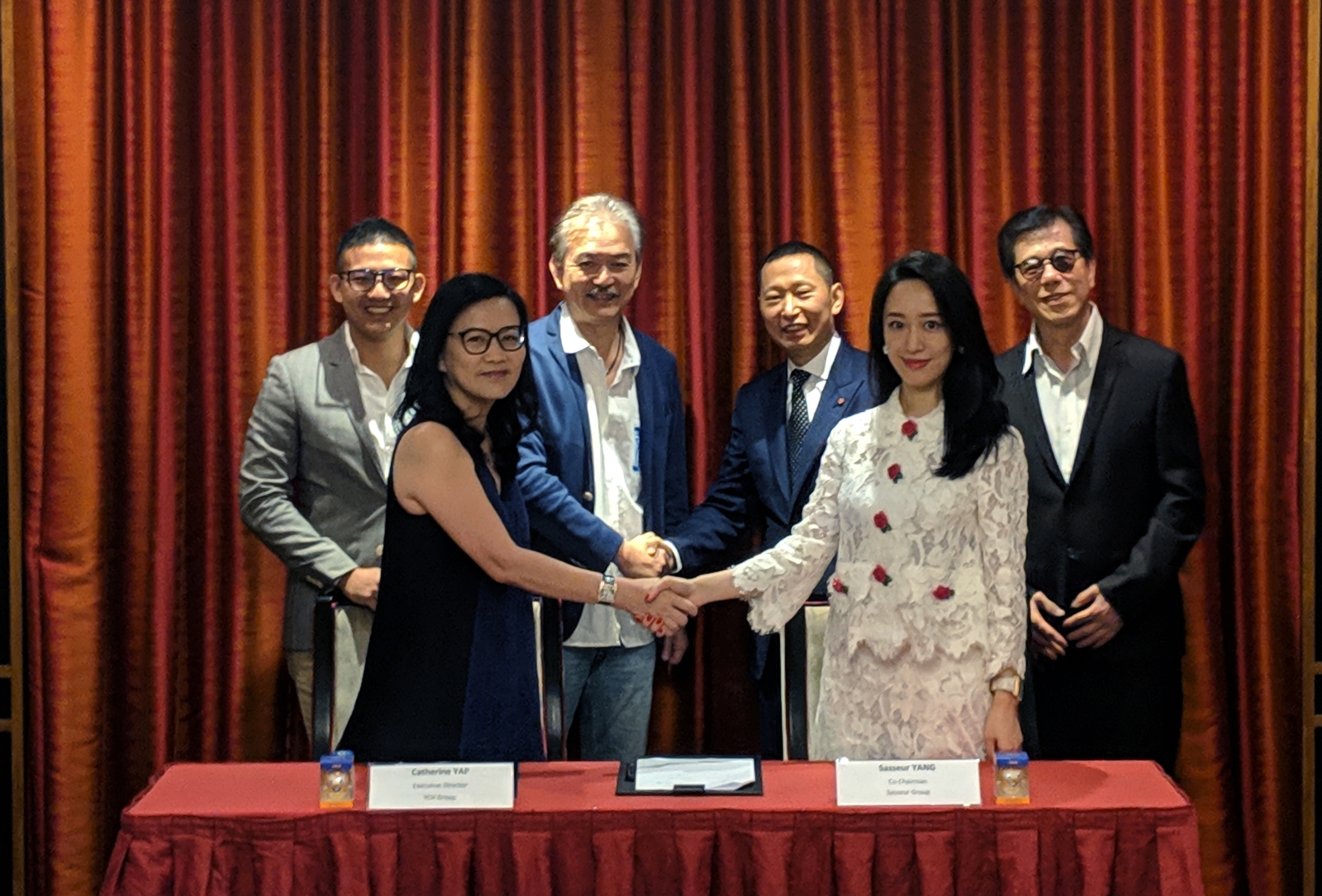 Ms Catherine Yap (first row, left), Executive Director of YCH Group with Mrs Yang Xue, Co-Chairman of Sasseur Group. The signing was witnessed by Dr Robert Yap (back row, second from left), Executive Chairman of YCH Group and Mr Xu Rongcan (back row, second from right), Founder and Chairman of Sasseur Group.
"The new digital economy has spurred a creative reinvention of consumer's purchasing habits over the past few years. With our unique supply chain and data analytics capabilities, Sasseur Group will be able to create a seamless and rich customer experience across all active channels and touchpoints, whether the customers are in the physical retail store or browsing via their smartphones," said Dr Robert Yap, Executive Chairman of YCH Group.
"We are excited to partner with YCH Group, a leading player in supply chain and data analytics. Through the use of innovative digital interactive touchpoints, our aim is to create a shopping experience that is unique, cohesive and enjoyable for our customers. Ultimately, this will attract more customers and better sales performance at our outlet malls," said Mr. Xu Rongcan, Founder and Chairman of Sasseur Group and Chairman of Sasseur Asset Management Pte. Ltd., the manager of Sasseur REIT.
## END ##
About YCH Group

Founded in 1955 and headquartered in Singapore, YCH Group is the leading end-to-end supply chain solutions partner to some of the world's largest companies and favourite brands across more than 100 cities in the Asia Pacific region. A strong proponent of innovation, YCH is recognized for its 7PL™ approach in seamlessly integrating supply chain strategy with execution. YCH's launch of Supply Chain City®, Asia's nexus of supply chain excellence on 22 September 2017 will create new benchmarks in the logistics and supply chain industry, supporting Singapore's key growth areas, namely in urban solutions, smart logistics and robotics.
For more information, please visit www.ych.com


About Sasseur REIT

Sasseur REIT is the first outlet mall REIT to be listed in Asia. Sasseur REIT offers investors with the unique opportunity to invest in the fast-growing retail outlet mall sector in the People's Republic of China (the "PRC") through its initial portfolio of four quality retail outlet mall assets strategically located in fast growing cities in China such as Chongqing, Kunming and Hefei, with a net lettable area of 304,573.1 sq m.

Sasseur REIT is established with the investment strategy of investing principally, directly or indirectly, in a diversified portfolio of income-producing real estate which is used primarily for retail outlet mall purposes, as well as real estate related assets in relation to the foregoing, with an initial focus on Asia.
For more information on Sasseur REIT, please visit http://www.sasseurreit.com/


About the Manager – SASSEUR ASSET MANAGEMENT PTE. LTD.

Sasseur REIT is managed by the Manager, an indirect wholly-owned subsidiary of the Sponsor. The Manager's key responsibility is to manage Sasseur REIT's assets and liabilities for the benefit of Unitholders.
As the first outlet mall REIT to be listed in Asia, the Manager intends to utilise Sasseur REIT's first-mover advantage and acquire suitable properties with good investment characteristics in Asia or other parts of the world. The Manager's acquisition growth strategy is to identify and selectively pursue acquisition opportunities in quality income-producing properties used mainly for retail outlet mall purposes initially in the PRC and subsequently in other countries.


About the Sponsor – SASSEUR CAYMAN HOLDING LIMITED
The Sponsor Group is one of the leading premium outlet groups in the PRC, ranked within the top 500 service companies in the PRC. With about 30 years of experience in arts commerce, the Sponsor Group has become Asia's famous outlet operator for its strategic thinking of emotion, aesthetics, scenario and capital, as well as its "(1+N) x Big Data" Super Outlet business model.
For more information on the Sponsor, please visit http://www.sasseur.com/
---
For media enquires:
Yvonne Wong
Executive Chairman Office, YCH Group
DID : (65) 9106 9160
Email : yvonne.wong@ych.com
Dzulhairi Suhod
Executive Chairman Office, YCH Group
DID : (65) 6417 2513
Email : dzulhairi.s@ych.com
Alicia Mao
Corporate Communication Manager, Retail Management Center, Sasseur Group
DID : (86)-021-64516 699
Email : maoh@sasseur.com
Chen Zhen
Head Of Investor Relations, Compliance And Risk Management, Sasseur Asset Management Pte. Ltd.
DID : (65) 6360 0283
Email : ChenZ@sasseurreit.com
back