YCH Group Spearheads China-ASEAN Connectivity With China-ASEAN Regular Shuttle Service
Dec 14, 2018 12:00:00 AM
Singapore, 14 December 2018 – YCH Group, Asia Pacific's leading integrated end-to-end supply chain management and logistics partner welcomed the first successful completion of China-ASEAN Regular Shuttle Service ever carried out by a local logistics company. A 45-foot container loaded with fast-moving consumer goods arrived at YCH's premier distribution centre, Supply Chain City, today after it departed from Chongqing, China, last week.
The successful Chongqing to Singapore cross-border cargo transportation service was flagged off in Nanpeng Highway Bonded Logistics Centre in Banan District at a launch ceremony presided by Mr He Nansheng, Head of Banan District and witnessed by YCH's Mr Frank Peng, General Manager of Western China. The China-ASEAN Regular Shuttle Service passed through Guangxi Pingxiang Friendship Pass and a few ASEAN countries such as Vietnam and Thailand, before arriving at its destination in Singapore, covering a total of approximately 4500 kilometres.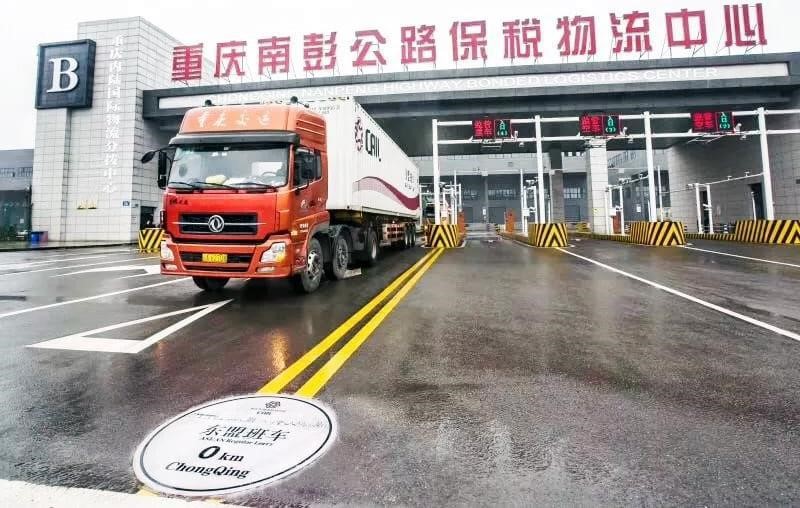 The initiative was born from the strategic partnership with Chongqing ASEAN International Logistics Co. Ltd (CAIL) and Chongqing Banan District Government, which started back in 2016, strengthening YCH Group's expansive connectivity between the two countries. This is in line with recent calls by China and Singapore for a higher level of trade facilitation during the new International Land-Sea Trade Corridor (ILSTC) agreement under the Chongqing Connectivity Initiative (CCI) signed last month.
Chongqing has made great strides in recent years by actively collaborating with partners such as YCH and CAIL to develop a southward trade route and logistics passage connecting China and ASEAN as part of the CCI. With this successful completion of the China-ASEAN Regular Shuttle Service, it will open new opportunities to further promote trade between China and ASEAN region by allowing regional businesses to enjoy an avenue of fast and on-demand cargo transportation service, with Singapore and Chongqing playing the role of mutual hubs in ASEAN and Western China respectively.
In comparison with other modes of transportation such as air freight and sea freight, which can be costly and has limited frequency of services, this express cross-border cargo transportation service is cost-effective and is able cater to multiple distributions and pick-ups in any ASEAN countries along the southbound corridor. The efficiency of this service is also made achievable in lieu of the ASEAN Single Window (ASW) platform that has been in operation since the start of this year. All cross-border customs documentations in participating countries will be handled through the ASW, resulting in the expedition of cargo clearance with reduced paperwork.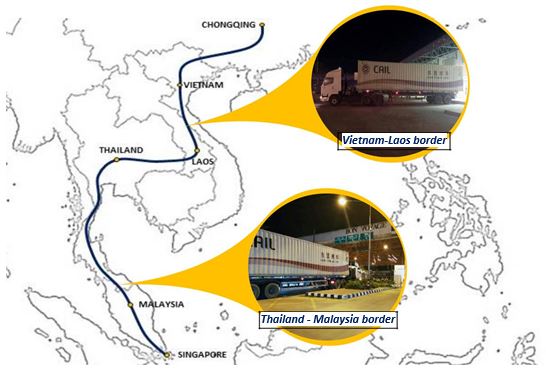 "This development is the result of the synergy between YCH Group, CAIL, Chongqing Banan District Government. We look to continue to grow the ASEAN-China supply chain connectivity and bring ASEAN countries closer to Chongqing, the gateway to the Western China region," said Mr Qiao Zhi Yu, General Manager of CAIL.
"The Chongqing-Singapore cross-border road transport route will deepen regional interconnectivity among the countries and will increase trade flow and cargo volume along the new International Land-Sea Trade Corridor. The rise of affluent consumer markets in the region demand channels that are effective and greater in flexibility. At YCH, we endeavour to expand our connectivity to bring cost effective logistics to our clients," said Mr Ryan Yap, YCH Group's Head of Growth.
This shuttle service is already gaining interest and traction with a commercial entity in discussion with YCH Group to send return cargo from Supply Chain City back to Chongqing in mid of January in the new year.
## END ##
About YCH Group
Founded in 1955 and headquartered in Singapore, YCH Group is the leading end-to-end supply chain solutions partner to some of the world's largest companies and favourite brands across more than 100 cities in the Asia Pacific region. A strong proponent of innovation, YCH is recognized for its 7PL™ approach in seamlessly integrating supply chain strategy with execution. YCH's launch of Supply Chain City®, Asia's nexus of supply chain excellence on 22 September 2017 will create new benchmarks in the logistics and supply chain industry, supporting Singapore's key growth areas, namely in urban solutions, smart logistics and robotics.
For more information, please visit www.ych.com
---
For media enquires:
Ms Yvonne Wong
Executive Chairman Office, YCH Group
DID : (65) 6417 2773
Email : yvonne.wong@ych.com
Mr Dzulhairi Suhod
Executive Chairman Office, YCH Group
DID : (65) 6417 2513
Email : dzulhairi.s@ych.com
back