YCH Group in Partnership with Xuan Tian Hu Tourism Investment Co. to Develop Cold Chain Logistics Capabilities in Chongqing, China
Dec 23, 2020 12:00:00 AM
YCH is responsible for overseeing the development project, contributing expertise in logistics and supply chain management, technology solutions, and training of logistics and supply chain professionals
Singapore, 23 December 2020 – YCH Group, Asia Pacific's leading integrated end-to-end supply chain management and logistics partner joined in the signing of a Memorandum of Understanding (MoU) with Xuan Tian Hu Tourism Investment Co., a government-owned company by the Chongqing government active in various industries of tourism and investment, to collaborate in a cold chain infrastructure development project in the strategic location of Tongliang District, Chongqing, China.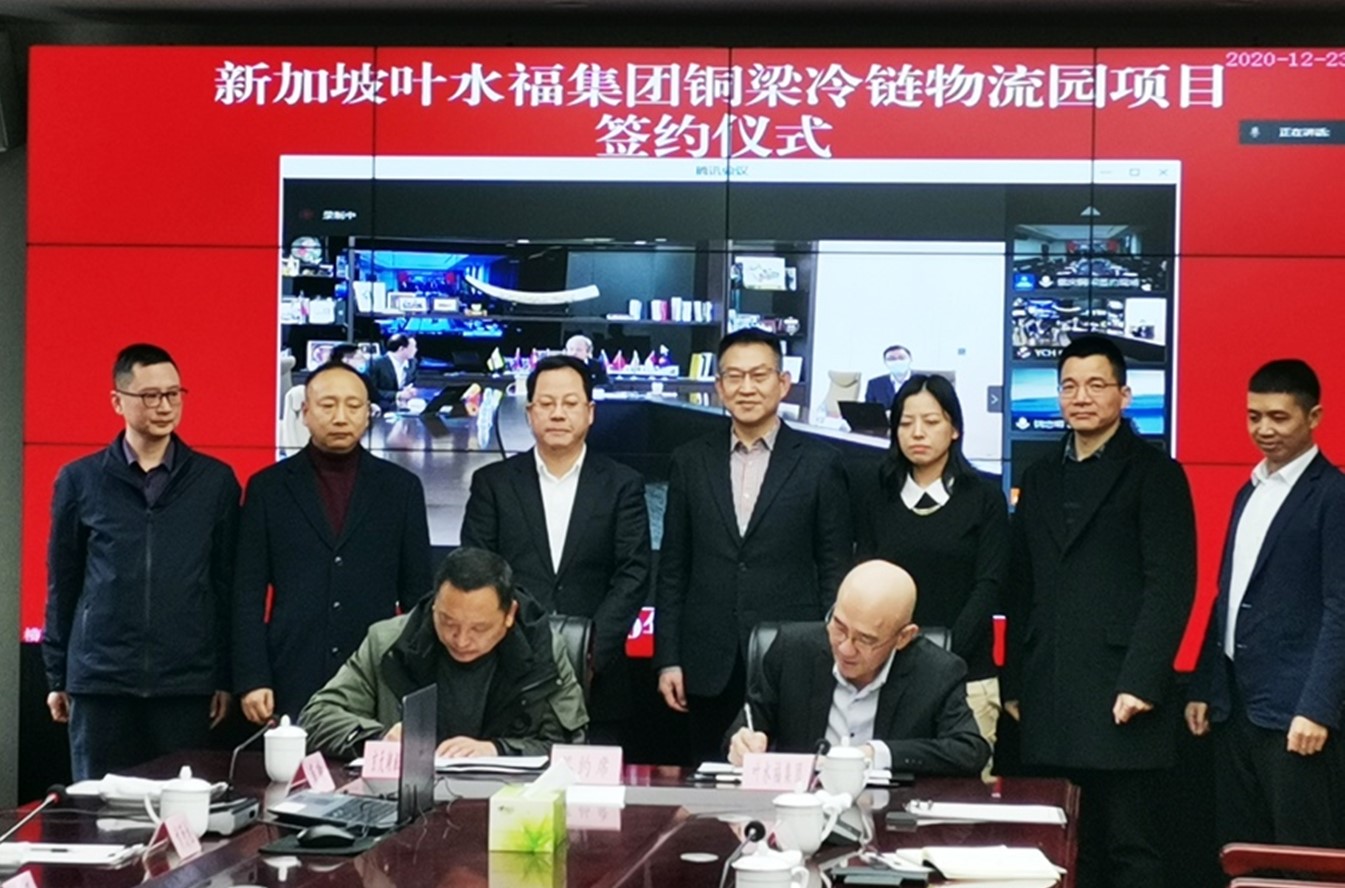 Under the MoU, YCH will spearhead the infrastructure development project, offering its supply chain technological capabilities and management expertise in cold chain management, as well as facilitating and conducting training to build a certified logistics talent pipeline. Xuan Tian Hu will look in investing in the project which would support their central kitchen business, such as vegetable production, processing and sales, and also other areas such as supply chain financing.
Building on the complementary strengths of both organisations, this partnership aims to fully optimise their resources and capitalise on China's rapidly growing cold chain logistics market, by developing a cold chain infrastructure that is able to meet the strict standards of temperature, humidity and other environmental requirements. The partnership will also look at the exchanging of know-how and sharing of best practices between both sides, to further grow the cold chain logistics capabilities within Chongqing, China.
The need for cold chain warehousing and logistics capabilities has become more apparent than ever, with an increased demand for the supply of perishable food products in the past few months. This can be attributed to the rise of affluent consumer markets and also, fresh produce e-commerce taking off, which was accelerated by the fallout of the COVID-19 pandemic. This collaboration will leverage YCH's strengths to build up a cold chain logistics hub that is effective, flexible and dependable for its customers.
"We are entering into a golden era of demand-driven cold chain logistics growth in China and ASEAN and the connecting hub of Chongqing is central in driving the southward trade route and logistics passage. YCH has been actively participating under the Sino-Singapore (Chongqing) Strategic Interconnection Demonstration Project (CCI) in the Chongqing and Southwest region since 2015. It is the perfect gateway for a cold chain network system to establish connectivity with ASEAN. Over the years, cold chain supply chain has become YCH's forte and we wish to continue to perform the best for our valued customers and give them more possibilities through this project," said Dr Robert Yap, Executive Chairman of YCH Group.
YCH's continued excellence and presence in China's logistics sector was recently rewarded with the Guangzhou City 2020 Cold Chain Delivery Enterprise Award earlier this year. The acknowledgment is a recognition of YCH's above industry-level standards and expertise in cold chain logistics as YCH was awarded the top 30 companies in cold chain delivery by the Guangdong Cold Chain Association (GDCCA).
Moving forward with this momentous collaboration, YCH aims to continue to set new standards of excellence in cold chain operations, management, and also talent development in the Asia region.
## END ##
About YCH Group
YCH Group is Singapore's leading homegrown, end-to-end supply chain solutions partner to some of the world's largest companies and favourite brands across more than 100 cities in the Asia Pacific region. YCH focuses on boosting productivity and sustainability for its customers with its proprietary best-in-class suite of award-winning solutions across industries such as fast-moving consumer goods, electronics, chemical and healthcare, cold chain logistics, and e-Commerce. A strong proponent of innovation, YCH is recognised for its 7PL™ approach in seamlessly integrating supply chain strategy with execution.
For more information, please visit https://www.ych.com/
For media enquires:
Dzulhairi Suhod (Mr)
Executive Chairman Office, YCH Group
DID : (65) 6417 2513
Email : dzulhairi.s@ych.com
back