YCH Group and IMDA's SG Digital Office to Collaborate to Increase Digital Competency Among Seniors
Sep 4, 2021 12:00:00 AM
Singapore, 4 September 2021 – YCH Group, Singapore's largest homegrown supply chain solutions company, has partnered with IMDA's SG Digital Office (SDO) as the first advocate of the SDO@Workplace, to bring the Seniors Go Digital programme closer to seniors at work. This new initiative was successfully piloted at Supply Chain City (SCC), where it will serve as a community hub for not only YCH's senior employees and tenants of SCC, but eventually the users of Jurong Innovation District (JID).
With a flexible arrangement, the SDO@Workplace programme will allow YCH's seniors to receive one-to-one training anytime, at their convenience, and learn not only about work-related digital skills but also everyday-life skills ranging from as simple as enlarging text size on mobile phones, to making digital payments or even cybersecurity.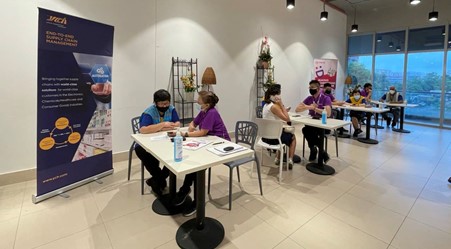 Mr Ryan Yap, Head of Growth, Innovation and Partnerships said, "We are pleased to partner with SG Digital Office (SDO) on the Seniors Go Digital as we look at bringing our communities to grow in tandem with the digitalised world. As YCH have always been at the forefront of adopting new technologies in our operations, having digital skills and knowledge will not only complement our seniors in their line of work, but also ensure their place in Singapore's digital future. Resonating with our philosophy in 'teaching a man to fish', this collaboration also reinforces our culture of inspiring continuous learning and innovation through partnerships with the community and align ourselves with Singapore's digitalisation initiatives and the nation's goal of being a Smart Nation."
Moving forward, SDO hopes to introduce similar hubs at more workplaces to tackle the fast-digitalising landscape accelerated by COVID-19, which has posed as a challenge for many elderly people. Being one of the most rapidly ageing countries in Asia, Singapore recognises the public health issue of social isolation among the elderly, especially as technology has become an intrinsic part of the way we live. New technologies will significantly improve the quality of life for the elderly population, making transportation more convenient, communication easier, and participation in social activities more seamless – enabling independence and promote inclusion.
The Seniors Go Digital collaboration aligns well with YCH's Corporate Social Responsibility (CSR) charter, in which YCH aspires to educate, engage, being environmentally responsible, and giving back to the community at large. And with YCH being the first corporate to come onboard this digital programme for seniors, it is a step in allowing Singapore's digital future to be truly inclusive.
## END ##
About YCH Group
YCH Group is Singapore's leading homegrown, end-to-end supply chain solutions partner to some of the world's largest companies and favourite brands across more than 100 cities in the Asia Pacific region. YCH focuses on boosting productivity and sustainability for its customers with its proprietary best-in-class suite of award-winning solutions across industries such as fast-moving consumer goods, electronics, chemical and healthcare, cold chain logistics, and e-Commerce. A strong proponent of innovation, YCH is recognised for its 7PL™ approach in seamlessly integrating supply chain strategy with execution.
For more information, please visit https://www.ych.com/
For media enquires:
Dzulhairi Suhod (Mr)
Executive Chairman Office, YCH Group
DID : (65) 6417 2513
Email : dzulhairi.s@ych.com
back