YCH Group to Steer Chongqing's Cold Chain Capabilities Towards Greater Heights through Partnership with Tongliang District People's Government
Apr 12, 2021 12:00:00 AM
YCH will lead a cold chain logistics infrastructure project and offer full suite of supply chain capabilities and solutions in bid to elevate Chongqing's cold chain management expertise, logistics training and ecosystem.
Singapore, 12 April 2021 – YCH Group, Asia Pacific's leading integrated end-to-end supply chain management and logistics partner joined in the signing of a Memorandum of Understanding (MoU) with the Chongqing Tongliang District People's Government during the 6th Singapore-China (Chongqing) Connectivity Initiative (CCI) Joint Implementation Committee (JIC) Meeting held last Friday. The MoU builds on the Sino-Singapore government-to-government Chongqing Connectivity Initiative (CCI) and will look into elevating China's cold chain logistics capabilities while boosting Chongqing's position as the key node for western China and ASEAN connectivity, as well as supporting Singapore's supply chain diversification and resilience.
With this MoU, YCH will spearhead the development of a cold chain logistics infrastructure and also offer supply chain technological capabilities and management expertise. In addition, YCH will leverage its experience in workplace training to facilitate and conduct training to produce certified logistics professionals. The Tongliang District Government will invest in the infrastructure project, which will comprise of a cold chain warehouse with an entire ecosystem of central abattoir, central kitchen and value adding and processing zone all included in the close to 200 mu. project site.
This partnership will fully optimise the resources of both parties to develop a cold chain facility that is able to meet the strict standards of temperature, humidity, and other environmental requirements for cold chain logistics. It will build on the momentum set by two previous Chongqing Connectivity Initiative (CCI) joint ventures that YCH is also driving - the Sino-Singapore Chongqing Connectivity Solutions (SSCCS) company and the Sino-Singapore (Chongqing) DC Multimodal Logistics - and will help plan, develop manage and optimise multimodal operations across the road, rail, river and air, through the coordination and integration of logistics resources across logistics centres in and near Chongqing.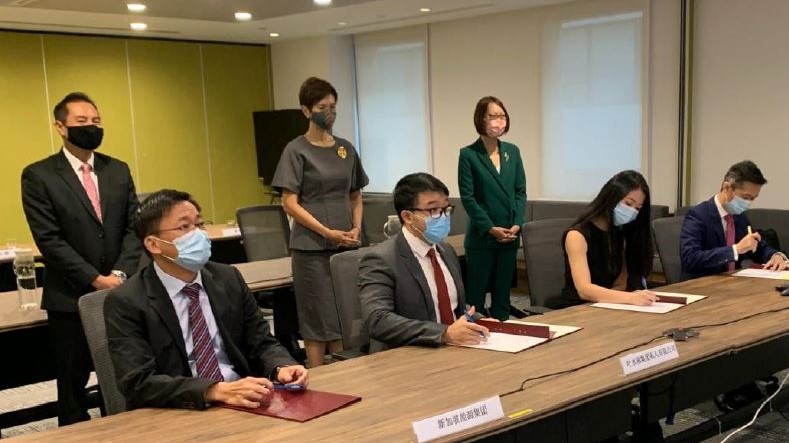 "Chongqing is the perfect gateway for a cold chain network system to establish regional connectivity with ASEAN. This partnership will also elevate the logistics industry standards and practices for multimodal transportation modes linking Chongqing with western China and beyond. For Singapore, it is an opportunity to enhance our supply chain resilience as well as boosting our supply chain diversification with regards to our crucial meat and agriculture produce needs. This will also ultimately strengthen Singapore's connectivity to booming trade nodes and bring new business opportunities for Singapore companies," said Mr Jeffrey Tan, Head of Group Corporate Development and Technologies at YCH Group.
This signing is a follow-up from the MoU YCH signed with Xuan Tian Hu Tourism Investment Co,. last year, with the state-owned enterprise forming a new entity called Chongqing Longyu Urban and Rural Construction and Development Co. Ltd, which will lead the development of this cold chain logistics infrastructure project.
YCH's continued excellence and presence in China's logistics sector was rewarded with the Guangzhou City 2020 Cold Chain Delivery Enterprise award earlier this year. The acknowledgement is a recognition of YCH's above industry-level standards and expertise in cold chain. YCH looks to continue expanding its presence in China and contribute to the strengthening of supply chain connectivity and cooperative exchanges between China and Singapore.
## END ##
About YCH Group:
YCH Group is Singapore's leading homegrown, end-to-end supply chain solutions partner to some of the world's largest companies and favourite brands across more than 100 cities in the Asia Pacific region. YCH focuses on boosting productivity and sustainability for its customers with its proprietary best-in-class suite of award-winning solutions across industries such as fast-moving consumer goods, electronics, chemical and healthcare, cold chain logistics, and e-Commerce. A strong proponent of innovation, YCH is recognised for its 7PL™ approach in seamlessly integrating supply chain strategy with execution.
For more information, please visit https://www.ych.com/
---
For Media Enquiries
Dzulhairi Suhod
Executive Chairman Office, YCH Group
DID : (65) 6417 2513
Email : dzulhairi.s@ych.com
back