YCH and IFC Ink Partnership to Develop Smart Logistics Network Across ASEAN
Feb 16, 2022 12:00:00 AM
Singapore, 16 February 2022 – Singapore homegrown logistics giant, YCH Group, has signed a collaboration agreement with the International Finance Corporation (IFC), a member of the World Bank Group and the largest global development institution focused on the private sector in emerging markets. IFC will support the development of the iconic Vietnam SuperPort™, a US$300 million project, which will serve as an integrated dry port and advanced supply chain nerve centre to support the projected exponential surge in trade due to manufacturing shifts to Vinh Phuc Province. The partnership agreement was inked between IFC and T&Y SuperPort Vinh Phuc Joint Stock Company (T&Y), a joint venture between YCH Group and Vietnamese conglomerate, T&T Group. IFC will leverage its breadth of knowledge in developing and investing in dry ports and container terminals around the world and strong track record in project structuring to help YCH and T&T develop a bankable and sustainable project.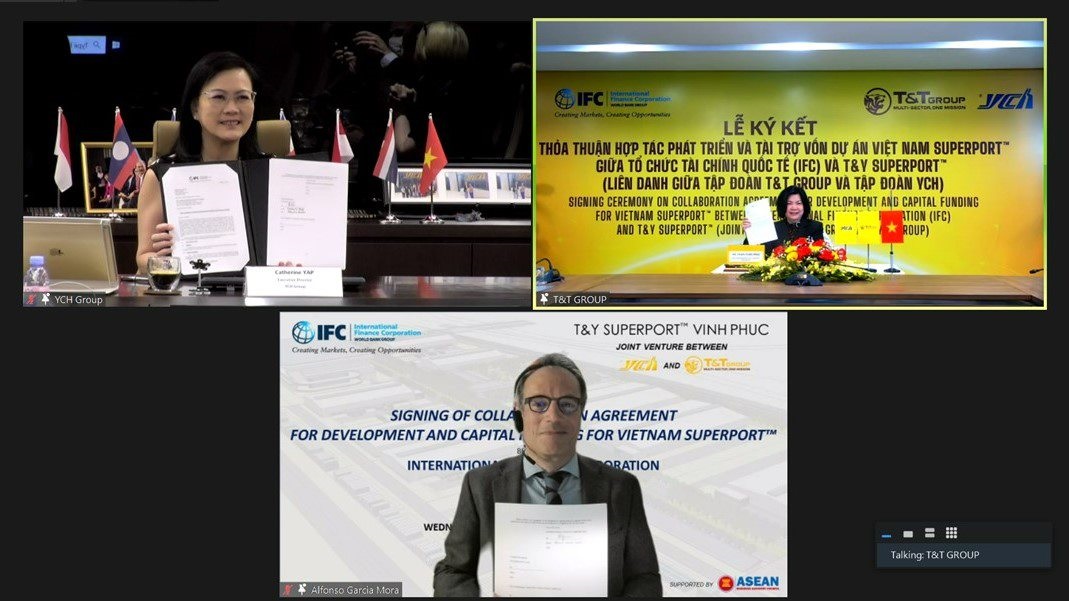 The SuperPort™ vision originates from the Smart Growth Connect (SGConnect™) project in 2018 when Singapore was assuming the Chairmanship of the ASEAN Business Advisory Council (ASEAN-BAC). Member countries of ASEAN readily endorsed SGConnect™ to enable cities to grow without growing pains through advanced solutions and logistics technologies to enhance resilience and visibility through process flow and developing local human capital across ASEAN. This initiative was further solidified through the November 2020 inauguration of the ASEAN Smart Logistics Network (ASLN), a collaborative platform with a shared goal of developing smart and sustainable advancement based on smart logistics infrastructure, to support the ASEAN Connectivity Master Plan 2025.
Within a short span of three years since SGConnect™'s inception, Vietnam SuperPort™ came into fruition to serve as a multimodal transportation hub to create a solid bedrock to kickstart inter-country trade connectivity for member countries to link up seaports, airports, and other smart logistics infrastructure to provide sustainable growth in the Asia Pacific region. Cambodia and Indonesia are next in the pipeline, followed by the rest of the member states.
Mr Do Quang Hien, Chairman of T&T Group, said, "I was impressed with YCH's end-to-end supply chain and logistics solutions and its L E A R N™ ecosystem during my visit to Supply Chain City® with President Nguyen Xuan Phuc (then Prime Minister of Vietnam) in 2018. We are confident that Vietnam SuperPort™'s multimodal logistics hub built with cutting edge technologies will reduce the cost of logistics and improve time to market, thereby improving trade connectivity to the world, boosting our economy as well as contributing to the symbiotic and sustainable growth of Vietnam."
"We are delighted to partner with YCH Group and T&T Group to support the development of the Vietnam SuperPort™, leveraging our substantial knowledge of the global ports and logistics sectors and strong project structuring track record," said Alfonso Garcia Mora, IFC's Regional Vice President for Asia and Pacific. "Our early engagement in the project will help make sure it will be developed with the highest environmental, social, governance and climate-friendly international standards to help attract international investors. The project will not only help strengthen Vietnam's logistics and freight sector to support the growth of the country's manufacturing industry and bolster economic development. It could also serve as a model for YCH Group to replicate in other regional markets, which will eventually help improve logistics performance in the ASEAN region."
Dr Robert Yap, Executive Chairman of YCH Group, said, "The signing ceremony with IFC is yet another significant milestone for the entire connectivity initiatives of which YCH Group intends to invest more than USD2 billion in the next five years to enhance ASEAN Connectivity to improve Intra-ASEAN trade, as well as trade with the rest of the world. The partnership with IFC ensures bankable financial solutions to keep pace with the development of ASLN and SGConnect. With the unwavering support of the key leaders and colleagues in ASEAN communities, we are confident that the establishment of ASLN and many more innovative initiatives will drive positive economic and social impacts to the overall ASEAN economy so that communities will continue to thrive. This is the beginning of a sustainable partnership with IFC for infrastructure across ASEAN in developing smart logistics and beyond."
About YCH Group
YCH Group is Singapore's leading homegrown, end-to-end supply chain solutions partner to some of the world's largest companies and favourite brands across more than 100 cities in the Asia Pacific region. YCH focuses on boosting productivity and sustainability for its customers with its proprietary best-in-class suite of award-winning solutions across industries such as fast-moving consumer goods, electronics, chemical and healthcare, cold chain logistics, and e-Commerce. A strong proponent of innovation, YCH is recognised for its 7PL™ approach in seamlessly integrating supply chain strategy with execution.
For more information, please visit www.ych.com
Media Contact
Clarrie Liew
Head of Marketing Communications, YCH Group
Email: clarrie.liew@ych.com
back