YCH and T&T Group Expand Partnership to Develop Smart Logistics Infrastructure In Long An Vietnam
Feb 25, 2022 12:00:00 AM
Singapore, 25 February 2022 – YCH Group, Asia's leading integrated logistics and supply chain provider today announced the signing of a Memorandum of Understanding (MoU) with Vietnamese conglomerate; T&T Group, to express mutual interest and investment commitment to jointly develop Phuoc Vinh Dong Logistics Area Project in Can Giuoc District of Long An Province, to enhance the success of the first largest smart logistics infrastructure project, Vietnam SuperPortTM, spearheaded by a Singapore company in Vietnam.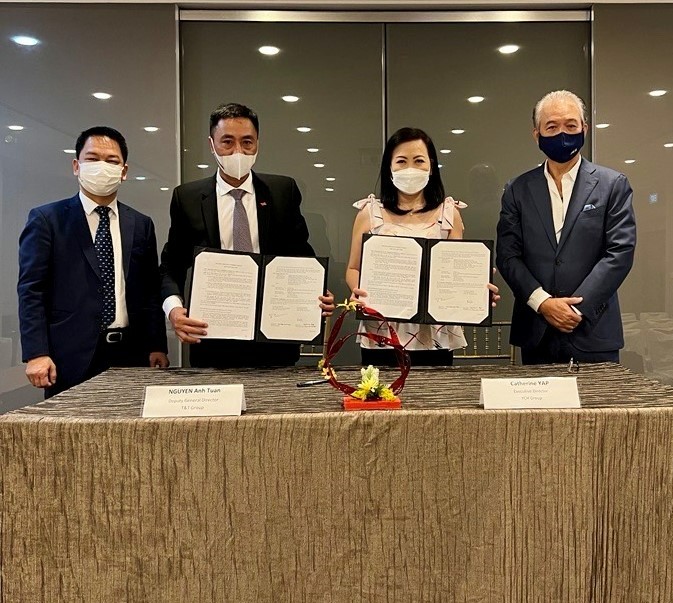 The signing ceremony is the second mega collaboration between the two powerhouses, presented to His Excellency Nguyen Xuan Phuc, President of the Socialist Republic of Vietnam, as part of his agenda during his first State Visit to Singapore from 24 to 26 February 2022.
A key component of this MoU will focus on conducting feasibility studies to develop the 71.2 hectares Phuoc Vinh Dong Logistics Area Project. The location is strategically connected to two ports, Long An International port and Hiep Phuoc Port with easy access to Ho Chi Minh City, through various expressways and the upcoming Ring Road 4. When feasible and completed, Phuoc Vinh Dong Logistics Area Project aims to improve access to markets for businesses, farmers and the disadvantaged with lower logistics costs resulting from the alleviation of key physical and institutional bottlenecks of the main transport corridors, enhancing connectivity and directly boosting trade, investment, and economic development in the Mekong River Delta Region.
Dr Robert Yap, Executive Chairman, YCH Group, said, "YCH Group has a major stake in building a robust logistics network that promotes trade connectivity in ASEAN. In November 2020, we were honoured to have the presence of His Excellency Nguyen Xuan Phuc, President of the Socialist Republic of Vietnam's to witness the successful inception of Vietnam SuperPortTM, and we hope to enhance the success of our first project to Long An Province in South Vietnam to yield promising growth for Vietnam and the region through smart logistics infrastructure."
Mr Do Quang Hien, Chairman of T&T Group, said, "We are excited to reaffirm our collaboration with YCH Group, in embarking on a new logistics development in Long An province as a crucial development to propel Vietnam as a melting pot for the region's logistics and supply chain hub."
## END ##
Media Contact
Clarrie Liew
Head of Marketing Communications, YCH Group
Email: clarrie.liew@ych.com
back