YCH Group Signs MoU with Philippines to Develop Smart Logistics Infrastructure to Drive ASEAN Connectivity
Apr 27, 2022 12:00:00 AM
Singapore, 27 April 2022 – The Provincial Government of Batangas, Department of Trade and Industry (DTI), Philippines, and YCH Group, Asia's leading integrated logistics and supply chain provider signed a Memorandum of Understanding (MoU), to formalise the joint interest to co-develop smart logistics infrastructure in enhancing connectivity in ASEAN.
The project is likely a first-of-its-kind logistic hub conceived by a Singapore-based company in Philippines to integrate advanced supply chain nerve centre operations that focuses on four key pillars: connectivity, sustainability, scalability, and agility.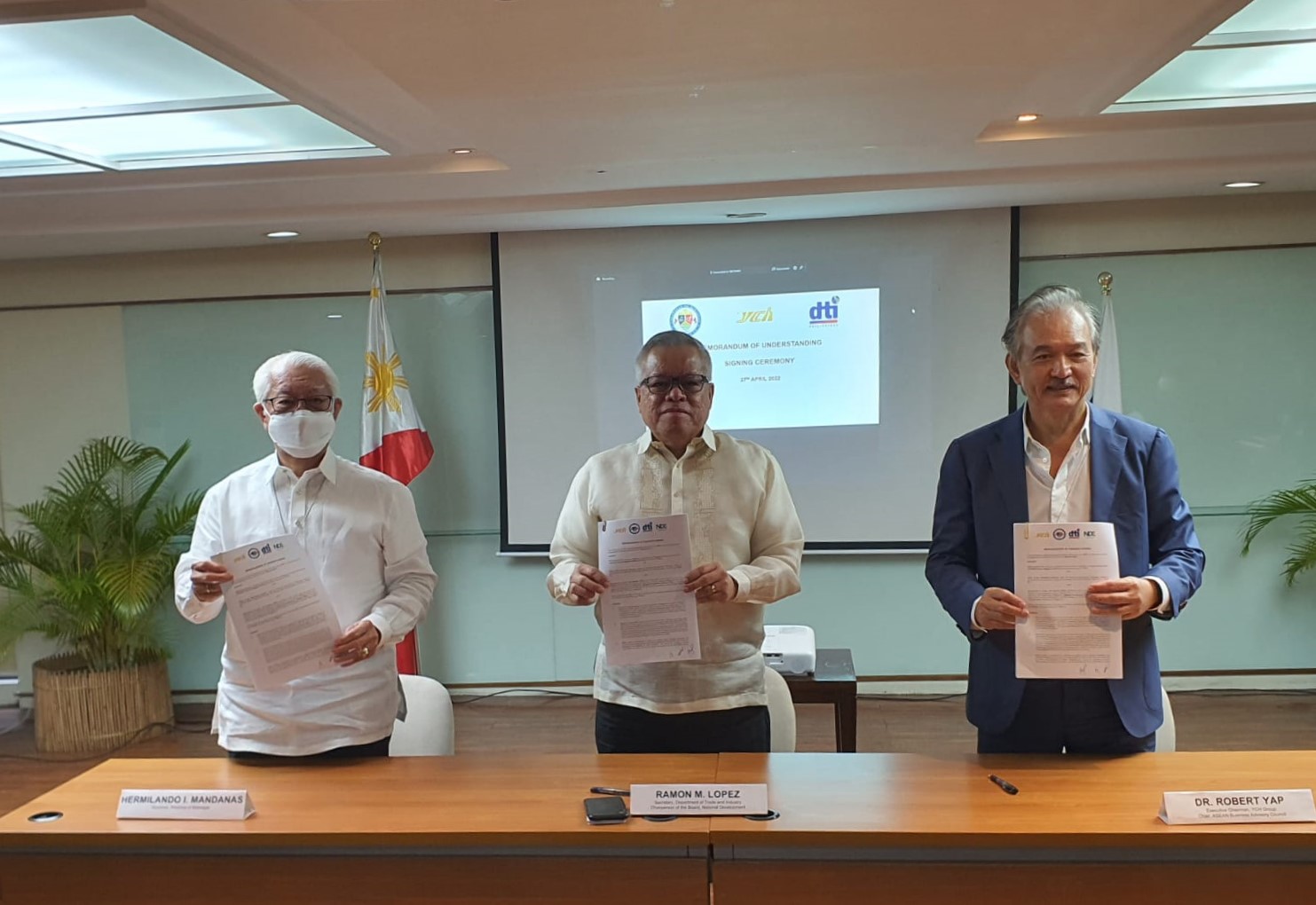 The MoU was endorsed by Honorable Hermilando I. Mandanas, Batangas Province Governor, Secretary Ramon Lopez, Philippine Department of Trade and Industry, and Dr Robert Yap, Executive Chairman, YCH Group. The momentous phygital occasion was graced by His Excellency, Mr Satvinder Singh, Deputy Secretary-General of ASEAN Secretariat, and senior leaders from the Philippines central and provincial governments.
A key objective of the partnership seeks to formalise the commitment to conduct a feasibility study to develop smart logistics infrastructure as part of the ASEAN Business Advisory Council's (ASEAN BAC) legacy project, Smart Growth Connect (SGConnectTM). This motion aims to meet the future needs of economic growth and drive intra-ASEAN trade connectivity through this development in Province of Batangas, approximately 100km south of Manila.
During the feasibility study, YCH Group will leverage its deep expertise in supply chain and logistics, anchored on sustainability and state-of-the-art technologies, supported by future ready industry talents. When feasible and completed, the project will bolster the livelihood of the local communities, enhance connectivity as well as boost trade, investment, and economic development for the Batangas Province and the region.
SGConnectTM's mandate is to enable cities to grow without growing pains. Today's partnership is a follow-through from the Letter of Intent inked in the presence of Philippine President Rodrigo Duterte to work towards implementing SGConnectTM project in 2018. The Province of Batangas smart logistics project is SGConnectTM's fourth project. The SGConnectTM initiative also aligns with the goals of the ASEAN Smart Logistics Network (ASLN) launched in 2020, as a collaborative platform with a shared goal of promoting smart and sustainable growth based on smart logistics infrastructure in support of the ASEAN Connectivity Master Plan 2025.
His Excellency, Satvinder Singh, Deputy Secretary-General of ASEAN Secretariat, said, "This project in the Province of Batangas Philippines is SGConnectTM's fourth project. I hope this smart logistics infrastructure will serve as a very highly efficient facility that will provide seamless connect to the regional supply chains and also provide boundless resources in order to create sustainable resilient economy for the people of Philippines. "
"Batangas is a promising province with huge potential. With YCH Group's extensive regional experience and track record in developing smart logistics infrastructure, we are well-positioned and heartened to continue SGConnectTM's commitment to drive connectivity across ASEAN. With Philippines chairing ASEAN-BAC in 2027, this project is a testament of our mutual foresight to drive this ahead of time," said Dr Robert Yap, Executive Chairman of YCH Group. "Our plan to build smart logistics infrastructure in Philippines is also a strong anchor for the Group to raise the benchmark for our industry besides promoting sustainable growth with our partners for the region."
Governor Hermilando Mandanas said that the Province of Batangas is privileged to be part of the Smart Growth Connect project. He mentioned that the Provincial Government will take necessary actions to expedite the implementation of this legacy project. He highlighted the important role of the Philippines, together with other ASEAN countries; and mentioned that it is apparent that the Project is vital for connectivity of the countries.
Philippine Department of Trade and Industry Secretary Ramon Lopez, said, "This project is strategic. DTI has also been at the forefront of levelling up the logistics sector in the country through the integration of the various logistics subsectors involving land, air and sea-based logistics providers so as to have seamless interconnectivity and drive-up efficiencies. This smart logistics infrastructure under SGConnectTM will certainly strengthen the connectivity and integrate the domestic logistics ecosystem with that of the ASEAN supply chain network."
## END ##
Media Contact
Clarrie Liew
Head of Marketing Communications, YCH Group
Email: clarrie.liew@ych.com
back