YCH Group and WorldBridge Group to Collaborate in Developing Phnom Penh Logistics Complex to Boost Cambodia's Connectivity for Intra-Regional Trade Flows
May 3, 2022 12:00:00 AM
Phnom Penh, 3 May 2022 – Development of Phnom Penh Logistics Complex (PPLC), a smart logistics infrastructure facility undertaken by the collaboration between YCH Group; one of Asia's leading integrated logistics and supply chain providers, and WorldBridge Group, renowned for developing international partnerships across diverse sectors including logistics to invest in Cambodia has been formalised.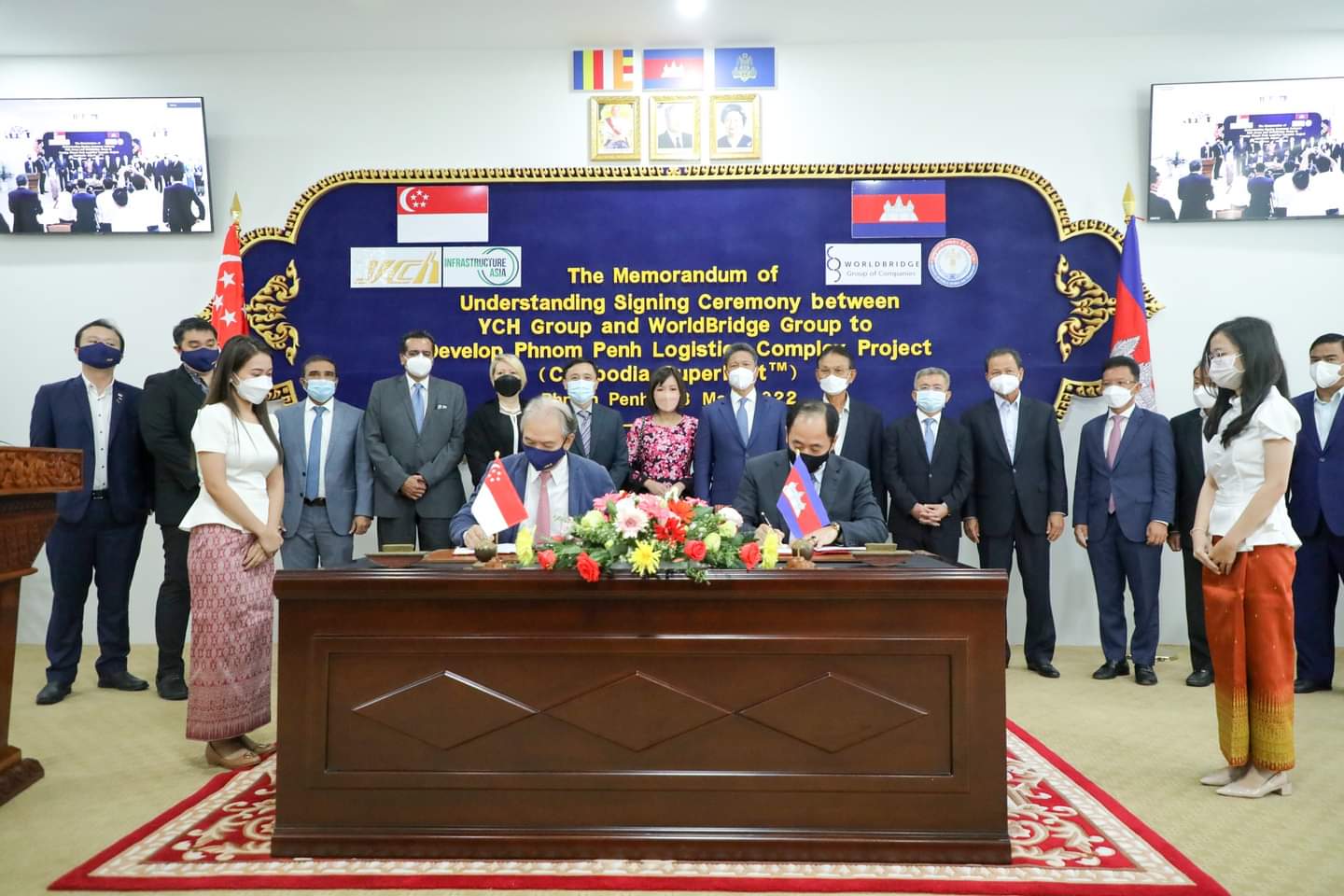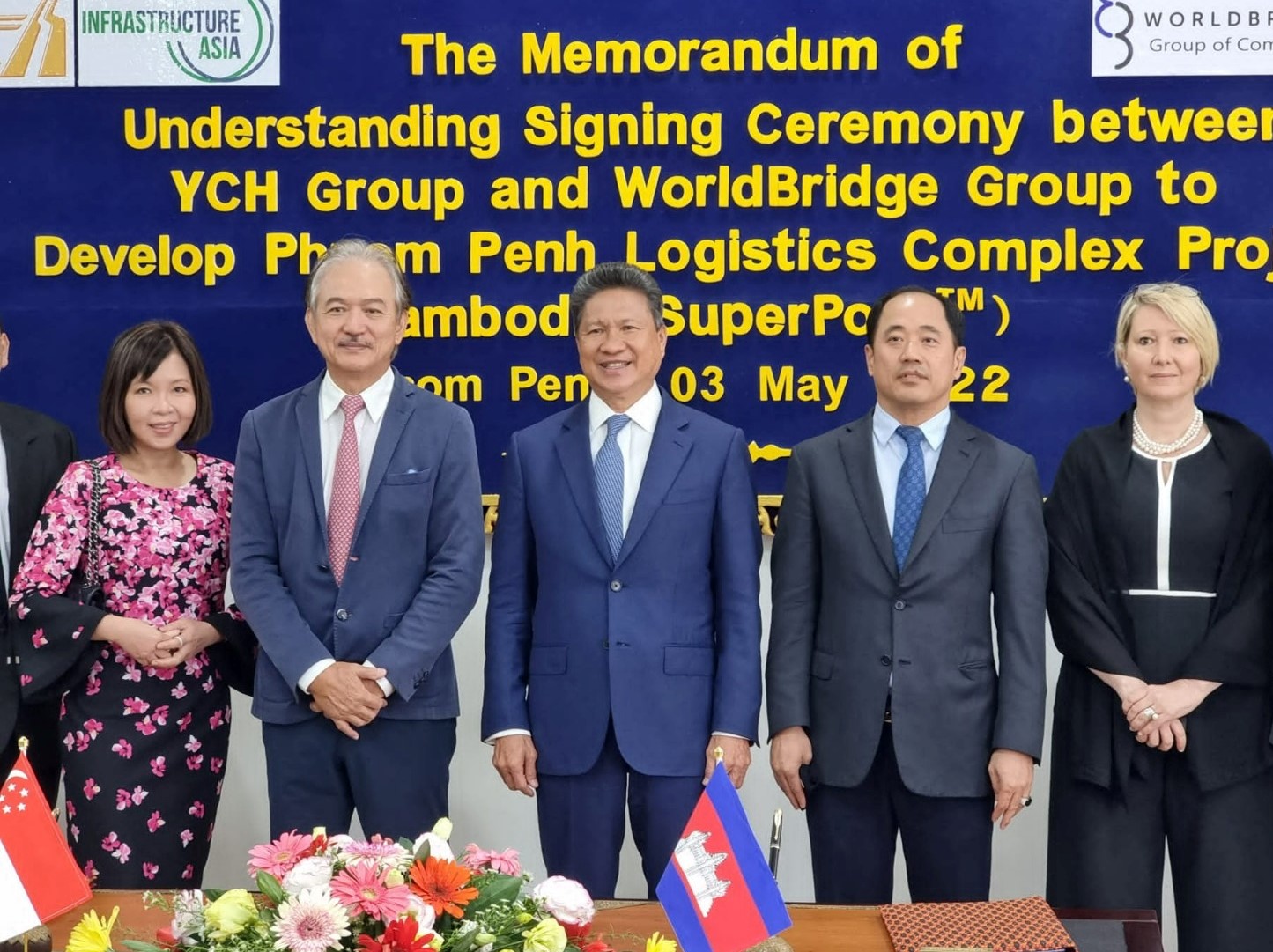 Today's MoU is in response to the Framework Agreement signed between Cambodia's Ministry of Public Works and Transport (MPWT) and YCH Singapore to develop PPLC in March 2021. The endorsed Framework Agreement was symbolic with Cambodia and Singapore celebrating its 55th year of diplomatic ties in 2021, graced by senior officials of both countries – His Excellency SUN Chanthol, Senior Minister, Minister of Public Works and Transport, and Ms Indranee Rajah (Minister in the Prime Minister's Office, Second Minister for Finance and National Development, Singapore. Infrastructure Asia (IA) has been the main facilitator between Royal Government of Cambodia (RGC) and YCH to connect MPWT to stakeholders to complement and develop a strong structure of PPLC to boost Cambodia's logistics industry.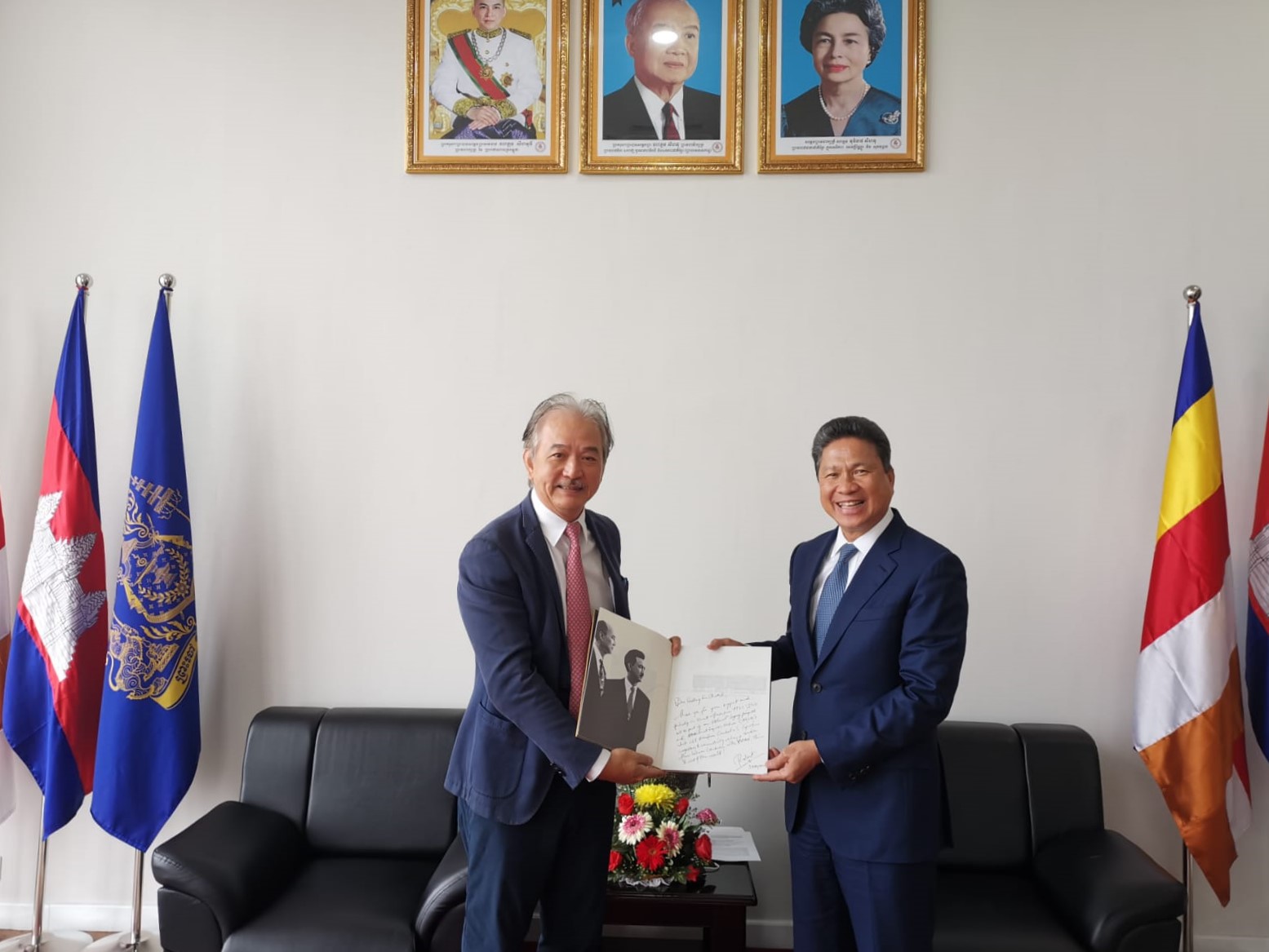 At the Ministry of Public Works and Transport, in Phnom Penh, Cambodia, the physical signing of the Memorandum of Understanding between YCH Group and WorldBridge Group was completed today. His Excellency SUN Chanthol, Senior Minister, Minister of Public Works and Transport, Ambassador Teo Lay Cheng, Ambassador of Singapore to Cambodia, and representatives from the Cambodia's Ministry of Economy and Finance and relevant line ministries were witnesses for this ceremony. Cambodia announced its vision to be a Sub-regional Logistics Hub in its Intermodal Transport Connectivity and Logistics System Master Plan. The vision of Sub-regional Logistics Hub holds three strategic intents – (i) to drive intra-regional trade connectivity, (ii) to serve the Greater Mekong Sub-region and also to improve the connectivity with world trading partners, and (iii) to attract more investors to set up business and manufacturing facilities in Cambodia. PPLC will be a vital connecting node between Cambodia's connectivity with the broader intra-regional trade flows, particularly among the Mekong countries in the ASEAN region. PPLC aims to strengthen Cambodia's standing as a regional logistics hub with logistics as a key bedrock to boost Cambodia's goal to be a high-income country by 2050.
Under this MoU, YCH Group and WorldBridge Group will co-develop the Phnom Penh Logistics Complex (PPLC) under the scope of work in the Framework Agreement as well as explore business models. When completed, PPLC will emerge as a state-of-the-art smart logistics infrastructure facility, hosting adjacent industrial facilities to leverage this new logistics capability. PPLC will deploy latest logistics technologies to enhance Cambodia's economic growth and improve the resiliency and visibility of regional logistics by managing the throughput for logistics and supply chain activities for the Kingdom. It will also be a talent enablement hub to develop future logistics and supply chain talents.
The partnership proliferates the mandates of the ASEAN Business Advisory Council (ASEAN BAC)'s Smart Growth Connect (SG ConnectTM) initiative1 as well as ASEAN Smart Logistics Network(ASLN)2. As the second project under both initiatives, PPLC is a key project to grow cities without growing pains and drive seamless connectivity among ASEAN Member States. Cambodia chairs ASEAN 2022 and today's announcement is significant to reaffirm the commitment from all stakeholders for this project.
His Excellency SUN Chanthol, Senior Minister, Minister of Public Works and Transport, said, "It has been slightly more than a year since we witnessed the endorsement of the Framework Agreement to develop PPLC. We are heartened at the quick progress of this project to accelerate Cambodia's goal to being a competitive economy to materialise our vision to develop Sub-regional Logistics Hub as part of the Master Plan on Intermodal Transport Connectivity and Logistics System."
"Today's partnership is another major milestone to deepen and develop logistics and supply chain connectivity across ASEAN. We are privileged to have RGC's strong support to raise the Kingdom's competitiveness and attractiveness through building a world-class smart logistics complex to accelerate the growth of the economy, with WorldBridge Group's capabilities to bring PPLC to fruition. Together, we look forward to unleashing the immense impact that this development will bring to Cambodia in elevating trade flows within ASEAN and beyond," expressed Dr Robert Yap, Executive Chairman, YCH Group.
"We are honoured to be appointed by YCH Group and contribute our expertise in developing and managing PPLC, a national project that will have immeasurable positive impact on the overall economic health of Cambodia. As a homegrown Cambodia company specialising in international partnerships across diverse sectors, we are confident that our expertise in logistics and industrial development would be an invaluable partner to YCH and support to RGC in growing the economy," said Neak Oknha Rithy Sear, Chairman, WorldBridge Group.
Mr Lavan Thiru, Executive Director, Infrastructure Asia: "We are pleased to continue to play a catalytic role in the development of the PPLC. This collaboration between YCH Group and WorldBridge Group is certainly yet another step in scaling up infrastructure development to support Cambodia's socio-economic growth and achieve its vision to be a regional logistics hub."
Notes:
1 Smart Growth Connect (SGConnectTM) initiative is an ASEAN Business Advisory Council 2018 Fifth Legacy Project spearheaded by YCH. It aims to help growing cities alleviate their growing urbanisation pains by piloting Smart Growth Centres in each ASEAN member state, each with varying sophistication of technologies and human capital intensity but similar in resource productivity and efficiency.
2 Launched on 14 November 2020 during the 37th ASEAN Summit, the ASEAN Smart Logistics Network (ASLN) is a collaborative platform with a shared goal of smart and sustainable growth based on smart logistics infrastructure, aiming to support the ASEAN Connectivity Master Plan 2025. It aims to achieve a seamlessly and comprehensively connected and integrated ASEAN, in order to promote competitiveness and inclusiveness, as well as better position the region as an economic bloc.
## END ##
About YCH Group
YCH Group is Singapore's leading homegrown, end-to-end supply chain solutions partner to some of the world's largest companies and favourite brands across more than 100 cities in the Asia Pacific region. YCH focuses on boosting productivity and sustainability for its customers with its proprietary best-in-class suite of award-winning solutions across industries such as fast-moving consumer goods, electronics, chemical and healthcare, cold chain logistics, and e-Commerce. A strong proponent of innovation, YCH is recognised for its 7PL™ approach in seamlessly integrating supply chain strategy with execution.
About WorldBridge Group
WorldBridge opened our doors in 1992 and has since grown into a top choice for international partners in the Cambodian market. We have developed partnerships with major global brands and companies, bringing investment and contributing to economic growth in the Kingdom. Through relationships built on trust, transparency, and proven success, WorldBridge is considered a leading group in Cambodia's ever-evolving economy.
Media Contact
Clarrie Liew
Head of Marketing Communications
Executive Chairman Office, YCH Group
Email: clarrie.liew@ych.com
Media Contact
Liv Ratana
Office of the Chairman
WorldBridge Group
Email: rnd@worldbridge.com.kh
back