YCH Signs MoU with Vietnam Maritime Corporation To Establish Multimodal Connectivity For Vietnam SuperPort™
Nov 26, 2022 12:00:00 AM
Hai Phong, 26 November 2022 – A Memorandum of Understanding (MOU) has been signed by T&Y SuperPort Vinh Phuc (A Joint Venture of Asia's largest supply chain solutions provider YCH Group and Vietnamese conglomerate T&T Group) and Vietnam Maritime Corporation (VIMC) as a partner for sea connectivity for Vietnam SuperPort™, a multimodal smart logistics project.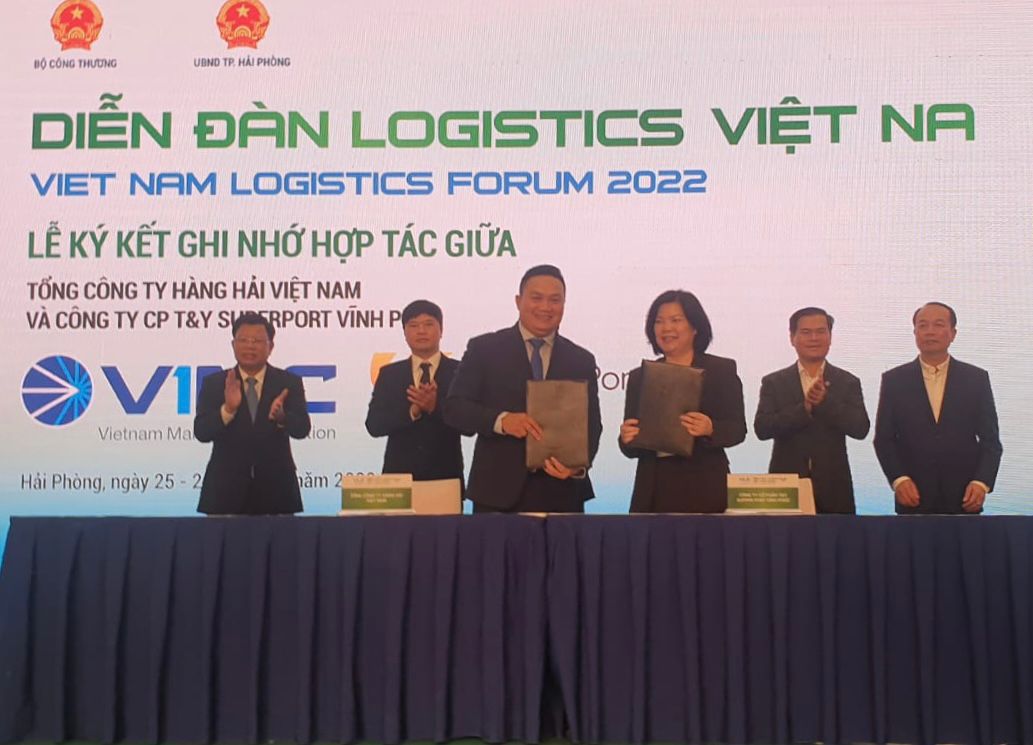 The signing took place on 26 November 2022 in Hai Phong City as part of the Vietnam Logistics Forum 2022, organised by the Ministry of Industry and Trade (MOIT) and was graced by the Minister of Industry and Trade H.E. Nguyen Hong Dien, Secretary of Hai Phong City Party Committee H.E. Tran Luu Quang, and the Head of the Central Economic Commission H.E. Tran Tuan Anh.
This partnership with VIMC marks the latest connecting node for Vietnam SuperPort™ following the signing of two Memoranda of Understanding with Vietnam Airlines and Vietnam Railways Corporation earlier this August. Established in 1995 to provide maritime services on a global scale, VIMC is owning and operating a fleet of 60 vessels, managing strategic 16 ports of Vietnam with synchronous logistics infrastructure system nationwide. With a mission to contribute to establish Vietnam as a key strategic location on the global maritime map, VIMC aligns perfectly with the goal of Vietnam SuperPort™ – to support Vietnam as a global manufacturing hub through key infrastructure and investing in upskilling workers.
The Vietnam SuperPortTM spans over 83 hectares in the Vinh Phuc Province and in addition to the warehouses and transport for rail, road, air and sea linkages, it will also include a training centre for educating workers in the best practices for supply chain and logistics excellence, equipping them with the skills to handle operations in the facility. The project is the first to be launched under ASEAN Business Advisory Council's fifth legacy project Smart Growth Connect (SGConnectTM), and the ASEAN Smart Logistic Network (ASLN). In line with ASEAN Connectivity Master Plan 2025, Vietnam SuperPortTM aims to lower logistics costs, strengthen competition and promote trade among ASEAN states as well as facilitate seamless connectivity throughout the region and beyond.
Ms Chan Yoke Ping, Chief Executive Officer of T&Y and Lê Quang Trung, Vice President of Vietnam Maritime Corporation were the signatories of the MoU. The parties, through the MoU, plan to achieve the following objectives:
To jointly develop synergistic products and services offering for the Inland Container Depot (ICD) and the Container Freight Station (CFS) to meet the growing sea volumes in the industrial hinterland surrounding Vietnam SuperPortTM as well as to alleviate existing logistic challenges.
To jointly develop new business opportunities between VIMC and T&Y to leverage on Vietnam SuperPortTM as a trans-shipment hub to enhance multimodal cargo transportation within Vietnam and across the region.
To jointly develop shipping solutions with VIMC to capture the cargo volume from and to Vietnam ports to leverage YCH Group's customers in Vietnam and beyond.
Of the partnership, Lê Quang Trung, Vice President of VIMC said, "We believe that Vietnam SuperPortTM will empower Vietnam with the necessary infrastructure for logistical excellence and are looking forward to working with T&Y to realise the objectives in the MOU. With VIMC's 27 years of maritime operations, we are honoured to lend our skills and expertise to contribute the success of this project."
Dr Robert Yap, Executive Chairman of YCH Group said, "YCH Group is a forerunner in driving supply chain connectivity across ASEAN, with Vietnam partaking a crucial role in spearheading this mandate. Vietnam SuperPortTM is the first project launched under SGConnectTM. We have progressed very quickly since the project was launched in 2020, with the completion of the cementation of the aspirations of Vietnam SuperPortTM as a multimodal logistics infrastructure. Dovetailing the two MoU inked with Vietnam Airways and Vietnam Railways Corporation in August 2022, today's signing with VIMC will have the key connecting nodes – air, sea, and rail established. We look forward to Vietnam SuperPortTM's contributions in Vietnam's trajectory to be an essential world-class logistics hub in Asia."
Mr Do Quang Hien, Founder and Chairman of Strategy Committee T&T Group expressed, "From the ground-breaking ceremony last year to signing the MOU with VIMC at the Vietnam Logistics Forum today, we are honoured to have our ministers gracing this momentous event as it signifies their support that Vietnam SuperPortTM will contribute to Vietnam's economic growth."
- End -
About YCH Group
YCH Group is Singapore's leading homegrown, end-to-end supply chain solutions partner to some of the world's largest companies and favourite brands across more than 100 cities in the Asia Pacific region. YCH focuses on boosting productivity and sustainability for its customers with its proprietary best-in-class suite of award-winning solutions across industries such as fast-moving consumer goods, electronics, chemical and healthcare, cold chain logistics, and e-Commerce. A strong proponent of innovation, YCH is recognised for its 7PL™ approach in seamlessly integrating supply chain strategy with execution.
About T&T Group
T&T Group Joint Stock Company (T&T Group) is among the leading private multi-sectoral economic groups, operating in the fields associated with Vietnam's economic development strategy. Found in 1993 at the time the countries started to engage in international economic integration, to date, T&T Group has witnessed significant developments. The Group consists of about 600 member companies with over 80,000 employees nationwide and in developed countries such as the US, Russia, Germany, and Australia. T&T Group is currently operating in 7 core business areas, including: Finance and Investment; Real Estate; Energy & Environment; Industry & Trade & Logistics; Transportation Infrastructure; Agriculture, Forestry & Fishery; Health Care, Education & Sports. In its strategy to 2030, T&T Group aims at maintaining its position in the top 10 largest private multi-sectoral economic groups in Vietnam and the top 50 influential corporations in Asia & the region.

Media Contact
Clarrie Liew
Head of Marketing Communications
Executive Chairman Office, YCH Group
Email: clarrie.liew@ych.com
Jasmine Lim
Executive, Marketing Communications
Executive Chairman Office, YCH Group
Email: jasmine.lim@ych.com
back