YCH and IFC ink Second Partnership to develop Smart Logistics Network across ASEAN
Feb 16, 2023 12:00:00 AM
Singapore, 16 February 2023 – Singapore leading homegrown logistics provider, YCH Group has signed a second collaboration agreement with the International Finance Corporation (IFC). IFC will support the development of the iconic Cambodia SuperPortTM project, a US$300 million project, which will serve as an integrated dry port and advanced supply chain nerve centre to support the projected growth in logistics demand in Cambodia. This partnership agreement is inked between IFC and PPLC SuperPort and Industrial Co Ltd, a joint venture company between YCH Group and WorldBridge Group.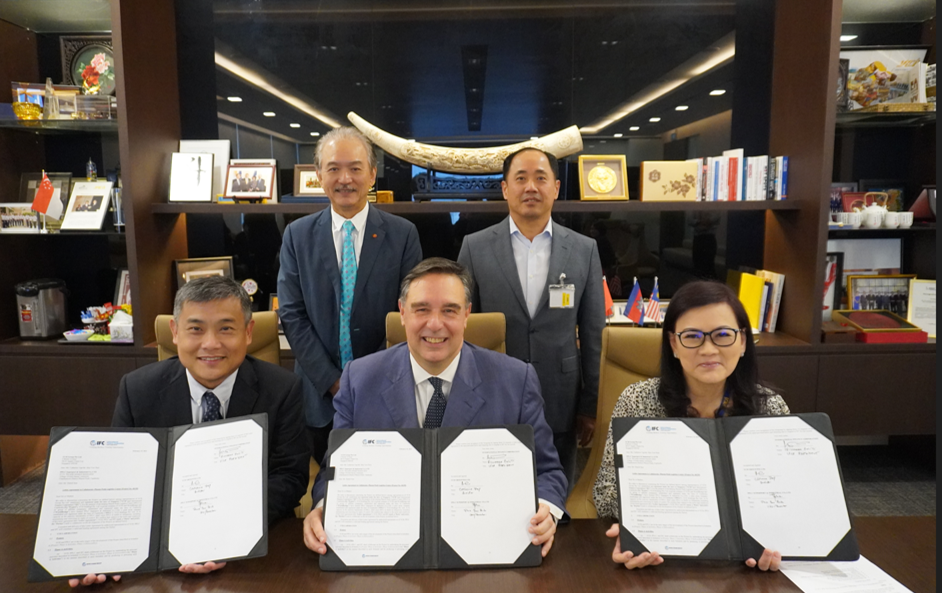 From Left to Right:
(First Row) Mr Shia Yew Peck (on behalf of PPLC SuperPort and Industrial Co Ltd), Mr Riccardo Puliti, IFC Regional Vice President for Asia and the Pacific, and Ms Catherine Yap, Executive Director of YCH Group
(Second Row) Dr Robert Yap, Executive Chairman of YCH Group & Neak Okhna Rithy Sear, Chairman of WorldBridge Group
The Cambodia SuperPortTM (or Phnom Penh Logistics Complex PPLC) was unveiled during the 41st ASEAN Summit in Phnom Penh, witnessed by H.E. Akka Pundit Sopheacha Aun Pornmoniroth, Deputy Prime Minister, Minister of Economy and Finance, the High Representative of Samdech Techo Hun Sen, Prime Minister of the Kingdom of Cambodia, H.E. SUN Chanthol, Senior Minister, Minister of Public Works and Transport, and Dr Vivian Balakrishnan, Minister for Foreign Affairs of Singapore.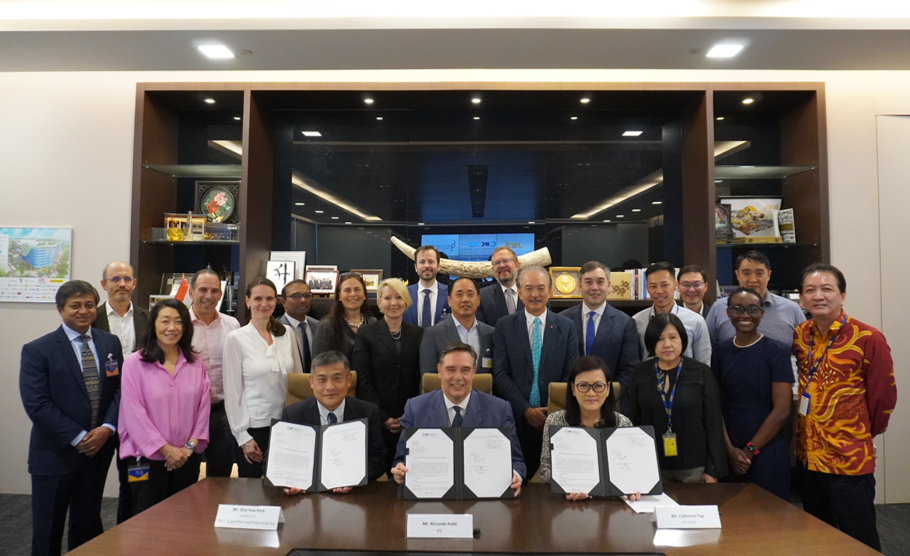 This agreement seals the mutual interest between the three parties where IFC – the largest global development institution focused on the private sector in emerging markets – will help strengthen the technical, commercial, legal, and environmental and social (E&S) aspects of the project to make it a bankable investment to attract financing from international lenders. IFC will also provide the developers with its expertise in working in similar markets globally, support for mitigation of project risks as well as work to strengthen E&S standards in line with IFC's Performance Standards, which will help improve the project's overall bankability and sustainability.
The SuperPortTM vision originated from the Smart Growth Connect (SGConnectTM) project in 2018 when Singapore assumed the chairmanship of the ASEAN Business Advisory Council (ASEAN BAC). This initiative is further solidified through the November 2020 inauguration of the ASEAN Smart Logistics Network (ASLN), a collaborative platform with a shared goal of developing smart and sustainable advancement based on smart logistics infrastructure, to support the ASEAN Connectivity Master Plan 2025.
The development of the Cambodia SuperPortTM dovetails with the Kingdom's plan to enhance logistics capabilities spearheaded by The Ministry of Public Works and Transport (MPWT) on the intermodal transport connectivity and logistics master plan. Cambodia SuperPortTM is identified as one of the key projects to improve the Kingdom's competitiveness in the region by reducing costs and time to market.
Neak Okhna Rithy Sear, Chairman of WorldBridge Group, said, "We are elated to that IFC's has chosen to support the Cambodia SuperPortTM. This facility will be a key contributor to the growth of Cambodia by providing the facilities for the next generation of manufacturing in the Kingdom. With YCH Group leading the project, we are confident that the capabilities of Cambodia SuperPortTM as a logistics value added manufacturing hub will elevate Cambodia's standing in the region and will be a major contributor to the economy of the Kingdom."
"Today's signing ceremony is another major milestone to develop logistics and supply chain connectivity across ASEAN. As part of SGConnect™ initiative and its second project, Cambodia SuperPort™ will raise the Kingdom's competitiveness and attractiveness through a world class, multimodal logistics infrastructure to accelerate the growth of the economy. We are confident that Cambodia SuperPort™ will be one of the key driving forces in boosting the supply chain and logistics connectivity for ASEAN and beyond, with the use of state-of-the-art technologies and best in class processes to improve cost of logistics and time to market as well as developing local talents to uplift the standards for the logistics industry in Cambodia," said Dr Robert Yap, Executive Chairman of YCH Group and Singapore Chair of ASEAN BAC.
"Developing a multi-million-dollar world class super port will play a key role in expanding Cambodia's economy and driving connectivity across Southeast Asia, delivering a faster and more efficient supply chain in the region, which ultimately benefits consumers," said Riccardo Puliti, IFC Regional Vice President for Asia and the Pacific. "Logistics are the backbone of any economy, and this SuperPort™ will also support the rapid growth of e-commerce and IFC will work with its partners to promote high-value manufacturing in the region while expanding its integration into global trade and supply chains."
– End –
About YCH Group
YCH Group is Singapore's leading homegrown, end-to-end supply chain solutions partner to some of the world's largest companies and favourite brands across more than 100 cities in the Asia Pacific region. YCH focuses on boosting productivity and sustainability for its customers with its proprietary best-in-class suite of award-winning solutions across industries such as fast-moving consumer goods, electronics, chemical and healthcare, cold chain logistics, and e-Commerce. A strong proponent of innovation, YCH is recognised for its 7PL™ approach in seamlessly integrating supply chain strategy with execution.
For more information, please visit www.ych.com.
About WorldBridge Group
WorldBridge opened its doors as a local logistics company in 1992 and has grown to include more than 30 companies across a diverse range of industries, including logistics, real estate development, finance, digital media, healthcare, and trading. Through strong international partnerships, WorldBridge Group continues to bring first-of-their-kind investments to the Cambodian market.
For more information, please visit www.worldbridge.com.kh
About IFC
IFC—a member of the World Bank Group—is the largest global development institution focused on the private sector in emerging markets. We work in more than 100 countries, using our capital, expertise, and influence to create markets and opportunities in developing countries. In fiscal year 2022, IFC committed a record $32.8 billion to private companies and financial institutions in developing countries, leveraging the power of the private sector to end extreme poverty and boost shared prosperity as economies grapple with the impacts of global compounding crises. For more information, visit www.ifc.org.
Media Contact
YCH Group, Marketing and Communications
Clarrie Liew, Head of Marketing and Communications
Mobile: +65 9790 6558
Email: clarrie.liew@ych.com
Sear Brothers Investments Co. Ltd., PPLC Project Office
Allen Tan, Project Lead
Phone: +855 77 666380 (WhatsApp / Telegram)
E-mail: atan@searbrothers.com
International Finance Corporation, Communications
In Singapore:
Alec Macfarlane
Phone: +1 (202) 203 8324
E-mail: amacfarlane@ifc.org
In Hanoi:
Chu Van Anh
Phone: +84 024 3937 8745
E-mail: canh1@ifc.org
back