Y-SG wins accolade for Innovative Digital Transformation Strategies in SBR National Business Awards 2023
May 24, 2023 12:00:00 AM
Singapore, 24 May 2023 - Y-SG Pte Ltd, YCH Group's e-commerce arm, clinched the "Logistics E-Commerce" for Driving Digital Strategies in Online and Offline Transformation Award during SBR National Business Awards on 23 May 2023.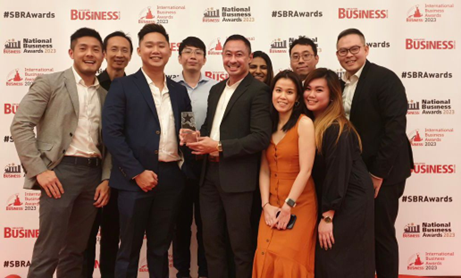 Dr Simon Sim (holding the award) flanked by Team Y-SG celebrating the meritorious win at SBR National Business Awards in Marina Bay Sands
The award-winning solution, Order Management System (OMS), is engineered by YCH Group's Technology Arm, Y3 Technologies, allowing full visibility of orders and fulfilment operations. This e-commerce solution enables businesses to sell products on multiple online and offline sales channels and manage orders and products from multiple stock locations.
YSG Marketplace was launched in 2020 to offer businesses fully integrated end-to-end E-Commerce logistics solutions, with full support from YSG to list and sell on the platform. Over the years, YSG successfully grew the sales of foreign multinational conglomerates by over 700 times in one year and listed around 600 brands on its platform.
The annual awards programme celebrates local and homegrown companies and recognises excellence in projects that contribute to Singapore's economy. Y-SG is no stranger to receiving awards from SBR; with the 'E-Commerce Innovation' award received in 2020.
"This award is an affirmation that our fearless pursuit and relentless adoption of the latest innovations allow YSG and the businesses it supports to stay relevant and competitive in an unforgiving environment where there is little or no room for errors and inefficiencies. YSG will continue to innovate and take giant strides in continuing our organisational excellence," expressed Dr. Simon Sim, Managing Director, Y-SG Pte Ltd.
Announcement by SBR: https://sbr.com.sg/co-written-partner/event-news/exceptional-homegrown-foreign-companies-lauded-sbr-international-and-national-business-awards-2023
Article by SBR: https://sbr.com.sg/co-written-partner/event-news/y-sg-pte-ltd-wins-award-innovative-digital-transformation-strategies-ysg-marketplace
Media Contact
Nur Dyanah
Marketing Communications Executive
Executive Chairman Office, YCH Group
Email: nur.dyanah@ych.com
Marketing Contact
Apoorva Bansal
Senior Marketing Executive
Y-SG Pte Ltd
Email: apoorva.bansal@ysg.asia
back