YCH Chairman & CEO Robert Yap wins Ernst & Young Entrepreneur of the Year award
Nov 28, 2007 12:00:00 AM
YCH Group Chairman and CEO Dr. Robert Yap Named Ernst & Young Entrepreneur Of The Year Singapore 2007
- Dr. Yap to represent Singapore at the annual World Entrepreneur Of The Year Award in Monte Carlo in 2008
Singapore, 28 November 2007 - Dr. Robert Yap, Chairman and CEO of Singapore-based YCH Group, a leading regional provider of integrated end-to-end supply chain management solutions, was named Entrepreneur Of The Year Singapore 2007 at the Ernst & Young Entrepreneur Of The Year Awards Singapore 2007 award ceremony this evening. Dr. Yap will represent Singapore at the annual World Entrepreneur Of The Year Award to be held in Monte Carlo next year.
| | | |
| --- | --- | --- |
| Robert has been named overall Entrepreneur of the Year. Our heartiest congratulations to Robert for being our role model of entrepreneurial excellence (From L-R: Mr Ong Yew Huat, Country Managing Partner of Ernst & Young Singapore, Dr. Robert Yap, Chairman & CEO of YCH Group, Minister for Manpower and 2nd Minister for Defence Dr Ng Eng Hen and Ms Fang Ai Lian, Chairman of Ernst & Young, Singapore) | | Robert giving his speech of thanks and sharing his joy for being chosen to represent Singapore in the prestigious event next year |
Being awarded the Oscars for business from among the best players across all industries in Singapore is a huge recognition of YCH's passion for supply chain excellence and our contribution as a trailblazer in the Singapore and regional logistics industry. Coupled with an enterprising work culture that permeates throughout the organization, this award will spur YCH to continue our single-minded focus to be where supplychain connects, to deliver competitive advantages for our customers and raise the bar for the entire industry and business landscape in Singapore and the region, said Dr. Robert Yap, Chairman and CEO, YCH Group.
Dr. Yap's win comes on the back of a breakthrough year for YCH, which was recently awarded the coveted Best Domestic Logistics Service Provider in Singapore and the Best IT/Electronics Logistics Service Provider in the region awards at the 2nd Annual Frost & Sullivan ASEAN 4 Logistics Awards. Most recently, YCH also received the Asian 3PL of the Year award at the Supply Chain Asia Logistics Awards 2007, organized by the regional industry association, Supply Chain Asia.
In June this year, the company also opened a 5.2 hectare, S$25 million Airport Logistics Park in Tianjin, China to support the growing requirements of its world-class customers as they scale and expand their manufacturing capabilities in the region.
Dr. Yap emerged as the overall Entrepreneur of the Year from six local award winners across various sectors including Stephen Riady, Executive Director of Auric Pacific Group (Strategic Investment); Robert Chandran, Executive Chairman and CEO of Chemoil Energy (Oil and Gas); FJ Benjamin CEO Nash Benjamin (Lifestyle); David Loke, Managing Director of Tru-Marine (Marine Engineering); and Richard Tay, Group MD of YHI International (Manufacturing).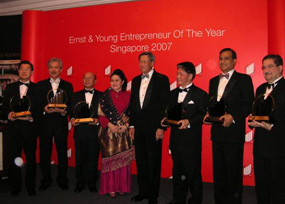 The jubilant award winners of the 6 industries with Guest of Honor, Minister for Manpower and Second Minister for Defence Dr Ng Eng Hen and Dr Della Lee (From L-R: Dr Stephen Riady, Dr Robert Yap, Mr Richard Tay, Dr Della Lee, Minister Ng Eng Hen, Mr David Loke, Mr Robert V. Chandran and Mr Nash Benjamin)
Award recipients were selected based on six different criteria - Entrepreneurial Spirit, Innovation, Personal Integrity / Influence, Financial Performance, Strategic Direction and National / Global Impact - by an independent panel of judges made up of leading figures from the Singapore business community, academia and past award recipients.
As a leading innovator in the Singapore logistics industry, Dr. Robert Yap is a worthy winner who epitomizes the true spirit of entrepreneurship. He bears the key qualities of a great entrepreneur - passion in his field, astute business acumen, and an exciting vision for the industry in the logistics superhighway, which he realized through pioneering the effective use of IT to connect customers supply chains, said Mr. Chong Lit Cheong, Chief Executive Officer of International Enterprise Singapore and a member of the Ernst & Young Entrepreneur Of The Year judging panel.
YCH Group's suite of innovative award-winning end-to-end supply chain management solutions include Intribution, Intrabution, Retrogistics, Y-Merge and V-Hub, which employ cutting edge web-technologies that are best-in-class across industry clusters from consumer and electronics to chemical and healthcare, to deliver powerful competitive advantages for customers.
In his 30 years in the industry, Dr. Yap catalysed YCH's growth from a local transportation company to an award-winning 7PL Supply Chain Management leader in Asia Pacific, competing with the global giants in the industry and managing complex supply chains for the leading companies in the world including Dell, Motorola, Canon and Solectron. The company's regional footprint spans Singapore, Malaysia, Thailand, Indonesia, Philippines, Hong Kong, Australia, China, India, Korea, Japan and Vietnam.
About Ernst & Young Entrepreneur Of The Year Awards
The Entrepreneur Of The Year Awards program was first launched by Ernst & Young in USA in 1986 and in Singapore in 2002. The awards program has become the most prominent international business award and has successfully expanded to 135 cities in more than 50 countries, including the United Kingdom, France, Germany, Italy, Switzerland, India, Indonesia and Malaysia. Past winners of the Ernst & Young Entrepreneur Of The Year Awards include Jeff Bezos of Amazon.com, Michael Dell of Dell Inc., Howard Schultz of Starbucks Corp., Scott McNealy of Sun Microsystems, Pierre Omidyar of eBay, Inc., Eddie Jordan of Jordan Grand Prix, Paolo della Porta of Saes Getters S.p.A, Stefan Vilsmeier of BrainLAB AG, Narayana NR Murthy of Infosys Technologies, Tony Tan Caktiong of Jollibee Foods Corporation, Wayne Huizenga of Huizenga Holdings Inc., Bill Lynch of Imperial Holdings and Guy Lalibert of Cirque du Soleil.
Click here to see Channel News Asia's coverage on the awards gala.
---
For media enquiries, please contact:
YCH Corporate Communications
Ms Tien Yushan at Tel: (65) 6417 2773 or Email: corporate@ych.com
back