YCH Group's Dr Robert Yap Conferred Businessman of the Year at Singapore Business Awards 2016
Apr 1, 2016 12:00:00 AM
Dr Yap acknowledged for his vital contributions to Singapore's development, his role in encouraging the entrepreneurial spirit and his work in corporate management.
1 April 2016 - Singapore - Dr Robert Yap, Executive Chairman of YCH Group, was conferred "Businessman of the Year" at the Singapore Business Awards 2016 on 31 March at The Ritz-Carlton, Millenia Singapore. The award recognises business leaders for the vital contributions they have made to Singapore's development, their role in encouraging the entrepreneurial spirit in Singapore, as well as their excellent work in corporate management.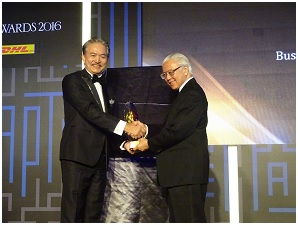 Dr Robert Yap receiving the "Businessman of the Year" award from His Excellency Dr Tony Tan, President of the Republic of Singapore.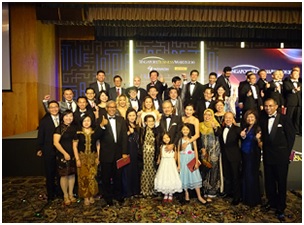 YCHees and Friends of YCH celebrating Dr Robert Yap's lifetime achievement.
An industry veteran with four decades of experience, Dr Yap has played an active role in contributing to the logistics and supply chain management industries in Singapore, demonstrating a home-grown brand's ability to make an impact on the markets in the region. Over the years, Dr Yap diversified and grew YCH from a humble local transport operator to an established multinational supply chain management company. Today, YCH Group is the leading end-to-end supply chain solutions partner to some of the world's largest companies across the region, enabling them with award-winning solutions and a comprehensive Asia Pacific presence.
Some of Dr Yap's key achievements include:
Introducing technology and breakthrough innovations to the logistics and supply chain management industries: Dr Yap established Y3 Technologies in 1981 to leverage on information technology and develop proprietary Supply Chain solutions, granting the company more flexibility in its operations over limiting off-the-shelf solutions. Today, Y3 is a leading IT solutions company in the supply chain industry with more than 150 software engineers, and partner of choice to many leading organisations in the world.
Advancing the supply chain industry through education and workforce improvement: YCH is committed to leading and driving the logistics industry with the adoption of SkillsFuture and other national manpower initiatives - working closely with agencies to provide opportunities to support its workforce to acquire and deepen skills through lifelong learning. YCH also introduced an industry-led training initiative with the Tianjin College of Commerce and Singapore's Republic Polytechnic via the EduRISE initiative to develop the next generation logistics talents.
"I am deeply honoured to receive the Businessman of the Year Award from the Singapore Business Awards. I would like to thank my colleagues, partners and associates for their hard work and collaboration, for working with me to contribute to the development of the supply chain industry and the vibrancy of the Singapore business community. This award will drive me to continue playing an active role not just in the general Singapore economy but also in the supply chain and logistics industries," said Dr Robert Yap.
In his speech, Dr Yap said that he will continue demonstrating his "lifelong belief in the power of technology" through Y3 Technologies, whose growth he wants to scale into "the leading Supply Chain technology partner of choice in the region". Moving forward, he will focus his attention on building a critical ecosystem for Supply Chain City™, Asia's iconic Supply Chain nerve centre through the establishment of SCALA™, a premier Supply Chain industry learning centre.
He added, "With our 'asset right' strategy anchored by Supply Chain City™, and our established network of DistriParks spread throughout Asia Pacific, the ecosystem represents the beginning of a new transformation that will take the YCH Group and the SCM industry 'beyond supplychain', bringing all of us a step closer to achieving the reality of a truly borderless world."
Other appointments held by Dr Yap include:
Contribution to industrial harmony in Singapore as President of the Singapore National Employees Federation
Contribution to the strengthening of IE Singapore's mission to drive Singapore's external economy, promote international trade and spearhead the overseas growth of Singapore companies as Deputy Chairman of IE Singapore's Board
Contribution to developing business and economics in the region as Singapore Chairman of the ASEANBusiness Advisory Council
Contribution to the fostering of business ties as Chairman of Malaysia-Singapore Business Council
Contribution to skills development as member of SkillsFuture Council
Member of the National Productivity Council
Member of the Committee on Future Economy
Founding Chairman of Supply Chain Asia - a community of more than 30,000 supply chain professionals based in the region.
The Singapore Business Awards (SBA) is jointly organised by The Business Times, a business daily published by Singapore Press Holdings, and DHL, the global market leader of the international express and logistics industry. It has four categories which are decided by a panel of judges drawn from the business sector, official agencies and academia. The Singapore Business Awards have grown to become Singapore's most prestigious accolades in the business and corporate sectors.
About YCH Group
Founded in 1955 and headquartered in Singapore, YCH Group is the leading end-to-end supply chain solutions partner to some of the world's largest companies and favourite brands across the Asia Pacific region. Its suite of innovative award-winning end-to-end supply chain management solutions - Intribution™ , Intrabution™ , Retrogistics™ - employ cutting edge web-technologies that are best-in-class across industry clusters from consumer and electronics to chemical and healthcare, to deliver powerful competitive advantages for customers. A strong proponent of innovation, YCH is recognized for its 7PL™ approach in seamlessly integrating supply chain strategy with execution. As an extended family enterprise, YCH was awarded the May Day Model Partnership Awards 2014 for embracing diversity, encouraging continuous learning and the creation of a productive, resilient and sustainable workforce.
For further information, please visit www.ych.com
---
For media enquiries:
Sandra Tan
Corporate Communications, YCH Group
DID : (65) 6417 2773
Email: sandra.tan@ych.com
Neo Jia Hao
Corporate Communications, YCH Group
DID : (65) 6417 2772
Email: jiahao.neo@ych.com
back