YCH Group and Forchn Holdings Inks Partnership Framework to Capture Opportunities Along the Belt and Road Initiative
Apr 24, 2018 12:00:00 AM
YCH Group and Forchn Holdings are well-positioned to be the first mover to access untapped market opportunities in Asia-Pacific.
Singapore, 24 April 2018 – YCH Group (YCH), Asia Pacific's leading supply chain and logistics company together with Forchn Holdings, sponsor of SGX-listed EC World REIT, have earlier today signed a landmark framework agreement on three strategic initiatives in Hangzhou, China. This signing took place in the presence of Senior Minister of State (Ministry of Culture, Community and Youth & Ministry of Trade and Industry) Sim Ann.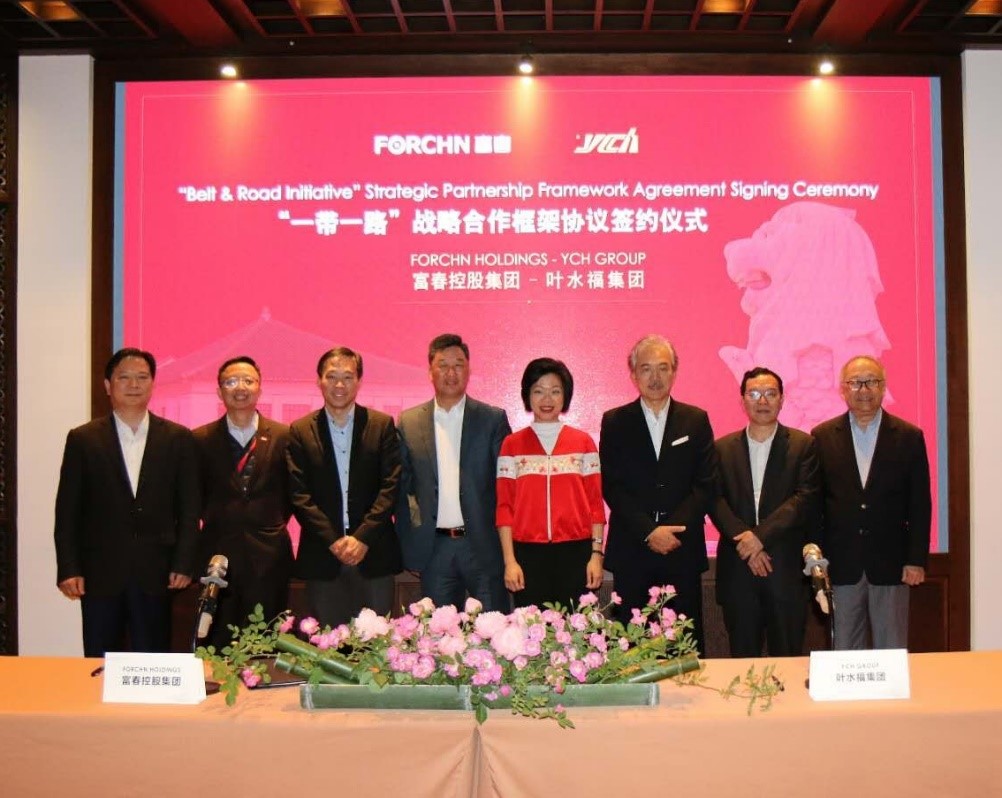 (L to R) Mr. Zhu Dang Qi, Secretary to Fu Yang District Committee; Mr Loh Tuck Wai, Consulate-General of the Republic of Singapore – Shanghai; Mr Png Cheong Boon, CEO of Enterprise Singapore; Mr. Zhang Guo Biao, Chairman of Forchn Group; Ms Sim Ann, Senior Minister of State, Ministry of Culture, Community and Youth & Ministry of Trade and Industry; Dr. Robert Yap, Executive Chairman at YCH Group; Mr. Xu Gao Chun, Vice Head of Zhejiang Province Commerce Department: and Mr Chan Heng Wing, EC World Asset Management Lead Independent Director, witnessed the signing.
Firstly, Forchn has secured an exclusive opportunity for EC World REIT to assess for consideration an acquisition portfolio of 13 YCH logistics real estate assets, totalling more than 280,000 sqm of GFA and an estimated value of S$400m. These assets are part of YCH's extensive network, across more than 100 locations in 16 countries. This extraordinary portfolio is inimitable, offering access to strategic nodes in Asia. Upon a successful acquisition, subject to negotiations between YCH and EC World REIT and regulatory approval, YCH would continue to lease and operate the assets, and Forchn would transfer to YCH a significant stake with board representation in the manager of EC World REIT.
Secondly, YCH and Forchn will formally launch the US$150m Forchn-YCH Belt Road Initiative (BRI) Logistics Real Estate Private Equity Fund in second half of 2018. The fund is aimed at capitalising on the development and acquisition of logistic assets in key cities across the Belt Road countries to improve the transportation infrastructure in the region. Forchn has a strong track record of real estate investment and development in China with 700,000 sqm of developed projects, while YCH brings over more than 60 years of experience in B2B and B2C logistics. Both YCH and Forchn will provide their expertise in sourcing and developing fit-for-purpose assets and will anchor the assets with their multinational and multi-disciplined client base.
Finally, YCH and Forchn will leverage on each other's competencies to capture opportunities in Southeast Asia. According to a report by Google and Temasek, the region's internet economy is projected to exceed US$200b and reach 6% of GDP by 2025. Riding on Forchn's China network of Ruyicang E-Commerce Services, which includes Chinese customers such as Alibaba and VIP.com, YCH will introduce cutting-edge supply chain management technologies and practices to enhance customer service.
YCH and Forchn will be well-positioned to be the first mover to access the untapped market opportunities that would be beneficial for their supply chain and logistics clients and business partners.
About YCH Group
Founded in 1955 and headquartered in Singapore, YCH Group is the leading end-to-end supply chain solutions partner to some of the world's largest companies and favourite brands across more than 100 cities in the Asia Pacific region. A strong proponent of innovation, YCH is recognized for its 7PL™ approach in seamlessly integrating supply chain strategy with execution. YCH's launch of Supply Chain City®, Asia's nexus of supply chain excellence on 22 September 2017 will create new benchmarks in the logistics and supply chain industry, supporting Singapore's key growth areas, namely in urban solutions, smart logistics and robotics.
For more information, please visit www.ych.com
About Forchn International, Forchn Holdings
Forchn International is the overseas headquarters of Forchn Holdings. Forchn is a Shanghai-based investment holding company established in 1992, specializing in e-commerce logistics services, ecommerce real estate, health & wellness, manufacturing and financial services. Its numerous regional holdings include the SGX-listed REIT with an asset portfolio of S$1.3 billion (EC World REIT), focused on e-commerce and specialized logistics real estate. Forchn was also a founding shareholder of Alibaba's Cai Niao Network and Ruyicang E-commerce Logistics Services. Its recent acquisition of the Hangzhou Fuchun Resort marked the Group's entry into the highly promising health and wellness services and real estate sector in China. Its current portfolio of well-known China brands also includes the 400-year old cutlery brand, Zhang Xiao Quan.
For more information, please visit www.forchn.com.cn, www.forchn.sg
-----
For Media Enquiries
Michelle Wong
Executive Chairman Office, YCH Group
DID : (65) 6417 2785
Email: michelle.wong@ych.com
Chrispin Andereas
CEO Office, Forchn International
DID : (65) 6372 9557 ext 557
Email: chrispin@forchn.com.cn
back