YCH Group Awarded "Supply Chain Transformation of the Year" For FUSIONARIS®
Nov 23, 2018 12:00:00 AM
Singapore, 23 November 2018 – YCH Group, Asia Pacific's leading integrated end-to-end supply chain management and logistics partner, was awarded the "Supply Chain Transformation of the Year (Projects)" for its homegrown patented solution, FUSIONARIS® at the recent Supply Chain Asia Industry Night Awards 2018. They shared the honour together with SSI Schaeffer.
Held at Resorts World Sentosa this year, the Supply Chain Asia Industry Night Awards aims to recognize outstanding leadership, extraordinary performance and notable achievements in the industry and community. YCH Group's consistent wins year after year reaffirms the commitment to supply chain excellence and continuous innovation as the preferred partner to both MNCs and growth-driven companies.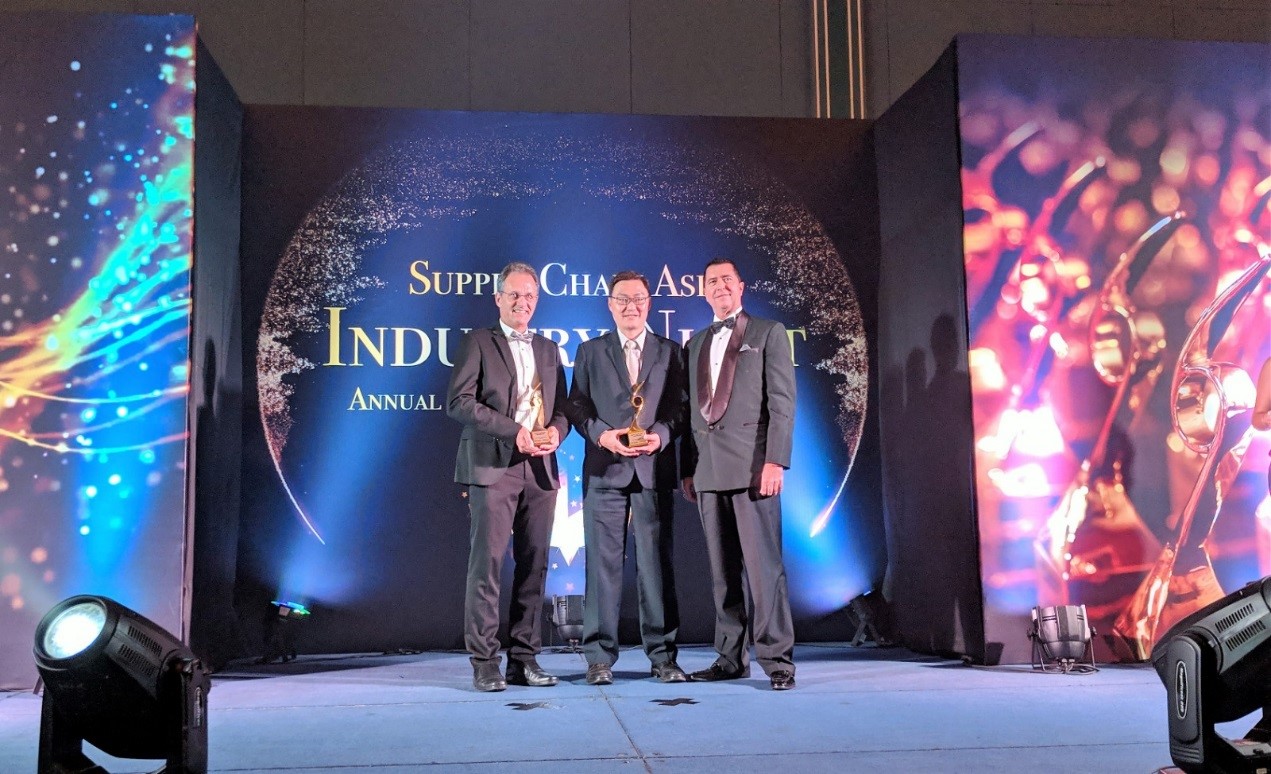 Mr Henry Chua, Head of Facilities Management of YCH Group, shared his delight on winning the "Supply Chain Transformation of the Year (Projects)". "We look forward to build on this success together with our LEARN ecosystem partners, to break new grounds and shift paradigms for the supply chain and logistics industry. It goes to show our commitment to be at the forefront of innovation and keep reinventing ourselves as the industry approaches the new industrial revolution."
FUSIONARIS is home to one of the largest Automated Storage and Retrieval System (ASRS) in Southeast Asia, standing at 50 metres tall. While the technology of an ASRS is nothing new in the supply chain and logistics industry, what made FUSIONARIS revolutionary is that the state-of-the-art crafted machinery was carefully built into all five floors of a ramp-up distribution centre, providing access to more than 100 loading and unloading facility. This equates to a constant throughput with multi entry and exit points and creates a natural contingency for technical breakdown by diverting operations from one level to another.
With a capacity of 66,624 pallets, the ASRS is an architectural feat that optimised land use in land-scarce Singapore as accommodating such an enormous volume would require a space larger by at least eight times. Conventional forklifts typically require three minutes to retrieve one pallet. The ASRS, however, tremendously increased efficiency in operations as it enables two to three pallets to be retrieved within one minute.
YCH Group's Chief Operating Officer, Ms Margaret Toh said, "The traditional idea of what drives the supply chain industry is undergoing a sea change and YCH has been bracing for it. FUSIONARIS showcases all our differentiators all under one roof. It gives us great pride to receive this recognition from the industry as we continue to innovate our solutions while focusing on the level of service and confidence we provide to our customers across the region. This is just the beginning."
# END #
About YCH Group
Founded in 1955 and headquartered in Singapore, YCH Group is the leading end-to-end supply chain solutions partner to some of the world's largest companies and favourite brands across the Asia Pacific region. A strong proponent of innovation, YCH is recognized for its 7PL™ approach in seamlessly integrating supply chain strategy with execution. YCH's launch of Supply Chain City®, Asia's nexus of supply chain excellence on 22 September 2017 will create new benchmarks in the logistics and supply chain industry, supporting Singapore's key growth areas, namely in urban solutions, smart logistics and robotics.
For further information, please visit www.ych.com
---
For media enquiries:
Dzulhairi Suhod
Executive Chairman Office, YCH Group
DID : (65) 6417 2513
Email : dzulhairi.suhod@ych.com
back