YCH Group Powering Its Way Towards Green Logistics
Apr 10, 2019 12:00:00 AM
YCH Group continues its drive for sustainable initiatives by partnering with Sembcorp on solar farming, starting with its iconic facility, Supply Chain City, and soon, its other facilities around the Asia Pacific region.
Singapore, 10 April 2019 – YCH Group, Asia Pacific's leading integrated end-to-end supply chain and logistics partner officiated its 2.8 megawatt peak solar farm, atop the rooftop of its 2 million square feet flagship facility, Supply Chain City® (SCC), in Singapore yesterday.
The solar panels, from REC Group, which is of IEC standards for solar panel design and manufactured at their state-of-the-art manufacturing plant in Singapore, covers close to 23,000 sqm of rooftop space, making SCC one of the largest solar powered warehouse in Singapore. The panels are expected to generate over 3,400 megawatt hours of green power annually, providing more than 30% of energy savings. This also translates to the cutting down of about 1.5 million kilogrammes of CO2 emissions a year, equivalent to the impact of taking more than 320 cars off the road. The eco-friendly initiative not only aligns with the Green corporate social responsibility for YCH but also improve the quality of indoor spaces for the SCC community who "work, learn and live" in the facility.
YCH Sustainability Initiatives
Enhancing productivity through innovation has been the hallmark of YCH in transforming supply chains and logistics in Asia. Energy efficiency is an integral part of YCH initiatives to create the most efficient logistics ecosystem, with our network of facilities for the last decade, being designed for scalable, responsible and sustainable growth.
We were one of the early pioneers in building a LEEDs certified warehouse in Shanghai, China back in 2009, and were also the first logistics company to have a green certified facility in Chennai, India in 2010. This has since set the benchmark for the development of subsequent YCH's facilities across the Asia Pacific region, such as in Vietnam and Thailand.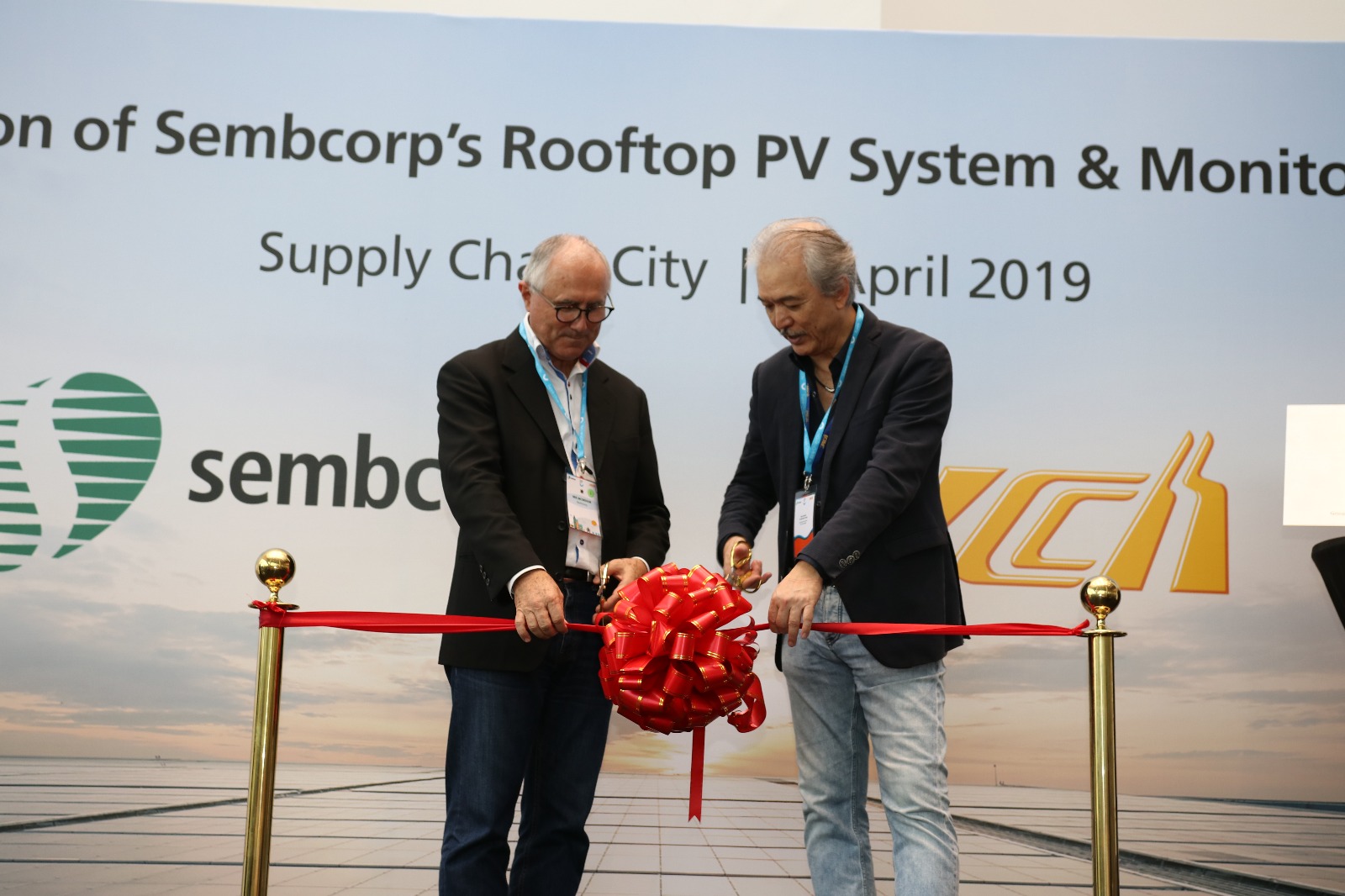 State-of-the-Art Supply Chain City (SCC)
Since its official opening by Prime Minister Lee Hsien Loong on September 2017, Supply Chain City has been awarded the LEEDs Green Platinum and BCA Green Mark Platinum title, a proof of the high-quality standard of the development. Built with stringent requirements, SCC uses sustainable building materials that are eco-friendly, such as recycled concrete aggregates, and materials with low U value to lower thermal transmittance and glass with shading coefficient, to reduce the heat gain to the building. Such best practices helped to achieve energy efficiency and enhance the level of comfort for tenants, such as Sembcorp Solar, in the building.
In addition to YCH's partnership with Sembcorp on this solar initiative, Sembcorp's Solar Performance Monitoring Centre is also housed within SCC, while YCH also provides supply chain services for Sembcorp's solar panels.
With the operation of the solar rooftop, SCC's FusionARIS® is one of the biggest warehouses in Singapore that is solar-powered, and this marks a significant milestone in YCH's journey of green logistics.
Green Logistics for Sustainable Business
YCH journey towards green logistics is in line with Singapore's pledge to reduce its emission intensity by 36 percent by 2030. In ASEAN, there has also been an increasing focus on sustainable development. This year, with the key focus on sustainability, the ten-member states will be looking to explore the development of green economy collectively.
As one of the largest home-grown logistics company, YCH hopes to champion the future for sustainable growth locally and beyond the shores of Singapore. With this solar power initiative, YCH looks to continue its development in green logistics into the region, by implementing solar energy system to the rest of the YCH's facilities. YCH will also look to invest a further 1 billion Singapore dollars in the next 5 – 10 years to populate SCC, alongside its proprietary LEARNTM ecosystem, which has since attracted many offers from various cities across Asia.
## END ##
About YCH Group
YCH Group is a leading homegrown, end-to-end supply chain solutions partner to some of the world's largest companies and favourite brands across the Asia Pacific region. YCH works across five distinct industries, from electronics and chemicals to consumer goods, always customizing solutions to suit its clients' products. Due to the versatility, YCH is able to provide sophisticated management of its clients' assets.
Connectivity Network
From establishing regional connectivity to setting up greenfield operations in emerging markets or expanding product scope, YCH's robust distribution networks and innovative solutions offer compelling value to companies that desire to grow and scale across Asia and beyond. With deep-rooted understanding of local terrains and in-depth presence, YCH's regional connectivity complements its wider range of specialised services. Its DistriParks and supply chain hubs are strategically located in more than 100 key cities across countries such as Greater China, India, Malaysia, Thailand, Indonesia, Philippines, Vietnam and South Korea.
YCH is also working with partners in Vietnam and Philippines, to establish Smart Growth Centres as part of SGConnect™ (Smart Growth Connect), ASEAN Business Advisory Council's (ASEAN-BAC) fifth Legacy Project. The Smart Growth Centres in Ho Chi Minh and Hanoi aims to be the supply chain hub for urban cities, that will distribute and manage a range of different products for the city population while reducing socio-economic burden such as pollution, congestion and noise by leveraging of technologies to maximise distribution efficiencies and quality.
YCH's footprint is also strengthened with distribution development such as the China-ASEAN Regular Shuttle Service. This Chongqing to Singapore cross-border cargo transportation service was borne from the strategic partnership with Chongqing ASEAN International Logistics Co. Ltd (CAIL) and Chongqing Banan District Government, which started back in 2016, strengthening YCH's expansive connectivity between the two countries.
By jointly developing a southward trade route and logistics passage connecting China and ASEAN as part of the CCI (Chongqing Connectivity Initiative), the successful completion of the China-ASEAN Regular Shuttle Service, is open to new opportunities to further promote trade between China and ASEAN region by allowing regional businesses to enjoy an avenue of fast and on-demand cargo transportation service, with Singapore and Chongqing playing the role of mutual hubs in ASEAN and Western China respectively.
Productivity Through Innovation
With its mantra of "innovate to survive", YCH launched Supply Chain City® in 22 September 2017. Headquarters for YCH and located at heart of Jurong Innovation District in Singapore, the 2 million square-foot equivalent state-of-the-art facility serves as Asia's supply chain nerve centre that aims to accelerate industry best practices, support Singapore growth as a leading logistics hub and set new industry standards in Asia Pacific. Through the unique LEARN™ ecosystem, YCH synergises various business activities and entities to create a dynamic and vibrant community, where ideas can be exchanged freely, and businesses, including YCH, are able to leverage one another's strengths to innovate and grow.
Supply Chain City also features the world's first patented FusionARIS® - a seamless fusion of an Automated Storage Retrieval System (ASRS) and ramp-up warehouse integrated solution - along with inventory-counting drones and advanced robotics such as AGVs (automated guided vehicles). The ASRS is the largest in the region, and the tallest at 50m in height.
Technology and innovation have always been embedded in the DNA of YCH's business. From moving people to moving cargo, giving existing facilities new leases of life, introducing IT into our supply chain operations, and creating an ecosystem to enhance the supply chain industry – all these are landmarks in YCH's vision to transform supply chain and logistic in the region.
For media enquires:
Yvonne Wong (Ms)
Executive Chairman Office, YCH Group
DID : (65) 6417 2773
Email : yvonne.wong@ych.com
Dzulhairi Suhod (Mr)
Executive Chairman Office, YCH Group
DID : (65) 6417 2513
Email : dzulhairi.s@ych.com
back