Supply Chain and Logistics Academy Joins Hands with Sino Singapore Chongqing Connectivity Solutions and Chongqing Finance and Economics to Develop Supply Chain and Logistics Talents in China
Jun 17, 2022 12:00:00 AM
Singapore, 17 June 2022 – Supply Chain and Logistics Academy (SCALA), a programme partner of Workforce Singapore and YCH Group, on Friday signed a Memorandum of Understanding (MoU) with Sino Singapore Chongqing Connectivity Solutions (SSCCS), and Chongqing Finance and Economics College (CFEC) to groom logistics and supply chain professionals in Chongqing, China.
The MoU was signed during the China-Singapore (Chongqing) Multi-Modal Distribution and Connectivity (DC) Centre Launch Ceremony, that took place on 17 June 2022, as part of the China-Singapore (Chongqing) Strategic Connectivity Demonstration project. A total of 30 MoUs that covered Capability Enhancement, Business Development and Human Capital Development were signed during the launch.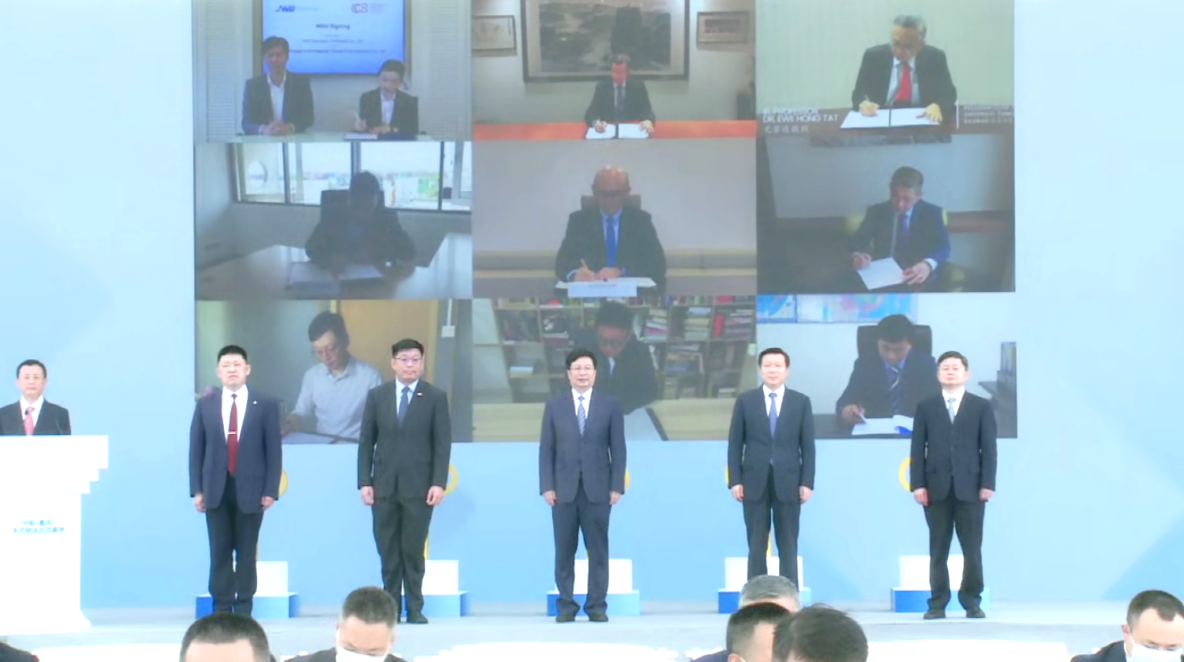 Singapore's pioneer supply chain and logistics training academy, SCALA deploys industry-led practices and Experiential Workplace LearningTM to upskill the capabilities of existing logisticians and grow new talents who are keen to pursue their career in the logistics industry.
This MoU is a follow-through initiative from a recent MoU cemented between SSCCS and CFEC in setting up Sino-Singapore International Trade and Supply Chain Industry College (Industry College) to develop a train-and-place programme on international trade and logistics to develop competent talent pool to elevate Chongqing's supply chain industry.
The three parties will jointly explore the two areas of strategic collaboration where SSCCS and CFEC will leverage on SCALA's expertise:
Co-curate latest courses and co-create course materials on international trade and logistics for Industry College
Provide support and services to deepen engagements between students from SCALA and Industry College to encourage fruitful, meaningful exchanges to enhance capabilities building
"This partnership is a timely collaboration, as the global demand for supply chain talents has grown exponentially. Organisations recognise the importance of supply chain for their success and having trained logisticians to run this part of the business as an imperative. As an industry-led training institute, SCALA aspires to groom talents in the supply chain and logistics field through Experiential Workplace LearningTM so that learners can put theory into practice for more effective learning. As a Singapore based training academy, we are very excited to partner SSCCS and CFEC to bring our expertise to co-develop training curriculums to grow supply chain and logistics talents beyond our shores," expressed Dr Victor Goh, Chief Executive Officer, SCALA.
SCALA operates under the mandate of YCH Group's LEARNTM ecosystem, where Experiential Workplace LearningTM is a unique work and learn methodology that leverages on world-class future workplace, such as the iconic Supply Chain City© facility in Singapore, to groom and train talents for the industry.
## END ##
About Supply Chain and Logistics Academy (SCALA)
Supply Chain and Logistics Academy (SCALA) is an industry level academy that leverages on Experiential Workplace LearningTM to help individuals gain relevant knowledge in the supply chain and logistics industry. A programme partner of Workforce Singapore and YCH Group, SCALA runs programmes to upskill, reskill, as well as provide greater support to mid-career Professionals, Managers, Executives and Technicians (PMETs) to equip them with the fundamental knowledge of the Supply Chain and Logistics industry.
For more information, please visit www.scala.com.sg
About YCH Group
YCH Group is Singapore's leading homegrown, end-to-end supply chain solutions partner to some of the world's largest companies and favourite brands across more than 100 cities in the Asia Pacific region. YCH focuses on boosting productivity and sustainability for its customers with its proprietary best-in-class suite of award-winning solutions across industries such as fast-moving consumer goods, electronics, chemical and healthcare, cold chain logistics, and e-Commerce. A strong proponent of innovation, YCH is recognised for its 7PL™ approach in seamlessly integrating supply chain strategy with execution.
For more information, please visit www.ych.com
About Sino Singapore Chongqing Connectivity Solutions (SSCCS)
Founded in Nov 2017, SSCCS is an "asset-light" company, one of the 1+1 companies established to promote the development of logistics multimodal transport of the China-Singapore (Chongqing) Connectivity Strategy Demonstration Project. SSCCS focuses on project consultation and planning in the field of transportation and logistics, construction of international logistics channels, organization of supply sources in the hinterland and surrounding areas, integration of logistics resources, strategic coordination and provide customers with integrated logistics solutions to enhance the overall logistics development in Chongqing.
About Chongqing Finance and Economics College (CFEC)
Founded in April 2001 and approved by the Chinese Ministry of Education as a non-profit private educational institution in 2020, Chongqing Finance and Economics College (CFEC) focuses on the cultivation of applied talents in economic, financial, managerial and logistical fields through deep integration with industries. CFEC has 41 undergraduate programs, with finance being the nation-level first-class program and economics, logistics management, accounting, event economy and management and software engineering being the municipality-level first-class programs. As of December 2021, CFEC has developed partnerships with more than 30 universities from 17 countries around the world.
Media Contact
Clarrie Liew
Head of Marketing Communications
Executive Chairman Office, YCH Group
Email: clarrie.liew@ych.com
Low Lin Hui
Marketing Communications Executive
Executive Chairman Office, YCH Group
Email: linhui.low@ych.com
back