Supply Chain and Logistics Academy (SCALA) Hosts First In-Person Graduation Ceremony After Two Years To Reinforce Lifelong Learning
Dec 1, 2022 12:00:00 AM
Singapore, 1 December 2022 – Supply Chain and Logistics Academy (SCALA), founded by YCH Group and a programme partner of Workforce Singapore (WSG), held their 3rd Graduation Ceremony on 1st December 2022 in the ballroom of Supply Chain City. Secretary-General of National Trades Union Congress (NTUC) Mr Ng Chee Meng was the Guest-of-Honour for this event.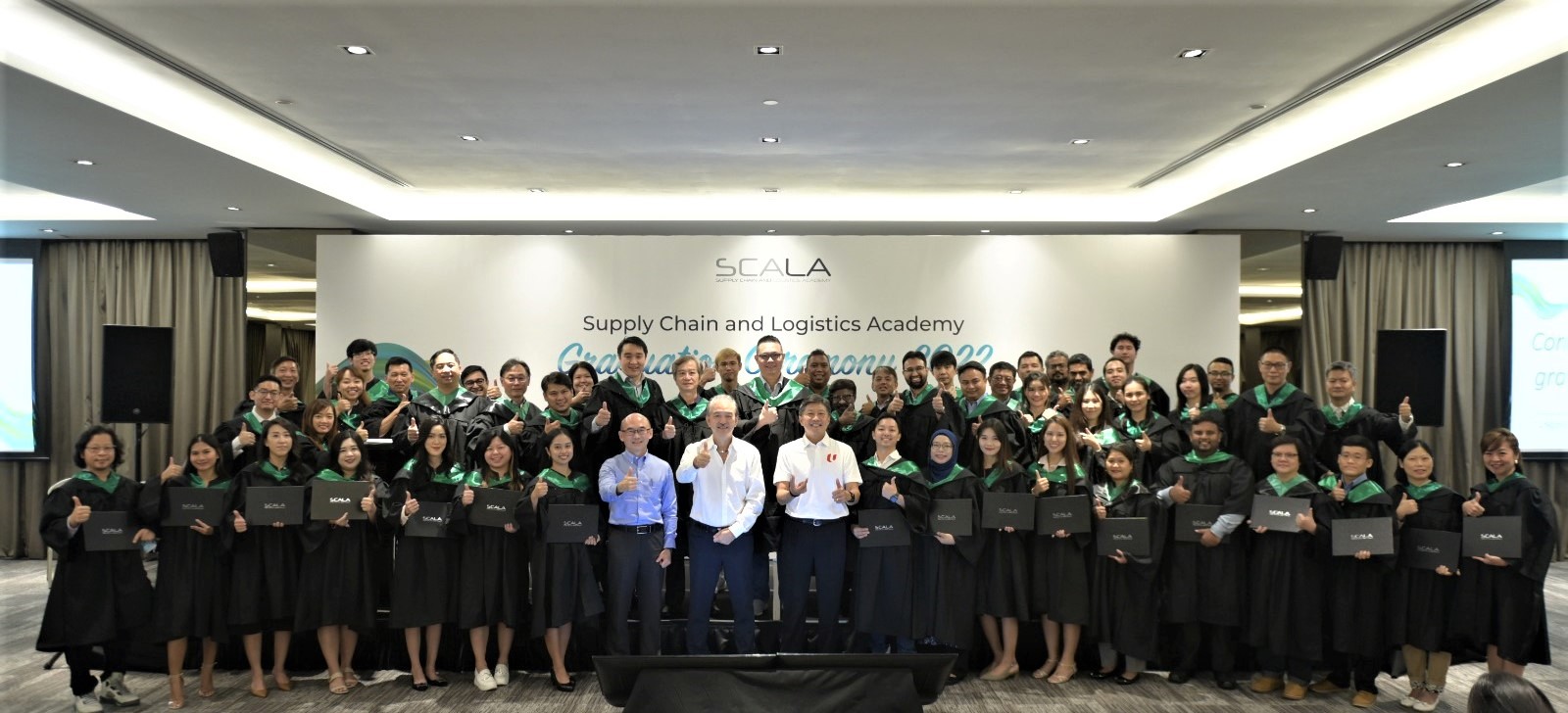 This year, 180 students from the Class of 2021 and 2022 graduated after 9 months of classes at SCALA, taking modules such as Logistics Solution Design Thinking, Automation Design and Data Analysis. Of the graduates this year, 12 hail from YCH's management, embodying YCH Group Executive Chairman Dr Robert Yap's philosophy of "Teaching a man to fish."
Established in 2016, SCALA was started to future-proof the supply chain and logistics workforce, serving not only executives and below but for management in the industry as well. This helps to empower young and older workers with the necessary skills and competencies needed to excel in supply chain and logistics industry through education of emerging technology in the sector. A firm champion of Experiential Workplace LearningTM, students were able to take what they learnt in class, cross over to the next building and see it implemented in Fusionaris© in YCH Group's Supply Chain City©.
Secretary-General of National Trades Union Congress (NTUC) Ng Chee Meng said, "The logistic sector is growing with ample job opportunities for workers of all levels of experience – fresh graduates or mid-career switchers. NTUC wants to partner our logistics industry players to equip workers with relevant future skills to become the Worker 4.0. We will continue to champion workers' interests and help our workers to upskill, and courses like these advanced certificate programmes in logistics management, transportation and ecommerce, will help our workers to expand their skills, that would be beneficial to their personal growth and career development."
Executive Chairman of YCH Group and Founder of SCALA Dr Robert Yap shared, "The supply chain and logistics industry has always been plagued by one problem: the lack of human capital. Ours is a labour reliant sector and without the people, we would not be able to scale to where we are today. It is only through investing in the people that we can continually innovate and remain competitive. SCALA was started with the goal of elevating the industry to newer heights, to encourage new blood to start a career in supply chain and logistics. We provide beyond just education for YCH Group's own employees and ensure that if anyone, no matter what age, wanted to step into the industry, that they would be equipped with the skills and knowledge to take that leap. SCALA's unique Workplace Learning ExperienceTM is a differentiator that sets us apart from other training institutions and we are happy that it plays a key role in keeping our industry evergreen."
CEO of SCALA Dr Victor Goh said, "I'm very proud of our graduates and I hope that through SCALA they are inspired to take ownership of the work that they do and to continue this journey of learning. Through our modules, we hope that we have given them the necessary knowledge and skills in order to thrive in the industry and also instilled a sense of adaptability in our students. As the world keeps innovating new technological advancements in the industry, we must keep up from getting left behind."
Mr Ng Hanjin, Assistant General Manager of YCH's Group Corporate Development, was part of the graduating cohort this year and expressed, "There's always something to learn and having management attend such courses allows them to get a sense of the current situation, predict future trends and anticipate changes and innovate solutions. If we can't keep up with the latest technologies in the industry or understand the overall business, it would be challenging for us to up the ante for the industry.
– End –
About Supply Chain and Logistics Academy (SCALA)
Supply Chain and Logistics Academy (SCALA) is an industry-level academy that leverages on Experiential Workplace LearningTM to help individuals gain relevant knowledge in the supply chain and logistics industry. A programme partner of Workforce Singapore and YCH Group, SCALA runs programmes to upskill, reskill, as well as provide greater support to mid-career Professionals, Managers, Executives and Technicians (PMETs) to equip them with the fundamental knowledge of the Supply Chain and Logistics industry.
For more information, please visit www.scala.com.sg
Media Contact
Clarrie Liew
Head of Marketing Communications
Executive Chairman Office, YCH Group
Email: clarrie.liew@ych.com
Jasmine Lim
Executive, Marketing Communications
Executive Chairman Office, YCH Group
Email: jasmine.lim@ych.com
back