YCH Group inks MOU with People's Committee of Vinh Phuc to Train Logistics Talents and Boost Digital Innovation in Vietnam
Aug 28, 2023 12:00:00 AM
Vietnam, 27 August 2023 – Singapore's leading homegrown logistics provider, YCH Group marked a significant milestone by entering a Memorandum of Understanding with the People's Committee of Vinh Phuc province during the 17th Ministerial Conference at the Vietnam-Singapore Economic Connectivity (CMM) on the 27th of August, 2023. CMM was held to commemorate the golden jubilee of diplomatic relations and 10th anniversary of the strategic partnership between the two Republics.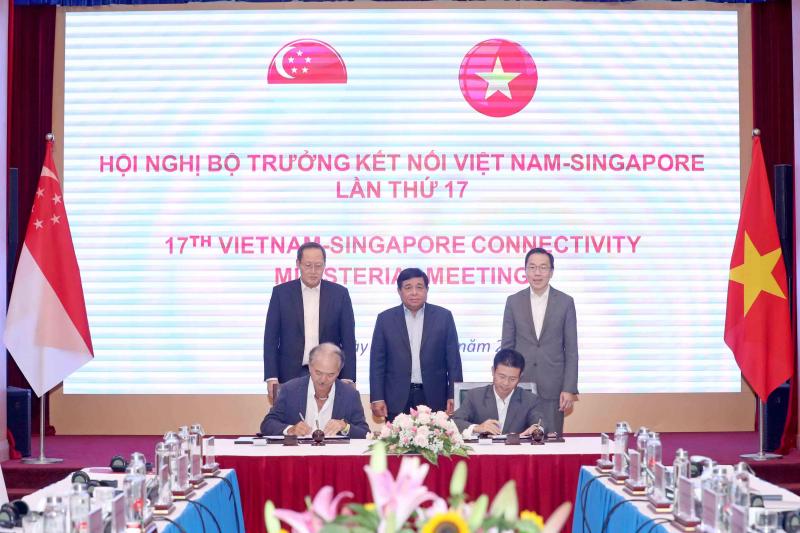 Photo Credit: VnEconomy
The MOU aims to formally establish two areas of cooperation for both parties. The first area of collaboration is to solidify YCH Group's commitment to nurturing the next generation of supply chain and logistics professionals. Through the Traineeship Programme in the MOU, YCH Group pledges to train up to 500 aspiring individuals to meet the growing demands of the evolving logistics landscape, fuelled by the shifting logistics paradigm from China to Vietnam. In partnership with vocational training centres in Vinh Phuc Province, YCH Group will extend internships to students pursuing relevant disciplines. These interns will learn at Vietnam SuperPort™, a smart multimodal logistics infrastructure project established in 2020 by T&Y SuperPort (joint venture between YCH Group and Vietnam T&T Group), presided by the Prime Ministers of both Singapore and Vietnam.
With its rise as a hub for global manufacturing and its developing e-commerce industry, logistics has been one of Vietnam's fastest-growing industries. The SuperPortTM vision was born out of the Smart Growth Connect (SGConnectTM) project in 2018, when Singapore chaired the ASEAN Business Advisory Council (ASEAN-BAC). SGConnectTM's goal was to help cities grow without experiencing growing pains by using cutting-edge solutions and logistics technologies to improve resilience and visibility through process flow and cultivate local human capital throughout ASEAN. As manufacturing shifts to Vietnam, Vietnam SuperPortTM will be a supply hub for the booming industry in Vinh Phuc Province. Vietnam SuperPortTM will serve as a crucial linking hub for global and regional trade because of its strategic location close to the capital city of Hanoi.
The MOU serves as a testament to YCH Group's dedication to nurturing professionals in the field of supply chain and logistics. This commitment not only ensures the seamless orchestration of logistics operations but also empowers the industry with a pool of exceptional talent, elevating YCH Group's competitiveness on the global stage. This is in alignment with the LEARNTM ecosystem, a unique YCH embodiment of elements embedded in YCH Group's SuperPortTM's concept to foster the development of symbiotic partnerships to accelerate professional and social interaction among industry leaders to inspire and define new standards for industry excellence. One of the elements seeks to leverage Experiential Workplace LearningTM in allowing individuals to learn through hands-on training in Vietnam SuperPortTM and YCH Group's headquarters in Singapore to gain knowledge to contribute to the industry.
In line with Singapore and Vietnam's plans to collaborate on new and emerging areas including innovation, YCH Group and the People's Committee of Vinh Phuc province will also be looking at a cooperative research venture, as the other area of collaboration under this MOU, aimed at establishing an Innovation Centre in Vinh Phuc to catalyse the augmentation of human resources training in the logistics domain over time.
Media Contact
Clarrie Liew
Head of Group Corporate Communications, YCH Group
Email: clarrie.liew@ych.com
back