YCH Group Launches Iconic Retail Hub in Xiamen
Dec 15, 2016 12:00:00 AM
The hub aims to support the Pilot Free Trade Zone project in Xiamen as the first major mall in the region
China, 15 December 2016 -- YCH Group, Asia Pacific's leading integrated end-to-end supply chain management and logistics partner announced today the launch of its retail hub in Xiamen, China. The project is managed by YCH Group on behalf of XPD-YCH Logistics, a joint venture between YCH Group and Xiamen Port Development, a subsidiary of the Xiamen Port Group.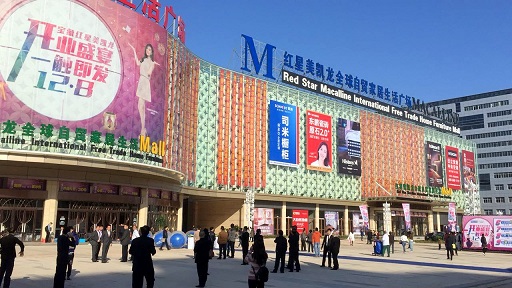 The four-storey retail hub will be the first major mall in the region. Envisioned as an iconic lifestyle-centric mall, it will serve the needs of the population in the immediate vicinity and the rapidly growing city of Xiamen. Spanning 55,000 square metres with a built up space of 100,000 square metres, the facility was converted from XPD-YCH Logistics' existing warehouse in Xiamen, and will be fully operational from 15 December 2016.
This initiative is timely as Xiamen is currently one of the fastest growing cities in China, growing at 6.7% with a population of 4.4 million. China has also overtaken the US to become the world's largest retail market in 2016 with total sales of US$4.886 trillion.
Aside from local demand, the mall also aims to cater to the burgeoning Chinese retail scene while playing a key role in strengthening Xiamen's status as one of China's most popular tourist destinations. Xiamen received 1.63 million tourists from home and abroad, and raked in 1.853 billion RMB in tourism revenue according to statistics released by the Xiamen Tourism Bureau on October 7, 2015.
Two of the most well-known brands in China, Sam's Club and Red Star Macalline, will form the mall's anchor tenants, occupying approximately 85 percent of the facility:
This will be the first Sam's Club Store opened in Xiamen by Wal‑Mart, and will be the 15th Sam's Club store across 13 cities in China. Sam's Club is a division of Wal‑Mart, the world's largest retailer. Sam's Club offers an extensive inventory with exceptional value on famous-brand merchandise at "member only" prices for both business and personal use.
Red Star Macalline is the largest national home improvement and furniture retail platform in China, with stores in most major cities in China. Founded in 1986, Red Star Macalline targets the rapidly growing middle class in China through the operation of malls that offer home improvement and furniture materials, including flooring, bathroom and kitchen fixtures, with approximately 18,000 well‑known brands.
Alongside Sam's Club and Red Star Macalline, the mall will also house popular eateries such as McDonald's and Ajisen Ramen among others.
Strategically situated within the Pilot Free Trade Zone, the mall is located in a highly populated region in Xiamen. It is also in close proximity to both air and sea ports and numerous famous hotels, bringing numerous trade and business benefits for prospective clients.
"The initiative is aligned with YCH's continued commitment to the rapidly developing China market. With the dynamic and growing retail sector in the country, we want to equip retailers with game-changing capabilities that help them simplify processes and optimise costs. This will enable them to remain competitive while simultaneously boosting trade and facilities investment for China with the Pilot Free Trade Zone," said Mr Koh Yong Seng, Operations Director of North Asia, YCH Group.
"The opening up of the first Sam's store in Xiamen would not have been possible without the support of YCH, and Sam's Club is grateful to YCH Group for the assistance it has rendered as one of the project owners. YCH Group is a well-known international enterprise, and well‑equipped to be our preferred partner in Xiamen with its strong repute and influence. We look forward to a close collaboration moving forward." a Sam's Club spokesperson said.
About YCH Xiamen
YCH Xiamen is the key Southern gateway in YCH Group's China network. The Xiamen office officially begun in 2004 when YCH first provided VMI service to support Dell's global manufacturing. Her clients today include other international brands such as Lenovo, Linde, Amazon, Microsoft and others.
Able to meet the diverse SCM requirements of customers in the Electronics, Healthcare and FMCG industries, YCH's advanced and complex suite of SCM solutions have innovatively facilitated customers in Xiamen to achieve cost-savings and better sales performance. Beyond manufacturing logistics activities, storage, transportation and hub management, YCH Xiamen is also a Customs broker for Import and Export declaration and other related value-added services. Its extensive range of license coverage, including 'AA' license (Customs clearance), local transportation license, domestic sales license, PBW (Public Bonded Warehouse) and BLP (Bonded Logistics Park) certifications, allows YCH Xiamen to provide end-to-end supply chain and logistics solutions to some of the largest companies and favourite brands in China.
About YCH Group
Founded in 1955 and headquartered in Singapore, YCH Group is the leading end-to-end supply chain solutions partner to some of the world's largest companies and favourite brands across the Asia Pacific region. Its suite of innovative award-winning end-to-end supply chain management solutions - Intribution™ , Intrabution™ , Retrogistics™ - employ cutting edge web-technologies that are best-in-class across industry clusters from consumer and electronics to chemical and healthcare, to deliver powerful competitive advantages for customers. A strong proponent of innovation, YCH is recognized for its 7PL™ approach in seamlessly integrating supply chain strategy with execution. As an extended family enterprise, YCH was awarded the May Day Model Partnership Awards 2014 for embracing diversity, encouraging continuous learning and the creation of a productive, resilient and sustainable workforce.
For further information, please visit www.ych.com
---
For media enquiries:
Sandra Tan
Corporate Communications, YCH Group
DID : (65) 6417 2773
Email: sandra.tan@ych.com
Neo Jia Hao
Corporate Communications, YCH Group
DID : (65) 6417 2772
Email: jiahao.neo@ych.com
back