Keynote Address: A Time for Resilient Leadership in Asia
Dec 15, 2020 12:00:00 AM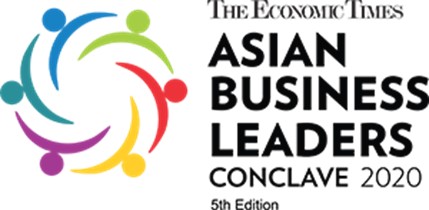 Keynote Address by Executive Chairman of YCH Group, Dr Robert Yap at The Economic Times Asian Business Leaders Conclave 2020 (5th Edition).

INTRODUCTION
A very good morning to all. I am most honoured to be here today, and it is my privilege to give the keynote address to kick-off this prestigious event.

Today's conclave is about resilient leadership amidst the COVID-19 pandemic, and how business leaders will be called on to navigate the challenges ahead of them in this volatile, and ambiguous economic environment where old models of leadership are no longer sufficient.

We need to look at reinventing our ways and create new business opportunities by coming together from the various industries to establish Asia as a truly global business destination.

To be able to peer through the fog of changes, the right leadership mindset is vital for survival. No matter past or present, in my opinion, the number one necessity is to have mindset agility.
THE YCH STORY – TO RISE AGAINST ALL ODDS
Having a mindset agility is crucial to manoeuvre in today's uncertain economic climate. To illustrate an example of the importance of mindset agility, allow me to share a little story:
In 1955, my father, Mr Yap Chwee Hock, started out as a modest passenger transportation company. The busines grew steadily, and we had a fleet of more than 100 vehicles.

However, in 1970s, the family business lost its main contract, which had contributed 80% of the company's revenue. This change in the business landscape caused a critical need to change the way business was done.

So, with the dire need to adapt and diversify the business, my father roped in myself in 1977. Seeing so many idling trucks sitting and yet with so many mouths to feed, I knew I needed to do something different.

My father also has a strong belief in a family environment and leaving no man behind, hence the idea of retrenching his staff never crossed his mind. This also ultimately sets the family culture environment at YCH.

I then decided to pivot the company's business and venture into the cargo transportation business, which subsequently over the years, grew to become Singapore's largest homegrown supply solutions company, well regarded as a partner in the provision of the 7PL™ supply chain solutions.
Today, we are the leading regional supply chain management partner to many of the world's leading brands across the Asia Pacific, with over 5000 employees globally and with a distribution network connectivity of over 100 locations in 16 countries.

This growth is not possible if we did not adopt an agile mindset which enables us to embrace change and even anticipate change. Through this we established our corporate philosophy that thrives on overcoming challenges:
'SHENG' – Chinese character means RISE

Reliability, Integrity, Sincerity and Enterprise
RISE is about instilling strong work ethic – as long as there is loyalty and hard work, there would be opportunities for self-improvement. The values of RISE are echoed through the approach towards our talent attraction.

I firmly believe that people form the key assets of any industry sectors, moreover for the supply chain and logistics industry, which is normally known to be laborious and manpower heavy.

We have this mantra, 'teach a man to fish', and this sets the notion of developing each employee's potential to the fullest. It is now an opportune time for reskilling, retraining and upskilling, with YCH constantly pushing our employees to develop themselves further to be future-ready.
YCH also initiated the Experiential Workplace Learning methodology which became the foundation of the Supply Chain and Logistics Academy (SCALA) – an industry academy, which I personally founded, that supports the development of talents in the supply chain and logistics field.

SCALA regularly works closely with industry companies to curate relevant subjects or topics for the industry, so its participants will be equipped with the correct skillsets and knowledge to prepare them to face Industry 4.0.
INNOVATE TO SURVIVE – USING TECHNOLOGY AS AN ENABLER FOR GROWTH
Only when one possesses an agile mindset, can one have the capacity to seek innovation. Innovation for business is no longer just a fancy term of inspiration. It has become a form of survival skill. Companies need to innovate to survive.

At YCH, we continuously seek to drive innovations that challenge the status quo, seeking optimisation to elevate the supply chain management for the future. Many people think that innovation is solely about being technology-centric and that a company must keep creating or adopting the latest new technology. Except for IT companies, no businesses can be ahead or even pace the blistering speed of technological advancements.

Therefore, practical and effective innovation is by truly understanding one's business operation and management processes, and then leveraging the right technologies, to gear one's business to stay one step ahead of the competition.

At YCH, we put disruptive technologies in our 'smart' distribution centre called FUSIONARIS®, which is a FUSION of an Automated Storage and Retrieval System (ASRS) with ramp-up warehousing, together with many state-of-the-art supply chain management technologies and equipment.

In traditional logistics, warehouse management used to be a laborious chore with manual counting of inventory, which is mundane, slow and prone to error. With the holistic technological deployment of Internet of Things (IoT) and the introduction and integration of automation, efficiency has since been revolutionised and made more efficient.

We designed our proprietary Warehouse Management System (WMS) and Dock Management System (DMS), complementing with the deployment of robotics, such as the Automated Guided Vehicles (AGVs) and autonomous inventory counting drones. In FUSIONARIS®, loading and unloading activities can be performed simultaneously at 120 docks spread across five floors of the ramp-up distribution centre, all orchestrated by the DMS solution which allows the capability of performing loading or unloading of more than 2400 pallets within an hour.

All this is made possible with mindset agility to lead a paradigm shift in the things that were and to realise things that can be. Only when an attempt is made to look into the future, can breakthrough spring forth and innovations emerge.
DEVELOPING SMART INFRASTRUCTURE – ASSET RIGHT STRATEGY™
Vertical industry transformation has accelerated digitalisation, which in turn will require smart infrastructure development to cater to high throughput, low latency, security and fast service provisioning scenarios simultaneously.

Countries like Singapore have already taken proactive steps to bolster their critical capacity and coverage, as we look to accelerate adoption of new technologies, not only for future emergency readiness but also sustainable economic growth.

In supply chain and logistics industries, leveraging physical infrastructures with digital capabilities can yield powerful results, allowing logistics players to move their cargoes quickly, safely, and seamlessly at lower costs and maximum efficiency.

This is where we develop our own Asset Right Strategy™, where we look at developing logistics assets from the eyes of a logistics operator, with a keen sense of operational requirements and best-in-class knowledge.

We pushed the boundaries by building Supply Chain City®, envisioned to be Asia's premier supply chain nerve centre, bringing together the best names and minds in the industry, creating a melting pot for industry professionals to innovate and collaborate.

Driving this Asia's supply chain icon, is the knowledge-based ecosystem, named LEARN™ ecosystem which is designed to stimulate innovation through collaboration and refine the standards for supply chain excellence. Through this LEARN™ ecosystem, we look to synergise various business activities to create a dynamic and vibrant community.

YCH has also a portfolio of DistriPark™ - logistics assets all around the Asia region to suit the needs of our customers. For example, the opening of YCH Chennai DistriPark enabled us to build up our supply chain management capabilities in India, supporting manufacturing logistics and pioneering true VMI operations for MNC manufacturers and suppliers tapping on the growing potential of SEZs in India. In line with our sustainability infrastructure initiatives, YCH Chennai DistriPark is also the first warehouse to be awarded the LEEDs Gold award in India.

YCH India itself now delivers customised end-to-end supply chain solutions, including operating one of the country's largest Service Parts network across more than 50 FSLs and satellite hubs and also leverages on its pan-India network to achieve time-specific deliveries for our clients.
MOVING FROM PRODUCTION TO CONSUMPTION DRIVEN
Despite the economic downturn caused by the pandemic, Asia shows promising signs of growth across a number of industries that will continue to thrive in the distant future, as it sees greater economic sustainability backed by pro-innovation governments.

Both India and ASEAN specifically, have favourable demographics with a booming young population that offers substantial untapped opportunities for business. Coupled with a robust macroeconomic indicator, politically stable governments dedicated to fast-tracking reforms, these regions are bridging the gaps caused by the slowdown, by attracting the world market which had supply dependency on China.

India for instance, with its focus on scale, skill, land and laws initiatives, has lay the foundation of reforms for making India a leading global manufacturing hub, which is also envisaged by the 'Make in India' initiative.

With the growth of manufacturing in India and ASEAN set to rise, there is now more focus on manufacturing capabilities as they lower the reliance on importing intermediate goods from China, which in turn, will strengthen their export capabilities and increase the sale of finished goods to other parts of the world. The economic climate itself is going through a rapid an unprecedented digital transformation through the advent of Industry 4.0, changing the way businesses operate.
MOVING INTO DIGITAL ECONOMY
The new digital economy has also spurred a creative reinvention of consumer's purchasing habits over the past few years, and to remain competitive, business must understand that it is not necessarily a question of e-commerce vs traditional brick and mortar, but instead it is about understanding the consumers – how they behave and will behave – and reach each of them with customised experiences that tailor-made based on their unique buying behaviours and expectations of service.

YCH helps companies compete in this e-commerce landscape with its innovative solution and tools for them to create a stronger online presence through selling on their websites, marketplaces or any e-commerce channel, practically and virtually anywhere in the world.

With this expertise as a marketplace enabler, it led to the birth of YSG.com.sg – a one-stop full suite of services, not limited to the planning of marketing campaign; product listing and price controls; order processing and fulfilment; right down to professional customer services.

YCH's proprietary Order Management System (OMS) 4.0 could also serve as the national unified omnichannel platform for the retail value chain – retailers, brand owners, mall owners, tech enablers, fulfilment partners, last mile partners and skills industry academy - that could serve as a potential enabler for Smart Commerce, leveraging on O2O and supply chain digitalisation to enhance customers' shopping experience.
NATIONAL LEADERSHIP ROLE – PRESIDENT OF SNEF
In Singapore, we are looking fervently into ways to enhance the labour market flexibility to enable employers to implement responsible employment practices. Organisations such as the Singapore National Employers Federation (SNEF), where I currently serve as President, look at the advancing of tripartism to develop sustainable and competitive workforces, so that Singapore can remain strong and competitive in the global economy.

We also work in conjunction with the National Jobs Council (NJC) as a national effort to support employees by providing opportunities for existing and oncoming employees to upskill themselves so that they can safeguard their livelihoods, not only in the near term but also for the long term.

SNEF is also looking to revolutionise the Singapore retail industry through its Retail Transformation Project, by highlighting the importance for the retail industry to develop omnichannel visibility and online-to-offline (O2O) capabilities to navigate the COVID-19 environment. It will spearhead the role of enabling job creation for their entire retail value chain.

I am also appointed as part of a 30-member Committee on the Future Economy (CFE), to develop economic strategies to position Singapore well for the future, so that it will be a vibrant and resilient economy with sustainable growth that creates value and opportunities for everyone.

Logistics is one of the key drivers of the Singapore economy due its strategic location and strong base for global and local logistics players. Hence, CFE's industry transformation map for the logistics industry envisions Singapore of being a leading logistics hub at the national, industry and enterprise levels.

While challenges in securing land and labour and competition from regional and global levels will be encountered, nationwide initiatives such as logistics professional conversion programmes, and industry catalyst & logistics skills framework programme, allows an improvement in resource utilisation and talent development.
REGIONAL LEADERSHIP – DEVELOPMENT IN ASEAN
With intra-regional connectivity being integral to economic recovery, initiatives such as the regional trade pacts and economy trade corridors offer further integration by developing a robust trading regime for the Asia region.

ASEAN itself is expected to become the fourth largest economy globally, with the region, similar to India, having favourable demographics, with its young population, which provides a strong foundation for economic growth. Together with urbanisation, many ASEAN countries are using technology as an enabling tool to develop their economy.

In my current appointment as the Singapore Chair of ASEAN Business Advisory Council or ASEAN-BAC for short, we are witnessing countries and industry players embracing digitalisation to cut across national boundaries and increase their collaboration to deliver solutions that link and benefit businesses and people across borders.

With the right foundation, an ASEAN single production zone is something that can happen organically, complemented with the leveraging of cross-connectivity with other ASEAN member states, making ASEAN itself to be one strong powerhouse and a one single production zone like China.

In this view, ASEAN-BAC has been driving private sector-led connectivity projects include Legacy Projects like Growth Accelerator (GAX), LaosConnect, MaritimeConnect, AMEN and now SGConnect™, which I launched during Singapore's Chairmanship of ASEAN in 2018. These projects came with the blessings and support of the leaders of each ASEAN member states.

SGConnect™, which stands for Smart Growth Connect, aims to facilitate regional integration amongst all member states while catering for the envisioned pressure of rapid urbanisation in the forthcoming years.

SGConnect™ speaks to the challenge embraced by ASEAN-BAC to focus their work around delivering adaptable solutions that are relevant and suitable for the respective state's technology and capability maturity.

Symbiotic Growth could be achieved as each ASEAN state would be able to "grow without growing pains"; be connected physically and virtually so that the ten states can leverage each other's unique strengths and grow together as a multicultural region.
We recently announced last month, a joint venture with T&T Group of Vietnam, to develop an international logistics centre and an inland port in the northern part of Vietnam as part of the SGConnect™ initiative. Named SuperPort™, it will be the first multi-modal hub and port, connecting global and regional trade and supply chain.

Witnessed by both Prime Minister of Singapore and Vietnam during its hybrid launch ceremony, SuperPort™ also aligns with the objective of ASEAN Smart Logistics Network (ASLN), which focuses on logistics infrastructure development in ASEAN, and creating supply chain reliability and resilience – agendas that are being pushed to the forefront amidst the COVID-19 pandemic.

With its strategic location in the Vinh Phuc province, which is within reach of 20 industrial parks, SuperPort™ will act as supply hub for these manufacturing operations, which have projected to grow exponentially as manufacturing activities are shifting towards Vietnam.

YCH's Supply Chain City® in Singapore will also serve as the Centre of Excellence for SGConnect™.
Coupled with our deep-rooted understanding of Asia Pacific and in-depth presence, YCH looks at empowering our customers in achieving a comprehensive footprint and a seamless global connectivity all around the Asia region and beyond.
CLOSING REMARKS – NEVER SAY DIE ATTITUDE TO OVERCOME CHALLENGES
And as I end off, I would like to utter this Chinese saying, that goes 'first bitter then sweet' – experience the trials and tribulations first, and you will eventually taste the sweetness of your fruits of labour.

The resilience I have shown is the result of grit and determination to succeed with a single-minded focus to realise our vision of creating the Logistics Superhighway™ - to enable an effective and frictionless supply chains through the seamless integration of physical, information and financial flows, with this superhighway being poised to gear not just the company, but the entire industry to be ready for the future economy.

As the saying goes, "If you want to go fast, do it alone. However, if you want to go far, do it together." With an increasingly integrated and internationalised economy, collaboration and 'hunting as a pack' are key approaches to open more opportunities for business growth together.

With that, I shall pass on the torch for the next address and I wish all of you an enjoyable time this morning.

Thank you.
back