YCH Achieve ISO 27001 Certification, the International Standard Outlining Best Practices for Information Security Management Systems
Mar 3, 2021 12:00:00 AM
Issued by EPI Certification Pte Ltd (EPI), the certification confirms that YCH's data security meet industry best practices
Singapore, 3 March 2021 – YCH Group, Asia Pacific's leading integrated end-to-end supply chain management and logistics partner is proud to announce the achievement of ISO 27001 certification. ISO 27001 is a globally recognised industry standard that mandates numerous requirements and controls. By meeting the extensive criteria of ISO 27001, YCH proves its commitment to cybersecurity, ensuring the integrity of sensitive information through robust data security controls in order to deliver the best outcomes for customers. It is another addition to the numerous quality-based certifications and awards that demonstrates our world-class standards and commitment to adopt best-in-class practices to deliver quality results for our customers.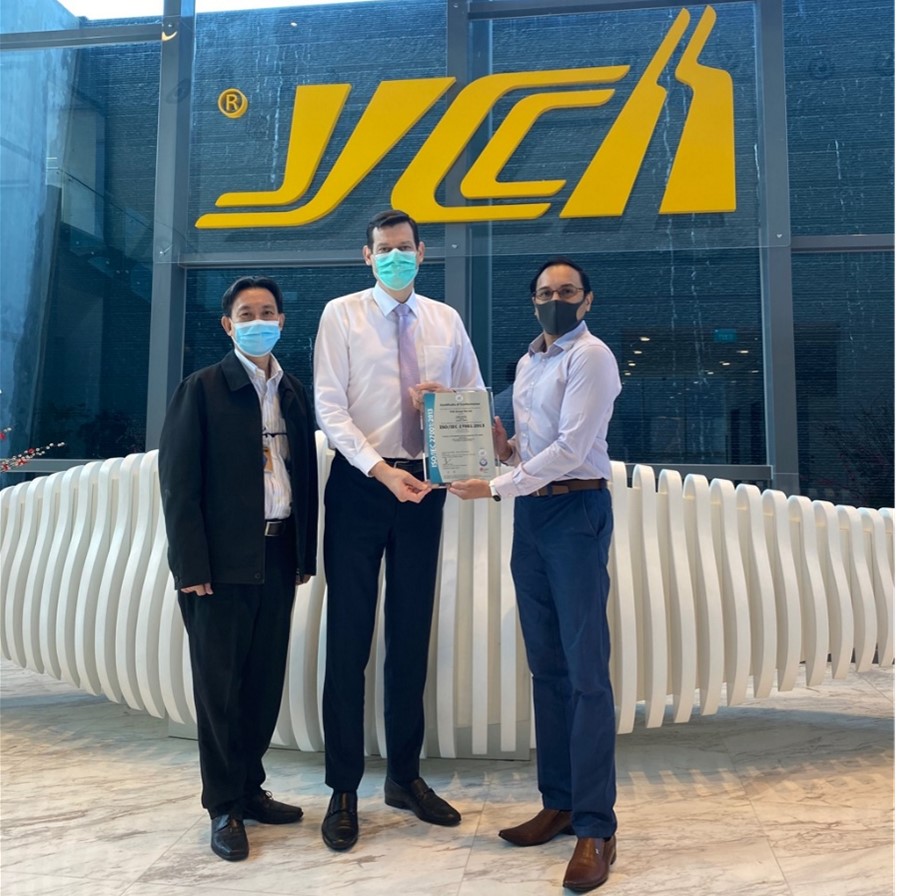 YCH believes in continually developing new capabilities to keep pace with technological advancements and a changing business landscape. End-to-end cybersecurity goes hand in hand with digital transformation as it accelerates across the supply chain and logistics industry. Protecting data, passwords and computer services are more important than ever, as key processes and infrastructure connected to the Internet become increasingly vulnerable to cyber-attacks. YCH recognised the need to speed up its cyber security journey amidst the increase in complexity and frequency of cyber-attacks, exposing businesses and customers to security breaches, theft and fraud. The ISO 27001 certification was identified as a model to follow and ensure YCH possesses an established framework for identifying, managing, and reducing risks to the security of information.
The road to certification requires both time and dedication and YCH has worked diligently over the past few years to meet the stringent security requirements of the ISO 27001 standard. The certification proves YCH's ability to safeguard data and maintain a secure and unbroken supply chain for customers -a key pillar in YCH's vision to create the Logistics Superhighway™.
"As a regional leader in logistics and supply chain, we consistently aim to gain a competitive edge and differentiate our value propositions thereby delivering quality outcomes for all our customers and stakeholders. This certification evidences our commitment and investment to the highest level of security standards and shows how seriously we take the security of systems and data within our ecosystem.", said Ryan Yap, Head of Growth, Innovation and Partnerships of YCH Group.
Ensuring data privacy and integrity for our customers is a key goal behind the aim to attain the ISO 27001 best-practice information security standard. Customers can expect scalable and dependable security on top of award-winning logistics and supply chain solutions from YCH after acquiring this accreditation.
## END ##
About YCH Group
YCH Group is Singapore's leading homegrown, end-to-end supply chain solutions partner to some of the world's largest companies and favourite brands across more than 100 cities in the Asia Pacific region. YCH focuses on boosting productivity and sustainability for its customers with its proprietary best-in-class suite of award-winning solutions across industries such as fast-moving consumer goods, electronics, chemical and healthcare, cold chain logistics, and e-Commerce. A strong proponent of innovation, YCH is recognised for its 7PL™ approach in seamlessly integrating supply chain strategy with execution.
For further information, please visit www.ych.com
For Media Enquiries
Clint Cao (Mr)
Executive Chairman Office, YCH Group
DID : (65) 6417 2513
Email : clint.cao@ych.com
back