YCH Expands Presence in Chongqing Jiangjin to Deepen Logistics Connectivity in China And Beyond
Apr 14, 2022 12:00:00 AM
Singapore, 14 April 2022 – YCH Group, Asia's leading integrated logistics and supply chain provider on Monday signed a Memorandum of Understanding (MoU) with Chongqing Jiangjin Comprehensive Bonded Zone (CJCBZ). The agreement aims to explore collaborations to promote the construction of a regional multimodal transport system in the Jiangjin District, to support the development of the Southern and Western Transport Corridor. It is part of YCH's strategic plans to drive China - ASEAN connectivity, and part of the development work is to enhance the logistics and supply chain vital connecting nodes in China to leverage on existing projects that are in place to support this aspiration.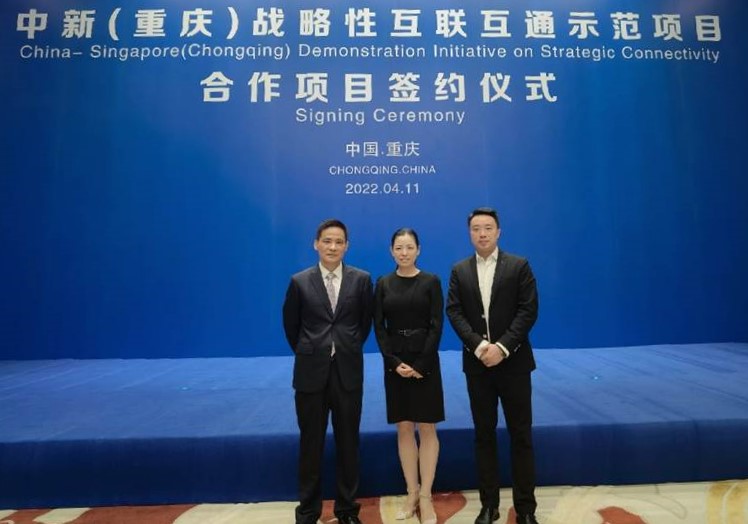 Located in the southern part of Chongqing's urban city, the Chongqing Jiangjin Comprehensive Bonded Zone is an important connecting node between New International Land-Sea Trade Corridor, China-Europe Railway Express and the Golden Waterway of Yangtze River. Owing to its strategic location, the Zone will develop businesses that encompass the logistics and supply chain ecosystem such as bonded warehouse, international trading, and cross-border e-Commerce.
YCH will explore the following broad areas of collaboration under this MoU:
Establishment of a Southeast Asia overseas warehouse in Jiangjin Comprehensive Bonded Zone by leveraging on each party's capabilities and resources.
Tapping on both parties' capabilities and resources to co-develop trading and investment platforms to promote bilateral economic goodwill and promote sustainable trade channels and connectivity between Western China and Southeast Asia.
This agreement is part of the Chongqing Connectivity Initiative (CCI). The latest spearheaded by YCH under the same initiative was the Memorandum of Understanding (MoU) with the Chongqing Tongliang District People's Government to drive the development of a cold chain logistics infrastructure alongside knowledge transfer on supply chain expertise in April 2021.
The partnership will reinforce and solidify the mandate of ASEAN Smart Logistics Network (ASLN) to establish a seamless and comprehensively connected and integrated region that will promote competitiveness and inclusiveness to boost a formidable economic bloc without growing pain.
"YCH Chongqing is very excited to be part of this agreement to deepen and strengthen our expertise in the end-to-end logistics and supply chain management space to contribute to the development of Chongqing Jiangjin Comprehensive Bonded Zone. Connectivity plays an important role in alleviating the growing demands for supply chain efficiencies, and we believe that partnerships are important to accelerate the efforts to build a multimodal transport system that will fulfil the objectives of both parties," said Jeffrey Tan, Head of Corporate Development and Technologies, YCH Group.
## END ##
Media Contact
Clarrie Liew
Head of Marketing Communications, YCH Group
Email: clarrie.liew@ych.com
back