YCH Signs Inaugural MOU with Vietnam Airlines and Vietnam Railways Corporation to Establish Multimodal Connectivity for Vietnam SuperPort™
Aug 15, 2022 12:00:00 AM
Hanoi, 15 August 2022 – Two Memoranda of Understanding by T&Y SuperPort Vinh Phuc Stock Company (T&Y), a joint venture between Asia's leading supply chain and logistics provider, YCH Group and Vietnamese conglomerate T&T Group, were inked with Vietnam Airlines (VNA) and Vietnam Railways Corporation (VNR), an embarkation of the first multimodal connectivity partnerships for the first-of-its-kind smart logistics infrastructure project in Asia, Vietnam SuperPortTM, slated for completion by 2025.
Singapore Minister for Manpower, and Second Minister for Trade and Industry, Dr Tan See Leng, and Vietnam Minister of Industry and Trade, Mr Nguyen Hong Dien, were the guests-of-honour for the physical signing ceremony held in Hanoi, on 12 August 2022.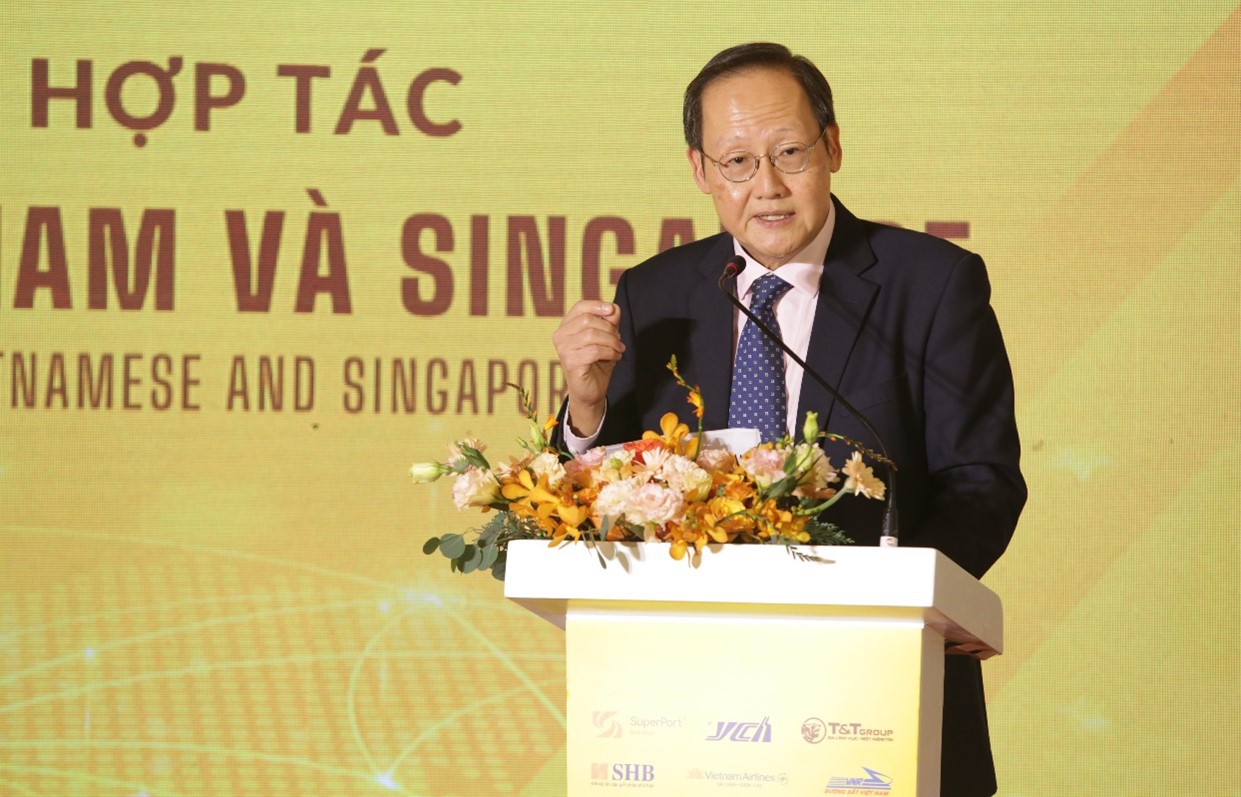 Signatories of the MoU were Ms Chan Yoke Yoke Ping, Chief Executive Officer of T&Y, Mr Dang Ngoc Hoa, Chairman of Vietnam Airlines, Mr Vu Anh Minh, Former Chairman of the Board of Directors, Vietnam Railways Corporation. Witnesses of the signing ceremony included Dr Robert Yap, Executive Chairman of YCH Group and Founder and Chairman of Strategy Committee T&T Group, Mr Do Quang Hien, Ambassador to the Socialist Republic of Vietnam, Mr Jaya Ratnam, as well as representatives from the two ministries and senior leaderships and representatives from the signing parties, partners, and clients.
The endorsed MoU signify the strong commitment and firm strides by the parties to develop the first-of-its-kind multimodal smart logistics and supply chain hub, as a game changer to meet the future of logistics and supply chain demand to establish seamless connectivity across ASEAN.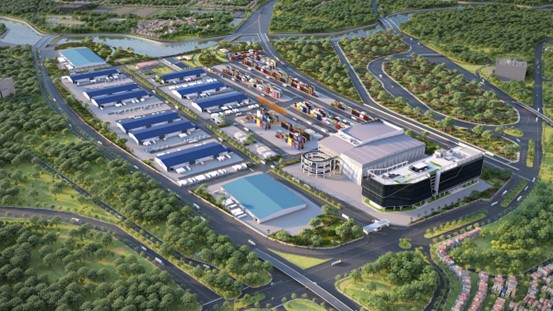 Vietnam SuperPortTM is the first largest multimodal infrastructure project invested by a Singapore firm in Vietnam. During his attendance at the facility's ground-breaking ceremony last year, Dr Tan See Leng expressed confidence that the project will strengthen logistics and supply chain connectivity in the ASEAN region with the adoption of technologies and innovative solutions, driven by strong economic ties made possible by the close partnership between Vietnam and Singapore and strong connections on the businesses front between the two nations. Anchored as a capstone project incepted under two initiatives: ASEAN Business Advisory Council's fifth legacy project Smart Growth Connect and the ASEAN Smart Logistic Network (ASLN) to support the ASEAN Connectivity Master Plan 2025, Vietnam SuperPortTM aims to ameliorate the growth of cities through supply chain connectivity without growing pains.

T&Y signs MoU with VNA to explore collaboration and partnership
The first MoU was signed with VNA, a state-owned and national airline of Vietnam with the intent to explore potential collaboration and partnership to boost air transport and logistical support for Vietnam SuperPortTM . VNA is the first airline secured by T&Y to operate in Vietnam SuperPortTM.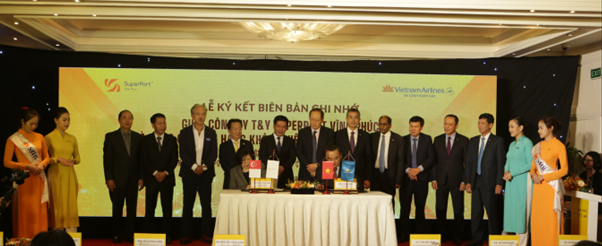 Headquartered in Long Bien District of Hanoi, the carrier has strategic hubs that run through the two key airports in Vietnam – Noi Bai International Airport in the north of Vietnam, the largest airport in the country for cargo transport and second in terms of passenger traffic followed by Tan Son Nhat International Airport, located in the south.
Areas that the parties will jointly explore include the following.
Bolstering Noi Bai International Airport's capabilities to meet the projected increase of air cargo.
Facilitate efficient processing and movement of air cargo as an export hub to meet the increase in manufacturing and assembling operations in Vietnam.
Synergising products and services between both parties to consolidate offerings to achieve greater competitiveness.
Supporting Vietnam Airlines in air cargo management while tapping on YCH Group's global customers' network.
Leverage on both parties' network of customers to promote Vietnam SuperPortTM facilities to enhance multimodal cargo transportation in Vietnam.
Mr Dang Ngoc Ha, Chairman of VNA affirmed the pleasure to sign a MoU with T&Y, a joint venture between T&T Group Vietnam and YCH Group Singapore and expressed his certainty that T&Y will be VNA's top of mind partner, creating favourable conditions for VNA and the logistics industry to fully exploit the potential of Vietnam SuperPortTM in view of the mandate of ASLN.

T&Y and VNR signs collaborative MoU to drive rail connectivity across Vietnam
Separately, T&Y signed a collaborative MoU with VNR to explore collaboration in various areas with the enhancement of rail connectivity of Vietnam SuperPortTM as the focal objective.
VNR is a state-owned cargo and passenger transport provider and operator of the railway system in Vietnam. In operations for more than a century, VNR takes charge of the operations management of Vietnam's main railway route, a mainstay mode of transport for the nation that connects Hanoi in the North to Ho Chi Minh City in the South, over more than 1,600km.



The parties, through the MoU, plan to achieve the following objectives.
Enhancing the rail connectivity of Vietnam SuperPortTM located in Vinh Phuc to existing and new rail network by developing new stations or terminals from the existing rail network into the perimeters of Vietnam SuperPortTM.
Seeking potential investors to co-explore the extension of rail connectivity beyond Vietnam to Kunming, the capital of Yunnan Province in China under public-private partnership arrangement.
Develop new multimodal business opportunities that will proliferate the advantages of rail freight transportation to support and enhance smart city supply chain and alleviate logistics challenges.
The convergence of rail and air transport nodes in Vietnam SuperPortTM will strengthen supply chain resiliency with increased options to mitigate disruptions where the movement of goods will continue should either one of the options is affected.
"Rail transportation is an essential mode of transport mobility in Vietnam. We move not only people, but also cargo to keep the country going. It is an imperative notion for us to be a part of this multimodal logistics set-up as it aligns with what we do. We look forward to a bounteous collaboration and the potential business opportunities that entail from this partnership," Mr Vu Anh Minh, Former Chairman of the Board of Directors, Vietnam Railways Corporation.
The MoU signings are developed from the Vietnam SuperPortTM ground-breaking ceremony held in 2021, to push forth the materialisation of the vision to establish a trusted multimodal connectivity that connects ASEAN by road, rail, air and sea to strengthen supply chain resilience with the mandate to do greater good to the communities and uplifting economies.
Said Dr Tan See Leng, Minister for Manpower, and Second Minister for Trade and Industry, Singapore: "I am happy to see the progress of Vietnam SuperPortTM in the eight months since I virtually attended the ground-breaking ceremony in December 2021. The two MoUs signed with VNA and VNR, two anchor transport operators, are a demonstration of the shared commitment to make Vietnam SuperPortTM a reality. We look forward to hearing more on the good progress of this project."
Said Mr Nguyen Hong Dien, Vietnam Minister of Industry and Trade: "Logistics play an important role in a market economy. The Ministry of Industry and Trade supports the businesses cooperation between Vietnam and Singapore and welcomes all initiatives and efforts to make the logistics industry more developed."
Said Dr Robert Yap, Executive Chairman of YCH Group: "Today's MoUs with VNA and VNR is an important milestone for Vietnam SuperPortTM . For a smart logistics infrastructure of this stature, developing strong partnerships are paramount. As state-owned transport operations, VNA and VNR's agreement to partner speaks volumes of their support and the alignment of mutual aspirations. YCH Group will continue to support T&Y by drawing on our experiences and expertise in supply chain and logistics to develop sustainable multimodal smart logistics infrastructure across ASEAN, starting with Vietnam. Together, we remain committed and look forward to working closely with existing and new partners in bringing our common vision to reality. We are already a step closer."
Added Mr Do Quang Hien, Founder and Chairman of Strategy Committee T&T Group: "With VNA and VRN coming onboard Vietnam SuperPortTM, we are confident that the schedule to reduce the cost of logistics and improve time to market to improve trade connectivity to the world and contributing to the symbiotic and sustainable growth of Vietnam are on track."
## END ##
About YCH Group
YCH Group is Singapore's leading homegrown, end-to-end supply chain solutions partner to some of the world's largest companies and favourite brands across more than 100 cities in the Asia Pacific region. YCH focuses on boosting productivity and sustainability for its customers with its proprietary best-in-class suite of award-winning solutions across industries such as fast-moving consumer goods, electronics, chemical and healthcare, cold chain logistics, and e-Commerce. A strong proponent of innovation, YCH is recognised for its 7PL™ approach in seamlessly integrating supply chain strategy with execution.
About T&T Group
T&T Group Joint Stock Company (T&T Group) is among the leading private multi-sectoral economic groups, operating in the fields associated with Vietnam's economic development strategy. Found in 1993 at the time the countries started to engage in international economic integration, to date, T&T Group has witnessed significant developments. The Group consists of about 600 member companies with over 80,000 employees nationwide and in developed countries such as the US, Russia, Germany, and Australia. T&T Group is currently operating in 7 core business areas, including: Finance and Investment; Real Estate; Energy & Environment; Industry & Trade & Logistics; Transportation Infrastructure; Agriculture, Forestry & Fishery; Health Care, Education & Sports. In its strategy to 2030, T&T Group aims at maintaining its position in the top 10 largest private multi-sectoral economic groups in Vietnam and the top 50 influential corporations in Asia & the region.
About Vietnam Airlines
Vietnam Airlines was established in 1995. As the "big brother" playing a key role in Vietnam's aviation indsutry, Vietnam Airlines has affirmed its standing as a flag carrier with global and regional scale of operation. Domestically, Vietnam Airlines' flight network has now covered 21 provinces and cities nationwide. Internationally, Viet Nam Airlines has opened numerous routes to 26 countries and territories in Asia, Europe, Australia and the America. Building on a major and comprehensive transformation in service, management technology along with a powerful and modern fleet of aircrafts such as Boeing 787 and Airbus A350. Vietnam Airlines has been striving to become a leading 5-star international airline in Asia.
About Vietnam Railways Corporation
Vietnam Railways Corporation (VNR) is a state-owned freight and passenger transport company, as well as the operator and manager of the entire railway system in Vietnam. With more than 140 years of operation, VNR has been constantly expanded with 7 main lines connecting 35 provinces and cities through many special terrains. Most notably is the North-South railway with a length of more than 1,700 km, connecting the capital city of Hanoi and Ho Chi Minh City. In its goals, by 2030, VNR will continue to renovate and upgrade its existing lines to support the efficient exploitation and smooth connection with international intermodal railways; mobilize resources to build a number of new routes with priority given to the North-South high-speed railway.
Media Contact
Clarrie Liew
Head of Marketing Communications
Executive Chairman Office, YCH Group
Email: clarrie.liew@ych.com
back