Y3 Technologies and Singapore Business Federation sign MOU to empower Singapore businesses for global expansion
Aug 31, 2023 12:06:59 PM
Singapore, 31 August 2023 – A Memorandum of Understanding (MoU) between Singapore Business Federation (SBF) and Y3 Technologies Pte Ltd, a subsidiary of Singapore's largest homegrown logistics solutions provider YCH Group, has been signed at the ASEAN Conference 2023. The conference, organised by Singapore Business Federation, saw Minister for Trade and Industry Mr Gan Kim Yong attending as the Guest-of-Honour. This MoU marks the beginning of the strategic partnership of Y3 Technologies and SBF, with Y3 Technologies supporting the GlobalConnect@SBF initiative as well as the internationalisation activities of Singapore businesses.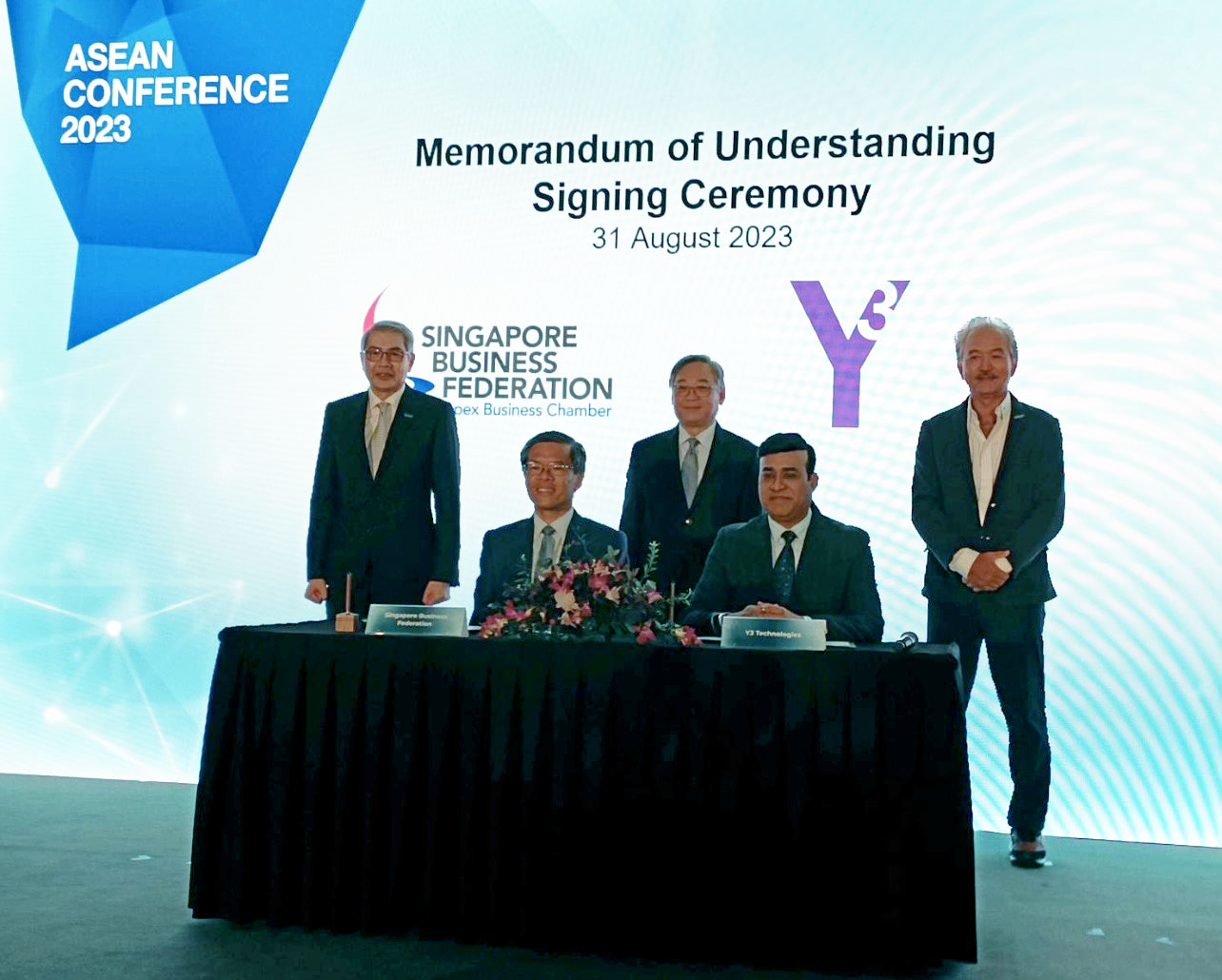 From Left to Right: Mr. Lim Ming Yan, Chairman of Singapore Business Federation, Mr. Kok Ping Soon, Chief Executive Officer of Singapore Business Federation,
Mr. Gan Kim Yong, Minister for Trade and Industry, Mr. Navin Bhatnagar, Head of Y3 Technologies, Dr. Robert Yap, Executive Chairman of YCH Group
GlobalConnect@SBF is an initiative by Enterprise Singapore and the Singapore Business Federation to help businesses expand globally, providing education on Free Trade Agreements (FTA) and outreach for Singapore businesses to leverage Singapore's extensive FTA network for global competitiveness. This initiative would also largely support Singapore businesses in their internationalisation efforts in the ASEAN region.
YCH Group's Y3 Technologies, is a Singapore-based, award-winning software solutions provider offering a full suite of omnichannel solutions such as multi-channel e-commerce enabler platform OMS4. Y3 Technologies' close collaboration with SBF will enable SBF members to leapfrog their business growth exponentially with the use of OMS4, allowing them to collaborate with any third-party logistics provider for the consolidation of cargo, cross-border shipping, in-country warehouse storage handling, packing, order fulfilment, and local deliveries to take their business to new heights.
Said Mr Navin Bhatnagar, Head of Y3 Technologies, "We are exhilarated about this new partnership with SBF. With the strong support of Y3's comprehensive suite of supply chain and logistics solutions, in particular, the OMS4 solution, this cooperation will help Singaporean enterprises outpace their regional business growth and enable them to concentrate on their core competencies. We are excited to work together to strengthen Singaporean businesses and their achievements."
Mr Kok Ping Soon, Chief Executive Officer of Singapore Business Federation, said, "SBF is heartened to form a new strategic partnership with Y3 Technologies, part of YCH Group and an established digital solutions provider in Asia. By leveraging Y3's expertise in e-commerce, Singapore companies can gain access to a larger consumer market to sell their goods and services online. We look forward to working closely with Y3 Technologies as Singapore businesses venture into ASEAN and beyond."
- End -
About YCH Group
YCH Group is Singapore's leading homegrown, end-to-end supply chain solutions partner to some of the world's largest companies and favourite brands across more than 100 cities in the Asia Pacific region. YCH focuses on boosting productivity and sustainability for its customers with its proprietary best-in-class suite of award-winning solutions across industries such as fast-moving consumer goods, electronics, chemical and healthcare, cold chain logistics, and e-Commerce. A strong proponent of innovation, YCH is recognised for its 7PL™ approach in seamlessly integrating supply chain strategy with execution.
About Y3 Technologies
Y3 Technologies is an award-winning regional company providing business and IT consultancy and leading-edge e-commerce, supply chain, and logistics solutions across the Asia Pacific region.
Since its inception in 1981, Y3 Technologies has rolled out more than 150 deployments in China, Hong Kong, India, Indonesia, Korea, Laos, Macau, Malaysia, Philippines, Singapore, Taiwan, Thailand, and Vietnam, driving positive digital transformation for companies as it addresses the entire breadth of its clients' opportunities in this fast-evolving world of cloud, digital and mobile platforms.
As an innovative and forward-looking organisation, Y3 Technologies is constantly leveraging new technologies (AI, cloud, SaaS, microservices etc.) and processes to develop robust and scalable solutions to help our clients expand and grow their businesses globally.
https://www.y3technologies.com/
Media Contact
Jasmine Lim
Executive, Marketing Communications
Executive Chairman Office, YCH Group
Email: jasmine.lim@ych.com
back